"Sometimes the quietest voice shatters the silence"
---
Short film Laurina captures the courage, resilience – and pain – of beloved Ecobelli matriarch who was abused and exploited as a teen in the early 1900s.
---
MULTI-TIERED FEATURE  By ANN HAUPRICH  |  Photos Provided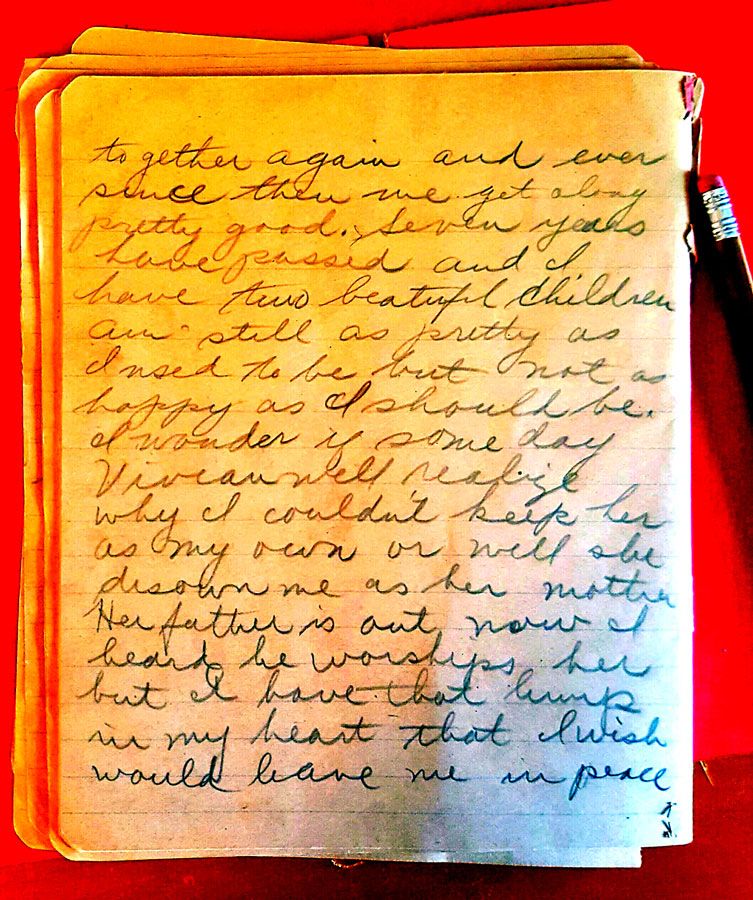 Sample journal entry by young Laurina Ecobelli.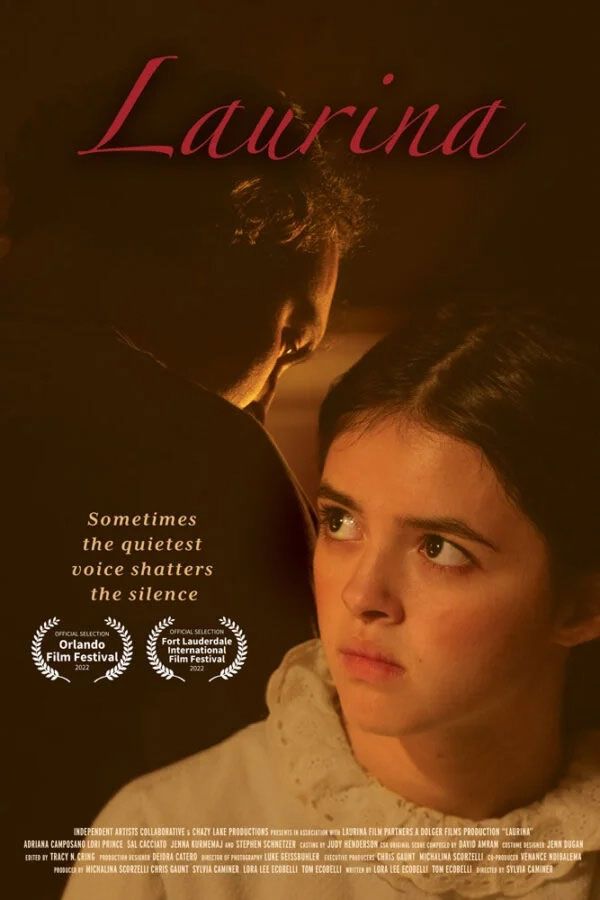 Poster for Laurina film: "Sometimes the quietest voice shatters the silence."
Shortly before Laurina Inzinna Ecobelli passed away in 1981, she entrusted the preservation of a priceless family heirloom to the care of grandchildren Lora Lee and Tom, then ages 23 and 17.
The keepsake bequeathed to the Ballston Spa sibling pair by their cherished 75-year-old grandmother was more precious than gold for it told in her own words -- and handwriting -- the story of an epic chapter in her young life that ultimately culminated in a valiant quest for justice and triumph of the human spirit.
Born to Italian immigrant parents, "Nona" Laurina asked Lora Lee and Tom to one day find a way to share what she had secretly penned in her diary in order to help educate and empower others.
They vowed they would. To say they have kept their promise would be an understatement.
The journal in which Laurina detailed the physical and sexual abuse she had endured at the hands of her stepfather who impregnated her at age 13 a century ago is now an award-winning short film that captures her courage, fortitude, and resilience as well as her pain. "We didn't want to focus on the brutality of her situation, but rather the inner strength that saw her through those dark days," reflects Lora Lee. "She wanted my brother and me to share her story in a manner that would bring hope and healing to future generations. It was important to her that the story of what led her to be at the center of a controversial upstate New York trial in 1923 be told in a way that would encourage victims of abuse and exploitation to speak up – to put an end to the kind of suffering that had in so many ways robbed her of her youth." 
Longtime Saratoga County residents and tourists may remember Laurina for her matronly hospitality at the former family owned and operated Ecobelli's Tam O'Shanter Restaurant on Route 50 in Ballston Spa. Although Laurina kept the saga of her traumatic adolescent ordeal a closely guarded secret throughout her lengthy tenure at the popular dining establishment, Lora Lee and Tom say she quietly helped other women who were victims of domestic violence.
After decades of toiling (prior to the MeToo movement) to get the script they had co-authored produced as a motion picture, Emmy-winning director Sylvia Caminer ultimately signed on to the film-making project along with Executive Producers and Producers Michalina Scorzelli and Chris Gaunt. The latter pair also had acting roles in the production.
Filmed entirely in the Capital Region in the autumn of 2022, with some scenes shot in the actual locations where the events had unfolded, Laurina features rising star Adriana Camposano in the title role along with Jenna Kurmemaj as the heroine's sister Minnie and Sal Cacciato portraying their step-father Pietro. The role of Doctor Porter was performed by Steven Schnetzer. In addition to their roles as screenwriters, Lora Lee and Tom (both of whom forged professional acting careers after their graduations from Ballston Spa High School in 1975 and 1982, respectively) were among the talented actors, extras and crew members whose contributions enhanced the film-making experience.
It is noteworthy that legendary composer David Amram, who crafted the exquisite score, was the only person involved in the film's creation other than Lora Lee and Tom, who had known the real Laurina. According to the siblings, Amram was inspired to write the score "to script" meaning he composed the music while watching scenes from the film. Among the world-renowned composer's other stellar scores are those he wrote for the now classic movies Splendor in the Grass (Natalie Wood and Warren Beatty) and The Manchurian Candidate (Angela Lansbury and Frank Sinatra.) Talk about a hard act to follow!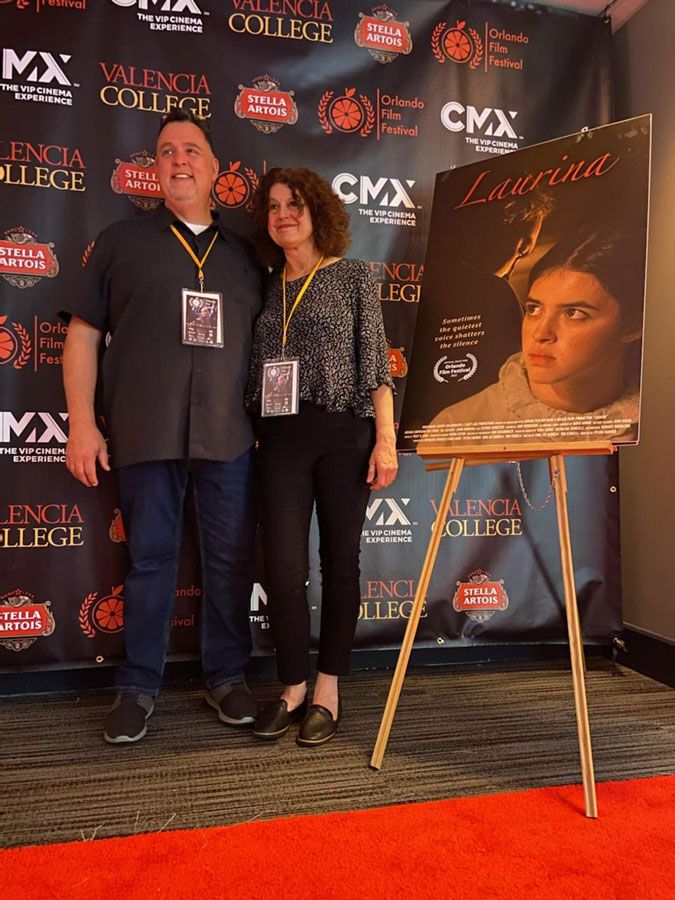 Lora Lee and Tom Ecobelli at the Florida premiere of the short film about their late grandmother Laurina's quest for justice a century ago. Inset photos show the sibling pair as children in the kitchen at the former Ecobelli's Tam O'Shanter Restaurant in Ballston Spa and the front cover of a cookbook they co-authored titled Laurina's Kitchen.
The following Q & A between writer Ann Hauprich and film-makers Lora Lee and Tom Ecobelli shines the spotlight on much more of what transpired behind-the-scenes in conjunction with the filming of Laurina – which earned much applause at short film festivals in Orlando and Fort Lauderdale, Florida before garnering Best Short Film and Best Picture awards at the Albany Film Festival in April 2023. 
ANN:  How -- and why -- were the various Capital Region filming locations chosen? 
TOM: The farm scenes were filmed at the Garrison farm on Goode Street in Ballston Spa. Frieda Vorhinger-Garrison is an old family friend. Lora Lee and Frieda rode horses and showed them at the Saratoga County Fair together.  Frieda worked her way through pharmaceutical school by working as a waitress at our family's Ecobelli's Restaurant. The mill scenes were filmed at the Stanford Carpet Mill in Amsterdam. This was the actual mill where Laurina and her sister Minnie worked as children with their mother Carmella. Terry Barker, who owns the clock tower mill in Amsterdam, supplied authentic props and furniture for the mill scenes. The Walter Elwood Museum in Amsterdam was also very generous in supplying many actual items for us to use in the mill scenes. The orphanage scenes were important because Laurina and Minnie had been temporarily placed in an orphanage before their young, widowed mother married their stepfather. Those scenes were filmed at a historic circa 1700 farmhouse in Feura Bush. The location was provided at no cost, very generously by the owners Wendy and John Meehan. The interior farmhouse scenes were filmed in Delmar at a historic old barn/meeting house owned by Executive Producer Michalena Scorzelli. She is transforming the barn into an arts center to provide rehearsal and performance space for area artists.
ANN:  What was involved in securing permissions to film in these particular places? How long did the filming take? Were any extras hired? Where did those involved in the filming dine and lodge?
TOM: We contacted Amsterdam city officials who allowed us to use the mills and the surrounding streets. They were very welcoming and made filming there a pleasure. The other locations were donated by friends and people who wanted to support the film. We filmed the entire movie in one week. The extras were mostly friends, family, and students from Lora Lee's acting school The Blue Horse Repertory Company Acting School. Costumes were designed and created by Jenn Dugan. Props were provided by Terry Barker who owns the clock tower mill in Amsterdam. Art direction was by Deidra Catero and Austin Cleverley. The catering was done by Laurina's Kitchen (Lora Lee and Tom).
ANN: Adriana Camposano, who portrays the film title's namesake, has been described as a rising star. I'd love to include a quote about the reasons the two of you selected her to portray your grandmother as a young woman. Are there any scenes in which Adriana especially captured your beloved grandma's spirit? 
LORA LEE: We chose Adriana because she captured the innocence and generosity of Laurina.
Jenna had Minnie's sensitivity and spunk. 
TOM: I agree. I'd add Adriana also had a strong resemblance to the real Laurina when she was young. Adriana also had a very calm, steady aura about her. Jenna also showed a lot of intelligence and compassion at her audition.
ANN: What would you most like readers to know about co-stars Jenna Kurmemaj and Stephen Schnetzer?
TOM: Jenna was dedicated and an excellent listener. She completely understood the scenes she was a part of and was very supportive to her castmates. The camera catches every emotion that crosses her expressive face. Stephen Schnetzer was a pro. He shot his scenes in one day under some very difficult conditions. The mill was very cold the day of his scenes and there was no heat. There was also a lot of street noise that kept interrupting the scenes. He took it all in stride, (as did Adriana and Jenna) and they never complained, just patiently completed their scenes.
ANN: What was the cost of producing the film? How was it financed?
TOM: We can't say what the total cost of making the film was to protect some very generous benefactors, but we had a successful Go-FundMe campaign that raised a good part of it, however the majority of funds were from our Executive Producers Michalina Scorzelli and Chris Gaunt. They were also producers and actors in the film. Their generosity, expertise and passion are what got the project off the ground.
ANN: Could you please elaborate on awards and citations your short film has received thus far and plans for future showings?
TOM: The film is still making the festival rounds. So far, it's been to the Orlando and Fort Lauderdale film festivals and recently won Best Short Film and Best Picture at the Albany Film Festival. It was accepted into the Syracuse Film Festival for this September. Hopefully the Adirondack Film Festival will be next.
ANN: What were your "most memorable moments" of this experience?
LORA LEE:  For me the most memorable scenes were filmed at the old Mill in Amsterdam. You could feel the ghosts of all the immigrants who toiled their lives away there. Also filming at the Garrison Farm in Ballston Spa. Wondering how my grandmother must have felt as she watched her new life unfold, after time at the orphanage.
TOM:  For me it was the scene where Laurina confesses Pietro's abuse to Minnie after trying to protect her and the family by keeping it a secret. We filmed this on the first day and it was the first time I really saw the vision Lora Lee and I had to pull together in a real way. It was shot outside, and the beautiful surroundings contrasted with the gravity of the scene. The two actresses showed the love and loyalty the two sisters shared in a beautiful, genuine way. That moment is burned into my memory.
ANN: Nona Ecobelli is surely smiling down from above with love, pride, and gratitude as you persevere in your noble quest to educate and empower – as well as to entertain – film audiences. 
This photo captures the filming of mill employees walking to work with the exterior of the historic Amsterdam mill in the background.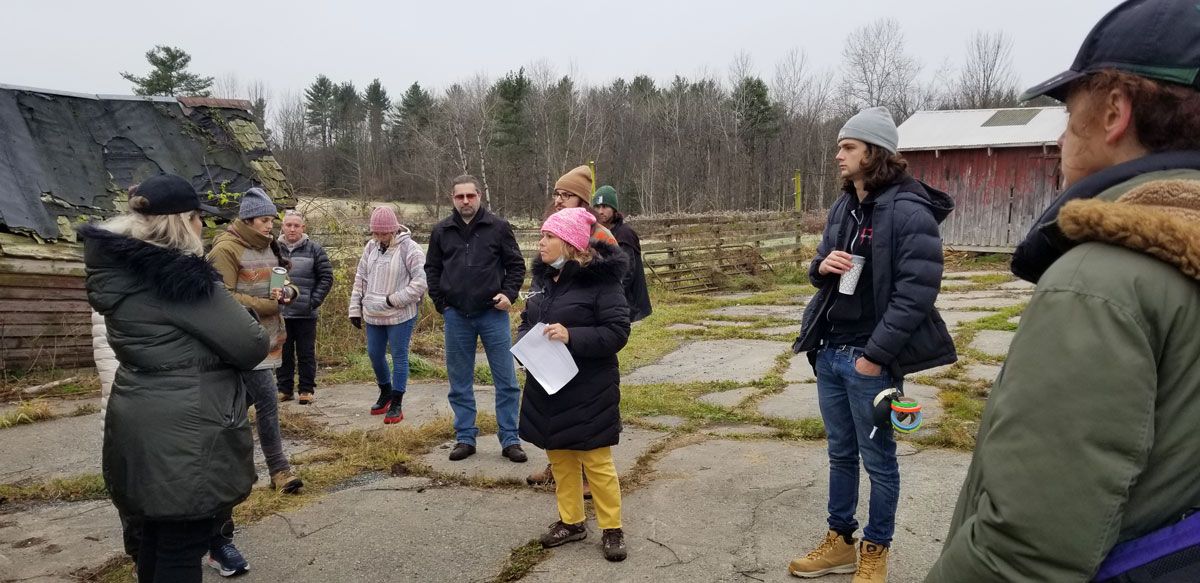 Laurina director Sylvia Caminer (in pink hat) addressing the cast and crew at the farm location in Ballston Spa.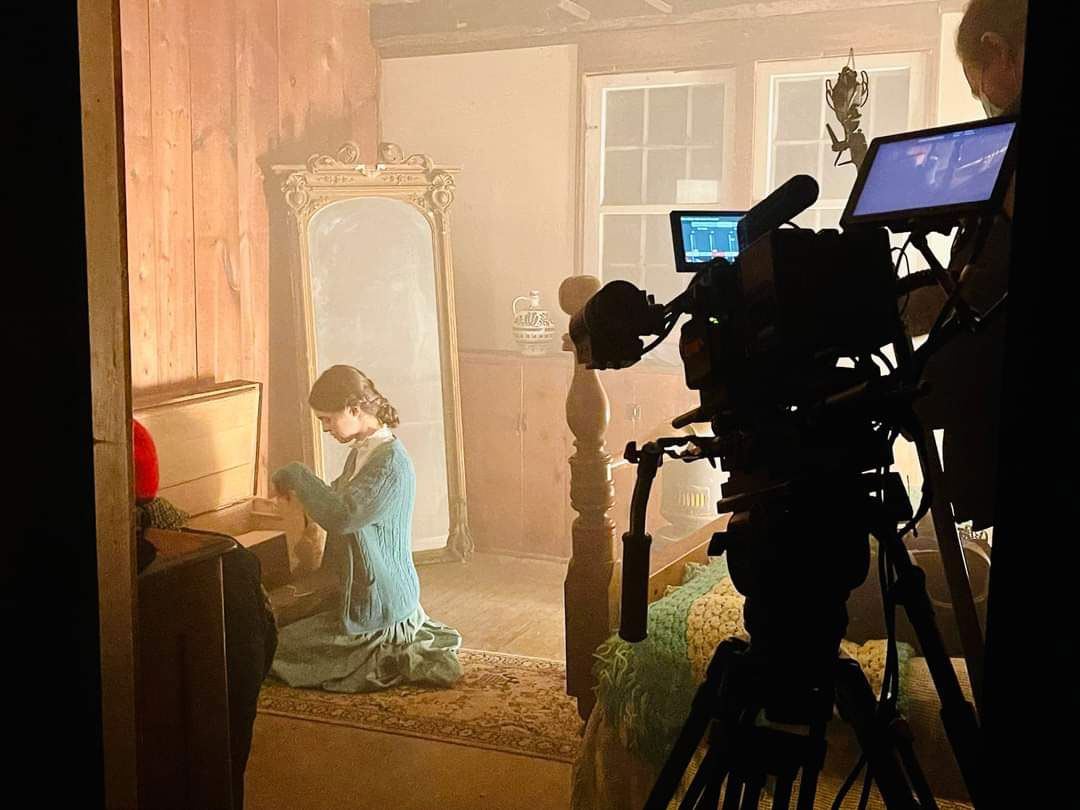 Laurina star Adriana Camposano kneeling beside an old trunk during filming of the last scene using actual photos of Laurina and her family.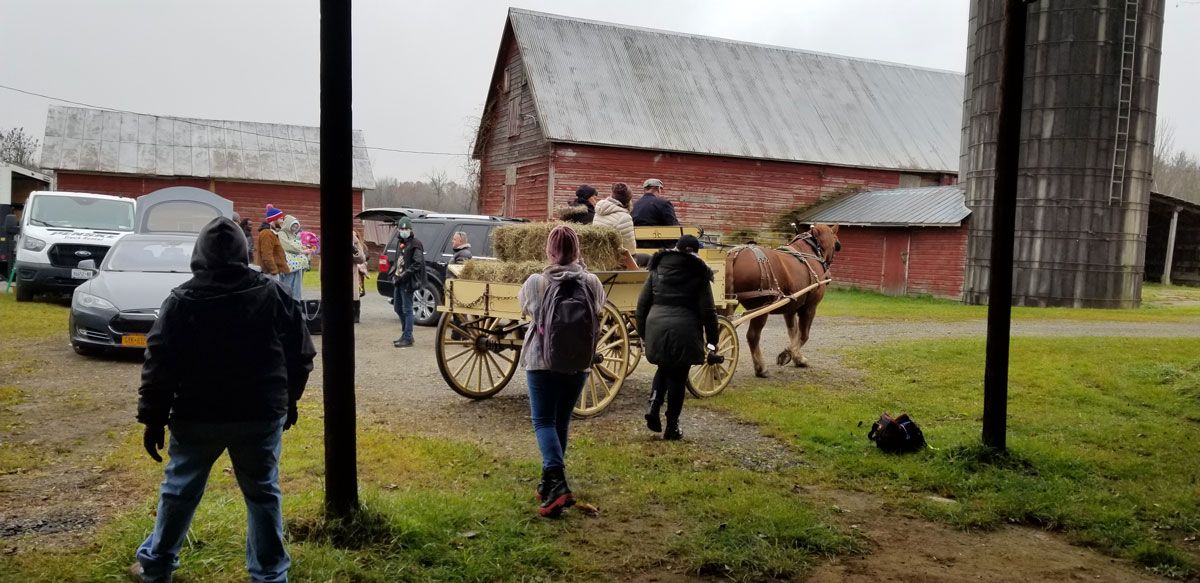 Filming of scenes for Laurina at the farm on Goode Street in Ballston Spa.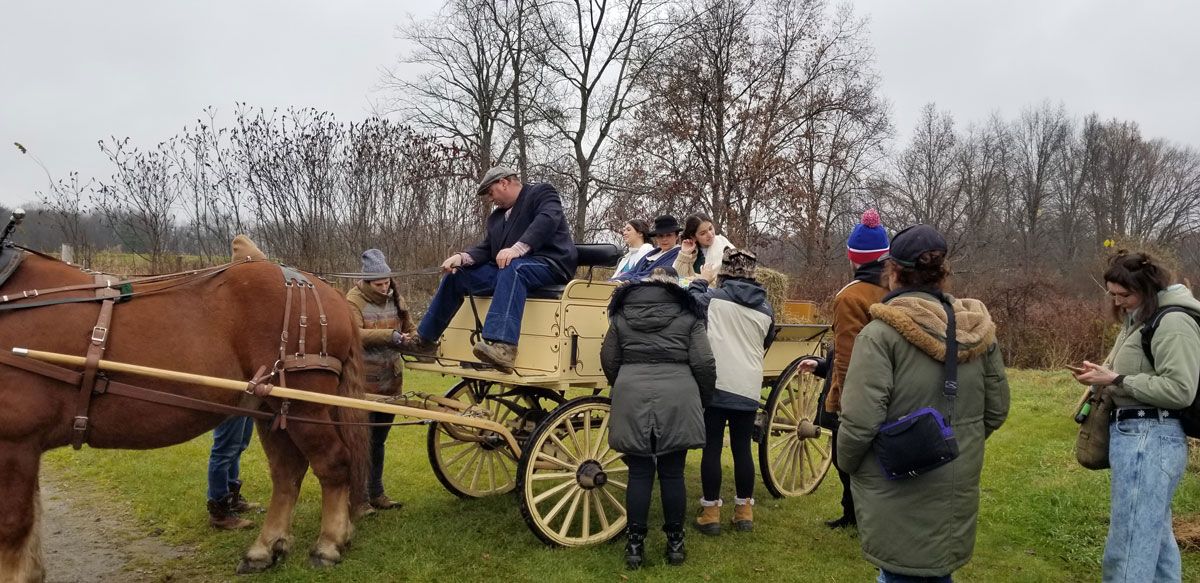 More exterior filming scenes for Laurina at the historic mill in Amsterdam. 
Siblings Lora Lee and Tom Ecobelli embrace at the wrap of filming of LAURINA about their late grandmother.