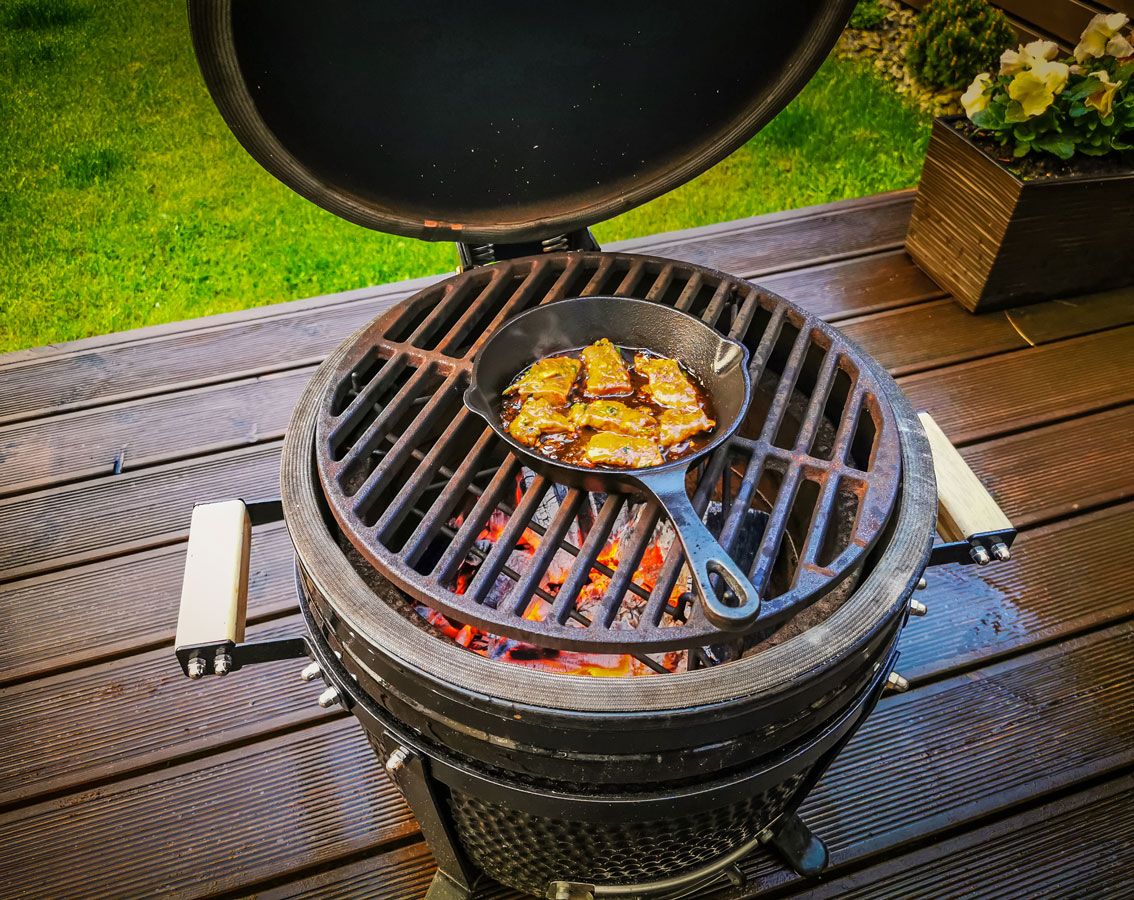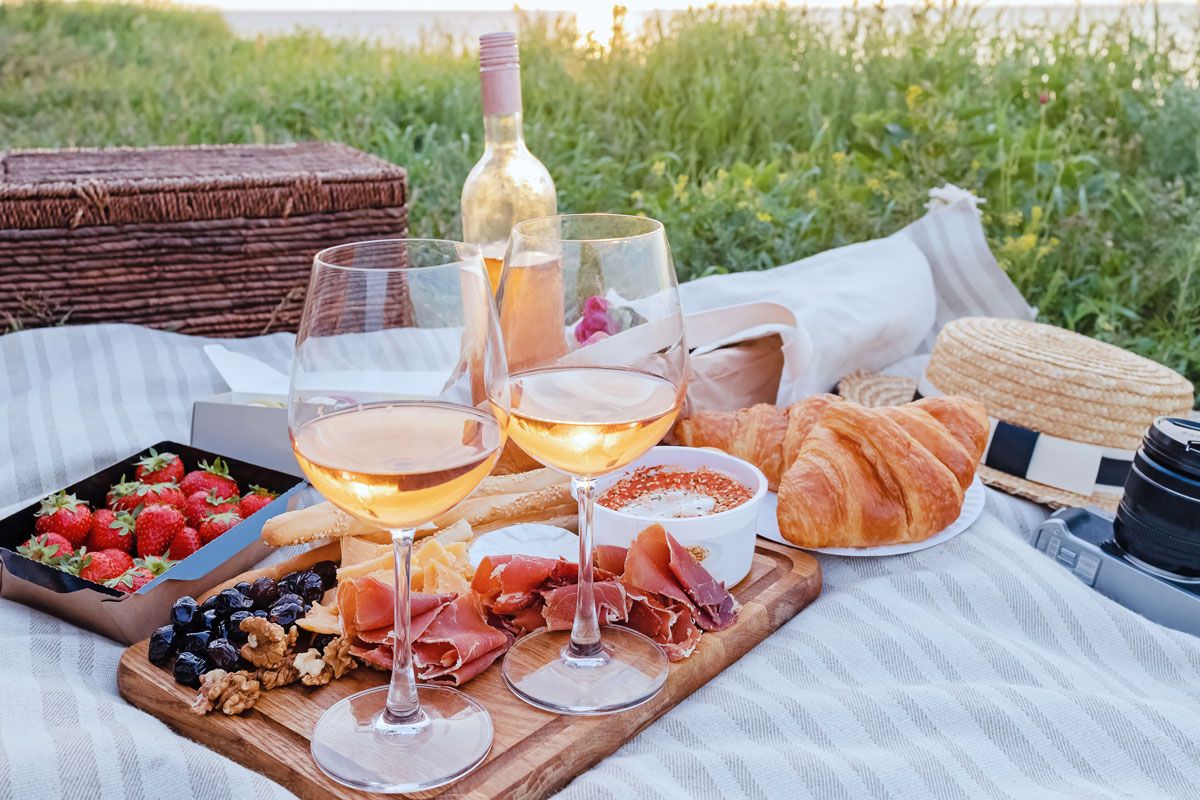 It's time to celebrate summer with luscious dishes that include fresh fruits, salads, light meal ideas and delicious desserts. We are now planning on those cool and cold food ideas for those hot summer nights, and something easy you can throw on the grill. Summer is the best. The days are warmer, longer, and just happier. In addition to beach days and family vacations, summer is also one of the best seasons for eating and drinking.
I think about summer adventures. What is on your list of MUST-DOs this summer? My absolute favorite food in the summertime are burgers, and there's no better way to eat them than by a fire. Anything from the BBQ is amazing in the summertime, and there's so many ways to put a spin on your classic summer favorites. Looking for more of a low budget way to make your foodie adventure dreams come true? Go old school and grab your best basket, your comfiest blanket and fill up for a picnic. Picnics are great because you get to sit outside and enjoy the sunshine all while chomping down on some certifiably delicious summer snacks. There's just nothing like pouring a cold beer or glass of wine and sitting down in the backyard with friends or family for an al fresco meal.
Grilling up burgers is a summertime staple for many of us. My Dad was a grill master and he let us know that every time he would approach his grill. He never got to enjoy his backyard BBQs because he wouldn't leave it! Uncle Cass was the only person that could take over for him, and Cass felt like he had been given the biggest honor. Dad, Uncle Cass, and Uncle Woofy had built a giant brick and cement grill that was a masterpiece. This masterpiece still stands today. They loved having family get-togethers every weekend. 
Remember when your cousins were your best friends? My cousins were my best friends who I got to see all the time in the summer. At our family BBQs, everyone would marvel at Dad's burgers, hot dogs, and chicken. They were better than any restaurant because of dad's secret ingredients. One of the things he did that no one but me seemed to notice was use a small cast iron skillet to press his burgers. They came out cooked perfectly! He also would sing Frank Sinatra songs to all the moms (and he had a great voice).  I once asked my Mom; "If Dad was so great how come he didn't cook inside that much?" She responded with a quick; "Why do you think that we eat outside from Memorial Day to Labor Day? I get my summers off!" Very strategic on my mother's behalf. 
How do you like your burgers? When you get your burger fresh off the grill and they are sitting there all juicy and delicious on that bun…how do you make this perfect food even more perfect? Cheese is a good choice. But which one? American? Cheddar? Swiss? Maybe some crisp, smoky bacon. How about barbecue sauce? We could go on forever. Making hamburgers seems like something that should be simple—how hard can it be to cook those beefy delights? Yet somehow, nailing the perfect burger can elude even the most seasoned home cook. Make the patty too thick and you risk biting into a raw mess. Leave it on the heat for too long, and it'll end up dry.
Southwestern Backyard Burgers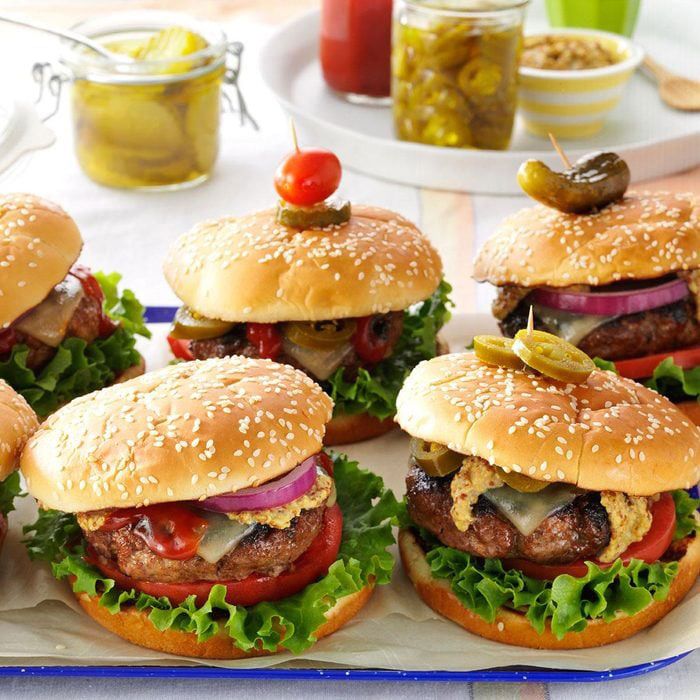 INGREDIENTS
• 1 can (4 ounces) chopped green chiles
• 1/4 cup Worcestershire sauce
• 1/2 teaspoon hickory liquid smoke, optional
• 1/2 cup crushed butter-flavored crackers (about 12 crackers)
• 4-1/2 teaspoons chili powder
• 3 teaspoons ground cumin
• 1/2 teaspoon salt
• 1/2 teaspoon pepper
• 2 pounds lean ground beef (90% lean)
• 1/2 pound bulk pork sausage
• 8 slices pepper jack cheese
• 8 sesame seed hamburger buns, split
• Lettuce leaves and tomato slices
• Toppings of your choice
---
INSTRUCTIONS 
1. In a large bowl, combine the first eight ingredients. Crumble beef and sausage over mixture and mix lightly but thoroughly. Shape into 8 patties.
2. Grill, covered, over medium heat for 5-7 minutes on each side or until no longer pink. Top with cheese. Grill 1 minute longer or until cheese is melted.
3. Grill buns, cut side down, for 1-2 minutes or until toasted. 
Recipe courtesy of Taste of Home at tasteofhome.com
The secret to making juicy burgers at home is all in the meat. Did you burn your burgers while cooking them? The culprit is likely uneven thickness. While the shape of the patty doesn't matter, the thickness does. You really want to make sure the patty is uniform, an even thickness, or it's not going to cook properly, which can lead to a burnt outside and undercooked inside. A solution could be to flatten the patties by pressing them flat using a burger press. 
Burger presses create consistently shaped and sized burgers. The presses allow you to pack patties without squishing the meat between your warm hands. Heat radiated by your hands can cause proteins to denature. Using your hands to pack raw meat can cause the fat to melt and the meat to break apart, which causes a mushy, unappealing texture when it's time to devour your burger. The burger presses make uniform patties: same weight and diameter every time. Uniform patties cook evenly throughout and will come to temperature around the same time on the grill. The burger press also helps to achieve the weight you're going for ¼, 1/3, and ½ lb. patties. And you get a prettier burger patty. The burgers look good. Who doesn't marvel at a perfectly round, evenly dense patty?
Elevate your grilling game this summer with less stressing and more pressing. Get the tools you need to make the burgers you yearn for. As Frank says:
"And if you should survive to 105, Look at all you'll derive out of being alive! And here is the best part, you have a head start - If you are among the very young at heart."
Stop by Compliments to the Chef, your Neighborhood Kitchen and Cutlery store located at 33 Railroad Place in Saratoga Springs, for the cool tools you need to help you with your summer creations. Remember my Foodie Friends, "Life Happens in the Kitchen" with your family and friends. Enjoy the summer season in Saratoga Springs, NY. 
Take Care, John & Paula