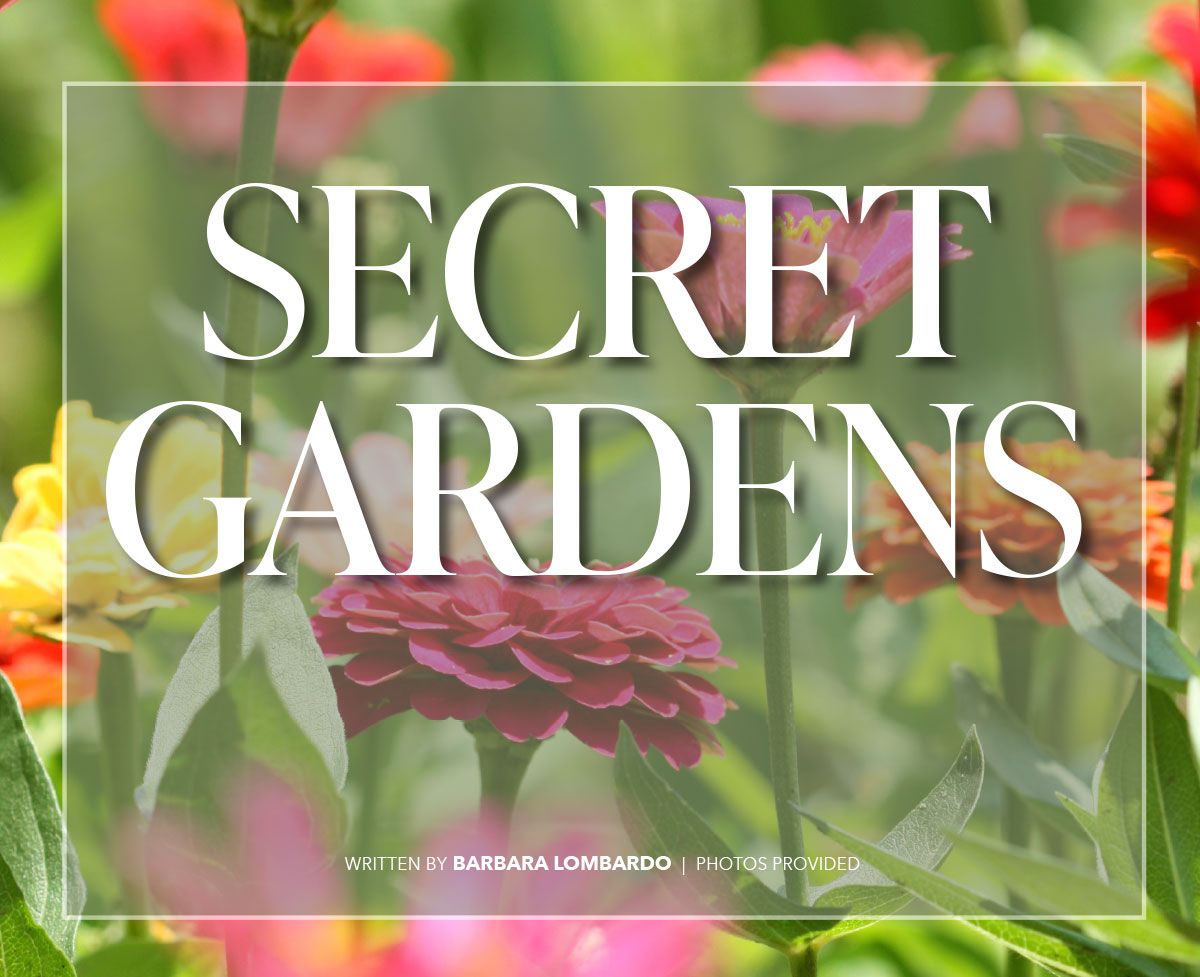 WRITTEN BY BARBARA LOMBARDO
PHOTOS PROVIDED BY LESLIE BRENNAN, JOHANNA GARRISON, AND CAROL GODETTE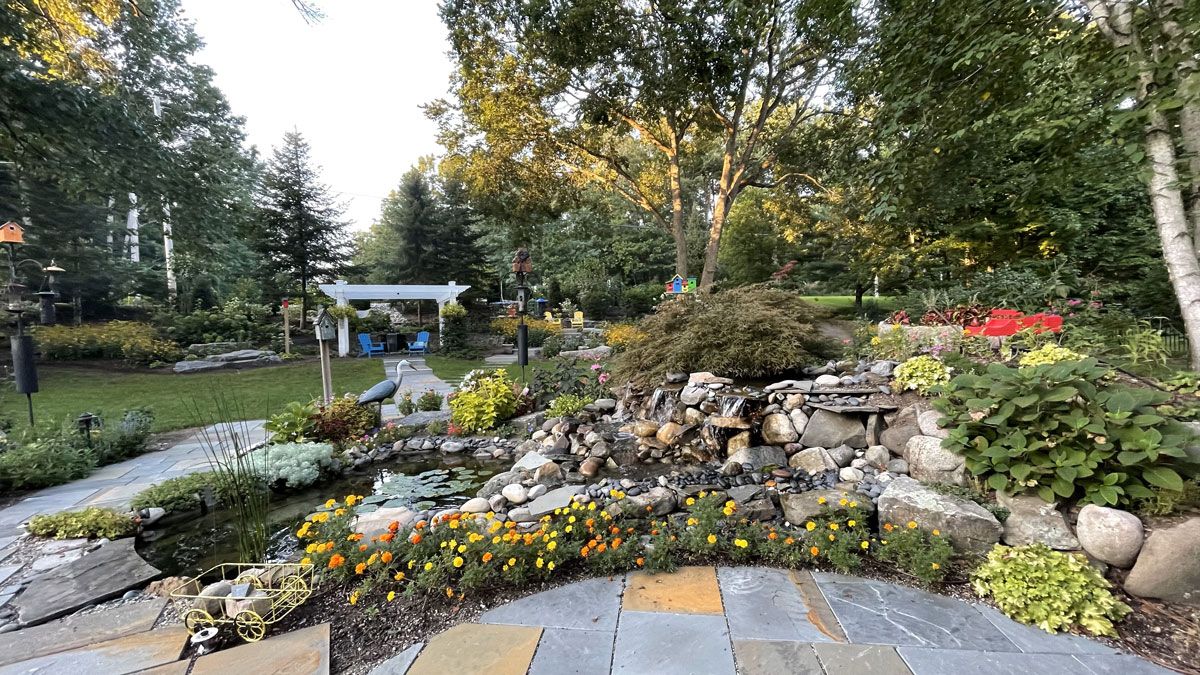 ---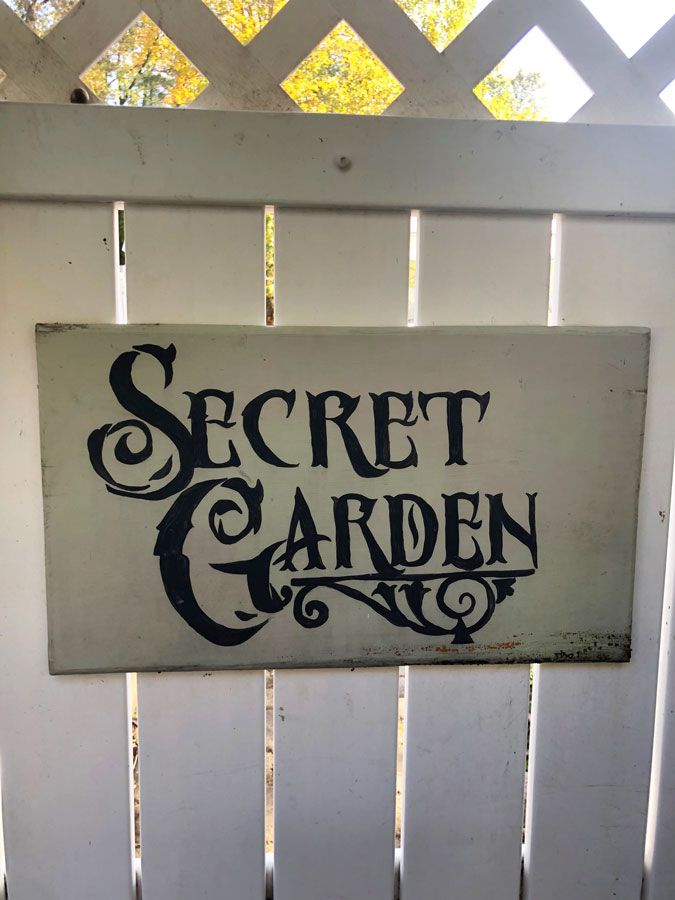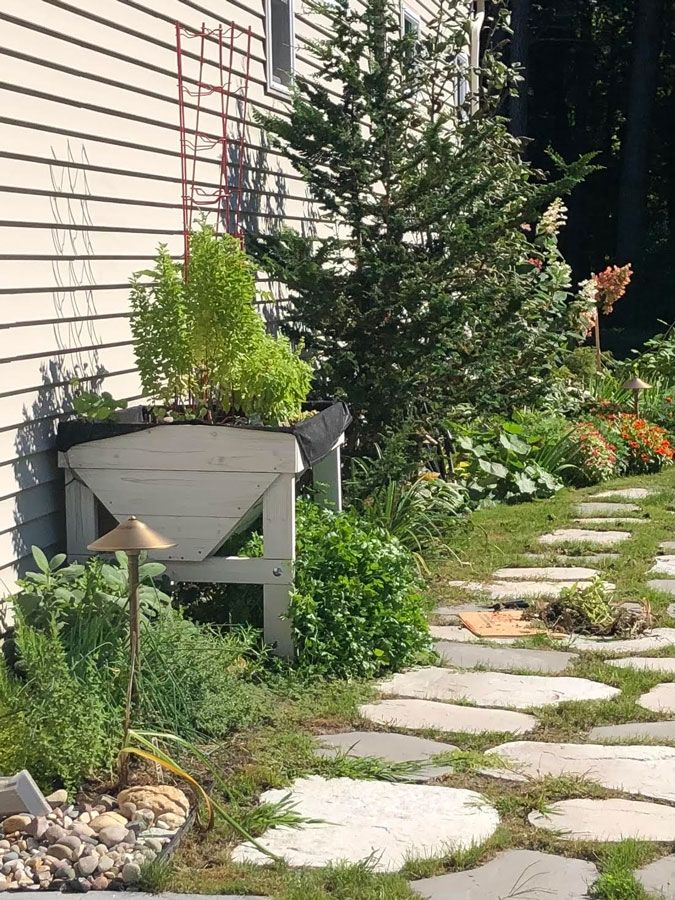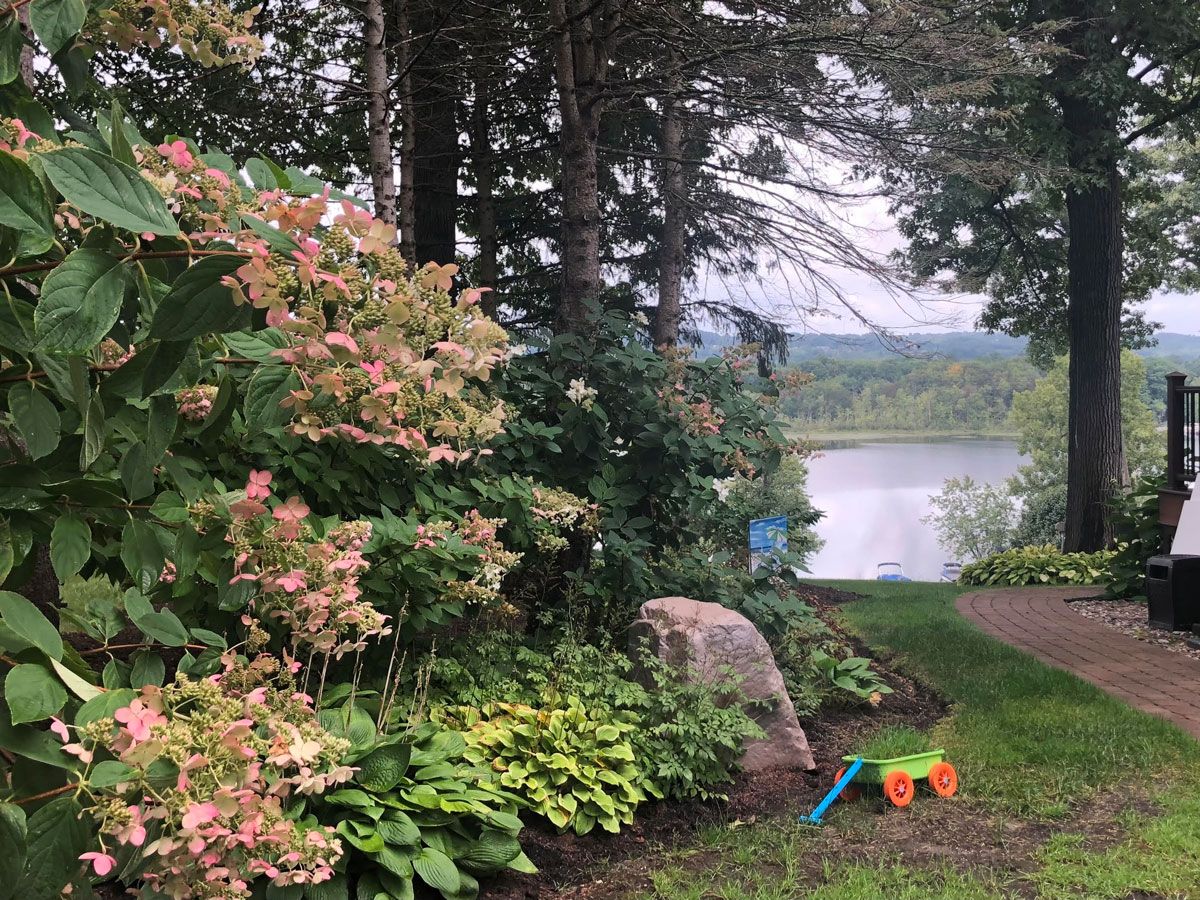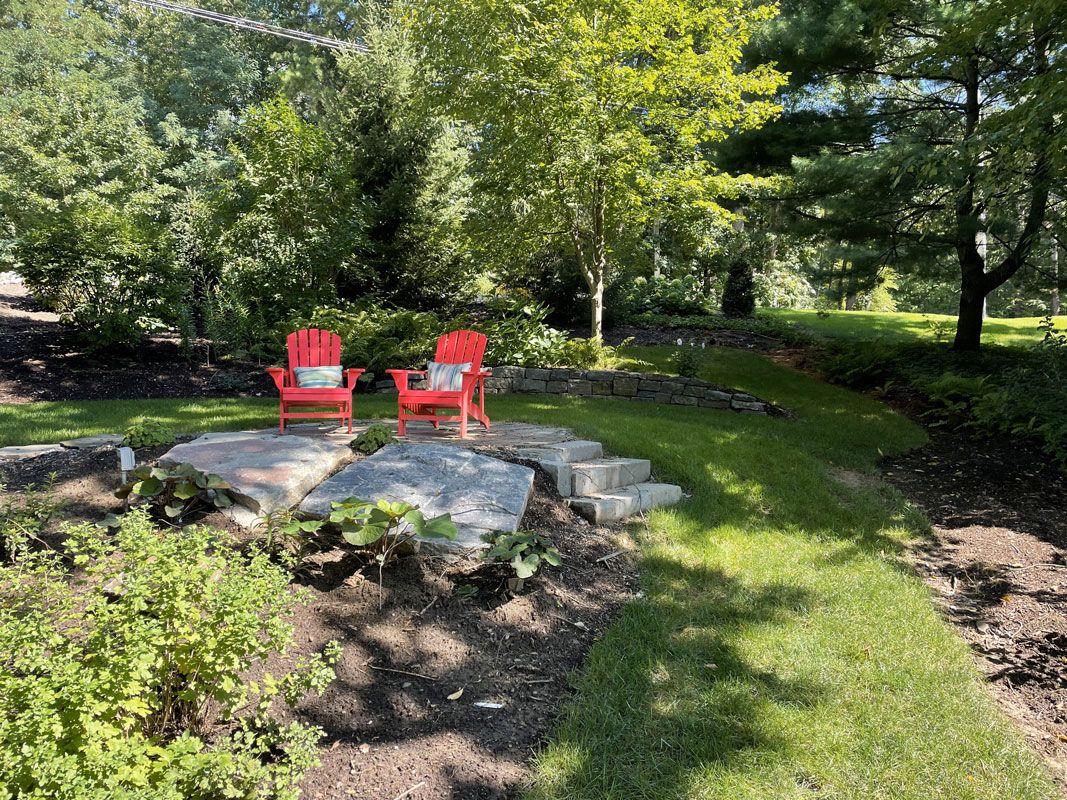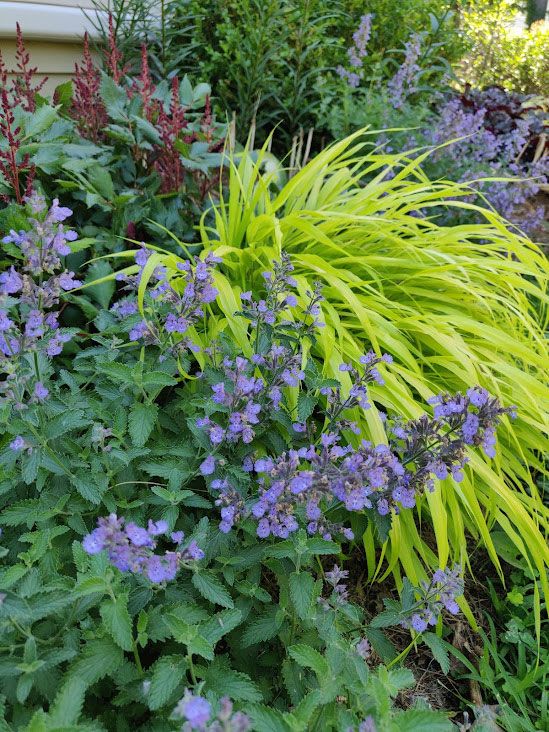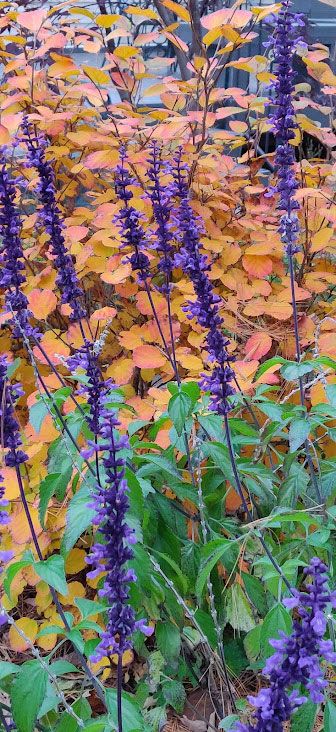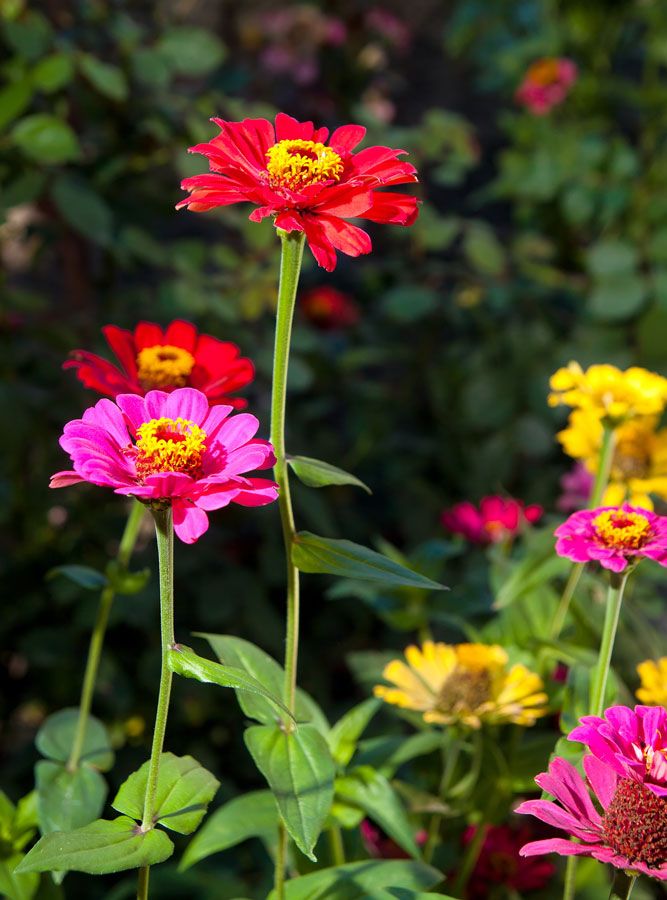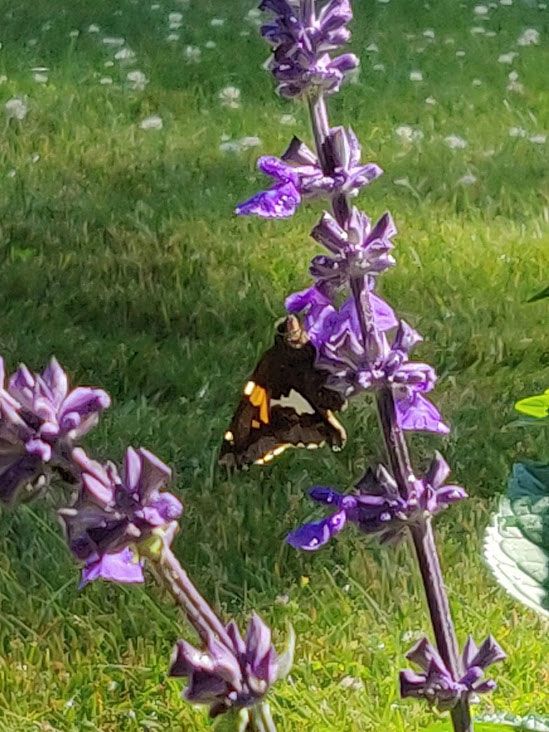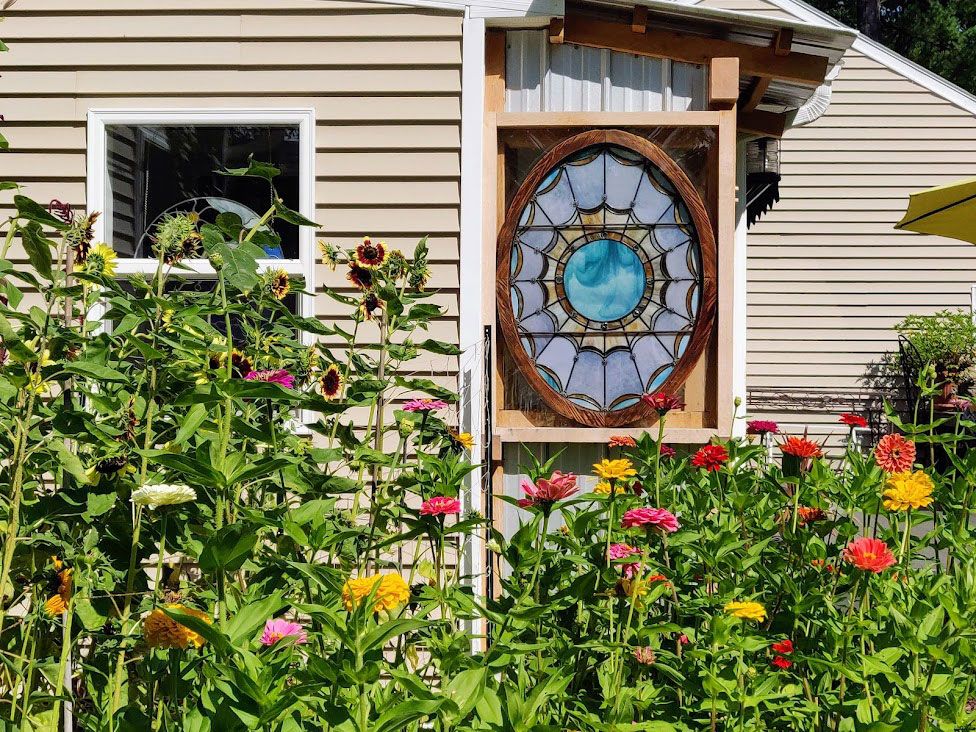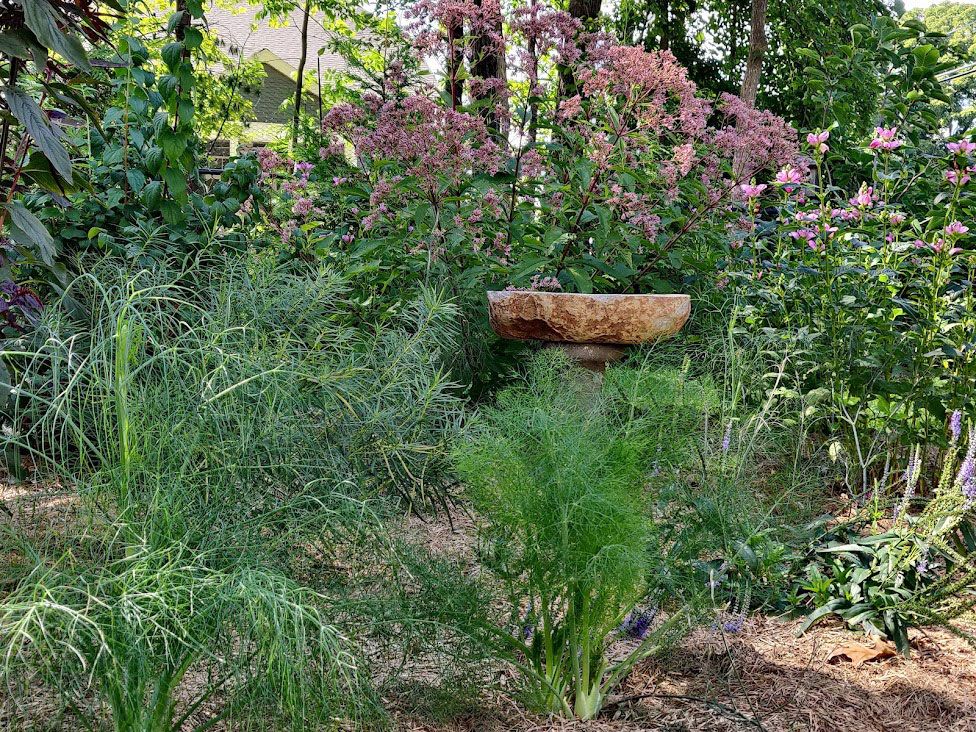 When Paul and J'Lene Krass moved to the outskirts of Saratoga Springs some 25 years ago, they wanted a backyard where they could leave the world behind and escape into the unexpected. The massive windows in their beautiful house overlooked almost nothing but an equally massive lawn.  
"Paul marched three landscapers through the front door and said, 'We are looking for the wow factor,'" J'Lene said. 
The third, J'Lene said, "was a real visionary" who was just starting out. He produced a large sketch showing waterfalls, round patios, lots of trees, sitting areas and surprising touches. "He thought we should use the unique yard to evolve a unique experience over time."  
The results can be summed up in the word Paul was looking for: Wow.
In phases over the past quarter-century, the vast lawn has given way to multiple mulch beds, colorful circular sitting areas with Adirondack chairs, stone and grassy paths, unique "Adirondack walls," flowing water and a variety of flowers and other plants.
Don't take our word for it. Come see for yourself!
The Krasses' garden is one of a dozen in Saratoga Springs and Wilton featured on the 28th annual Soroptimist Secret Gardens Tour set for Sunday, July 9. 
Most are indeed "secret gardens" not readily visible to passersby, in a variety of sizes and styles. You'll find sprawling woodsy settings; spacious and colorful suburban yards, several with water features and one offering a commanding view of Fish Creek; and proof that downsizing and creative gardening can coexist.
The Secret Gardens Tour is presented by Soroptimist International of Saratoga County, the local branch of an international nonprofit service organization committed to empowering and improving the lives of women, girls, and their communities. This fund-raiser benefits programs and people locally and globally in keeping with the Soroptimist mission. The Saratoga club's longtime beneficiary is Wellspring, the Saratoga County organization dedicated to preventing domestic abuse and assisting victims. 
"The success of the tour depends entirely on the generosity of people willing to open their stunning gardens to the public for one day in July," said Tymm Schumaker, co-chair of the Secret Gardens Tour Committee. "We cannot thank them enough."
Gardens for each year's tour are found primarily by word of mouth, recommendations from other gardeners, and committee members driving through neighborhoods and knocking on doors. 
One of this year's amazing gardens is hidden behind the dream home of Steven Galime and Ralph Vincent, a regular Simply Saratoga contributor who shares his garden story in this edition on page 85. Other owners participating this year are Dave and Marlene Armstrong, Manny and Cindy Choy, Linda and Paul Church, Jean and Don Garrant, Paul and J'Lene Krass, Carl and Beth Jahn, Paula and Richard Masterpolo, Ed and Margaret Rogers-Meagher, Paula and Keith Schmid, Michael and Ruth Martin Staff, and Carol and Barry Webb.
Only two of this year's gardens have been on the tour in years past, and both have undergone significant changes – after all, gardens are always a work in progress. 
At the Krasses, first timers on the tour, Paul tweaks something every year to improve their enjoyment. "Our favorite spot," J'Lene confided, "are the aqua chairs next to the pond at the house. We find nature relaxing as the sounds of water falling and singing birds mute the crazy world." 
They recently added several "families" of huge rocks brought in from an Adirondack quarry, adding visual interest year-round. "The landscaper said we always must have a family, meaning a big father rock, medium mother rock, and then a baby rock to achieve a natural looking scene. We have a grandpa rock and a grandma rock too," Paul said. "They really add a lot to the character of the yard." 
And, of course, Paul added, they love flowers, striving for "a sea of color that evolves with the flow of the summer season. We've learned that one or two of anything doesn't work well. Now we only buy in lots of 10 or more to make sure each has a voice in the yard."
One doesn't need a huge yard, though, for a garden that makes a statement and brings joy. 
Just ask Ed and Margaret Rogers-Meagher, who downsized almost a decade ago from a large property in Niskayuna to a then-new development in Wilton. Theirs and three other gardens in their neighborhood are on this year's tour.
The Meaghers started with a blank canvas and acres of sand, and now have perennials, flowering shrubs, herbs and vegetable, hostas from their prior home, peonies that were Ed's mother's in Eagle Bridge, and hollyhocks inspired by the couple's recent trip to Denmark.
Ed doesn't consider himself a gardener with a capital "G" but enjoys learning through trial and error. Many of his plants have colorful or unusual foliage, which Ed considers important for providing interest between blooms. 
While several gardens offer multiple outdoor seating areas, many owners also prioritize being able to enjoy the view from indoors.
For instance, among the many birdhouses in Jean and Don Garrant's gorgeous garden is a home for bluebirds placed right in front of their family room window. Last year they had three broods to watch; the parents let them peek into the house and watch the babies. And it seems as though every year, the Garrants, who have been gardening together for more than 60 years, start a new flower garden, in part because they make their own compost. 
Paula Schmid, who started her Saratoga Springs garden only eight years ago, advises others starting from scratch to move or expand beds far enough into the yard so that you can see your plantings from inside the house. "Try to think about what you would like your entire property to look like and then work on it in phases," she said.
"Outside, we love the patio and the lower pond areas the best," Paula said of her secret garden on a little-traveled street. "Inside, the kitchen table provides a great view of the birds that come to bathe in the stream, and the office windows look out onto the spirea hedge and tree-form hydrangeas. And most of the front yard design was created specifically for the purpose of creating a view from inside the house."  
Paula loves flowers and color. "But I also appreciate beautiful foliage," she said. "And I know the pollinators are in need of help to survive, so I try to be sure we are including plants that benefit bees and butterflies."  
Thinking of the big picture, regardless of your square footage, is one of the key garden landscaping philosophies of Paul and Linda Church. Paul Church is a longtime friend of Soroptimists, having recommended and worked on many gardens that have been on the tour over the years. Finally, his own garden – a mix of traditional and eclectic on barely half an acre, and only three years old -- is on the tour. 
His advice to gardeners starting anew is to drive and walk around, talk to people, and see what works in your area.    
"Take your time. Build the staples, build the anchors to start," he said, suggesting designs that incorporate groups of three. "For example, a stand of conifers or evergreens, specimen trees and shade trees, maybe pine spruce, maple or oak, dogwood."
Special touches in the Churches' garden include espaliered trees, which produce abundant fruit in limited space. Ornamental trees, shrubs, flowers, grasses, fruit trees and berries create a welcoming environment for pollinators and a source of year-round food for the Churches and friends.
Linda is among many of the gardeners on the tour who find the hands-on work rewarding in its own way.   
"Even the time spent weeding and planting, connecting with nature, is really lovely," Linda said. Gardening, she added, "is really about creating beauty and a sanctuary to be able to spend time in. Beauty, peace, and joy. No matter where you look, there's something beautiful."
Tickets for the July 9 Secret Gardens Tour are $25 in advance and $30 on the tour day. Descriptions of all 12 gardens, a map and suggested driving directions are provided. The gardens will be open to visitors from 11 a.m. to 5 p.m., rain or shine. The tour is self-guided and you go at your own pace. The tour is geared for adults, but there is no charge for children 12 and younger; pets are not permitted. Visit soroptimistsaratoga.org for information about purchasing tickets and to learn more about Soroptimists.