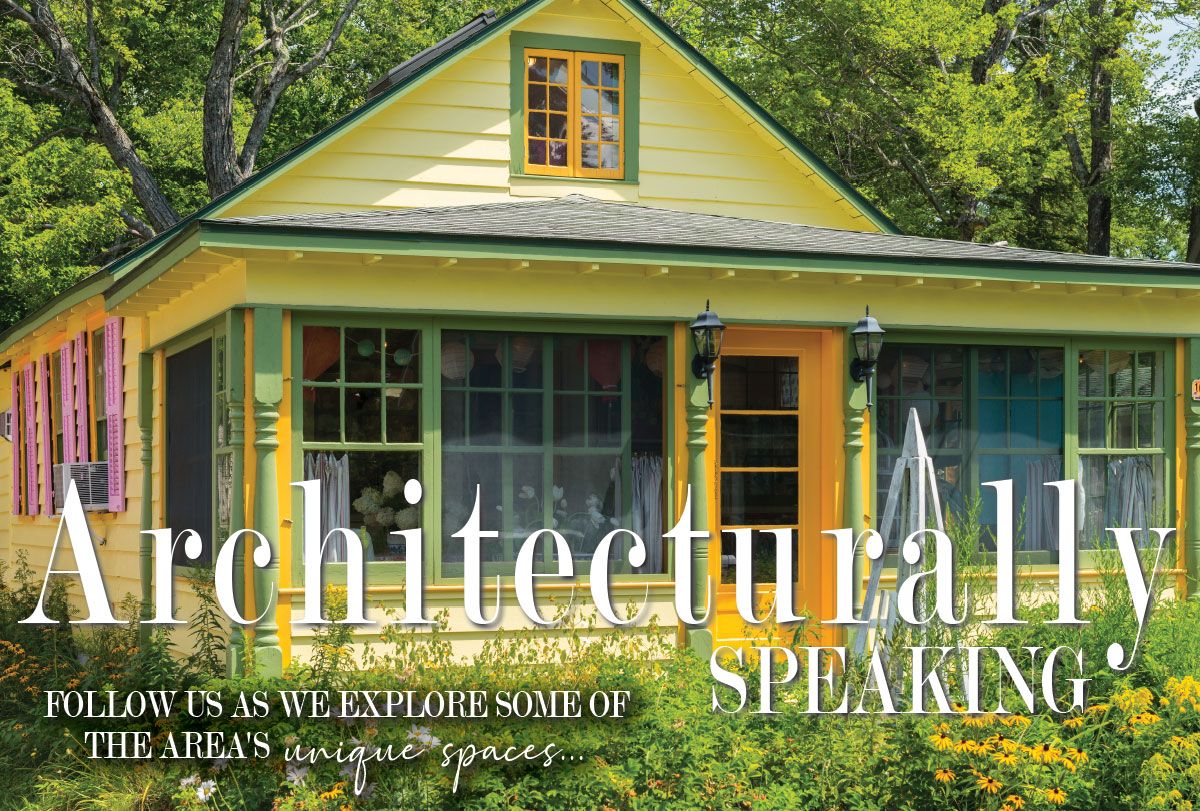 Written By Megin Potter  |  Photos by Randall Perry Photography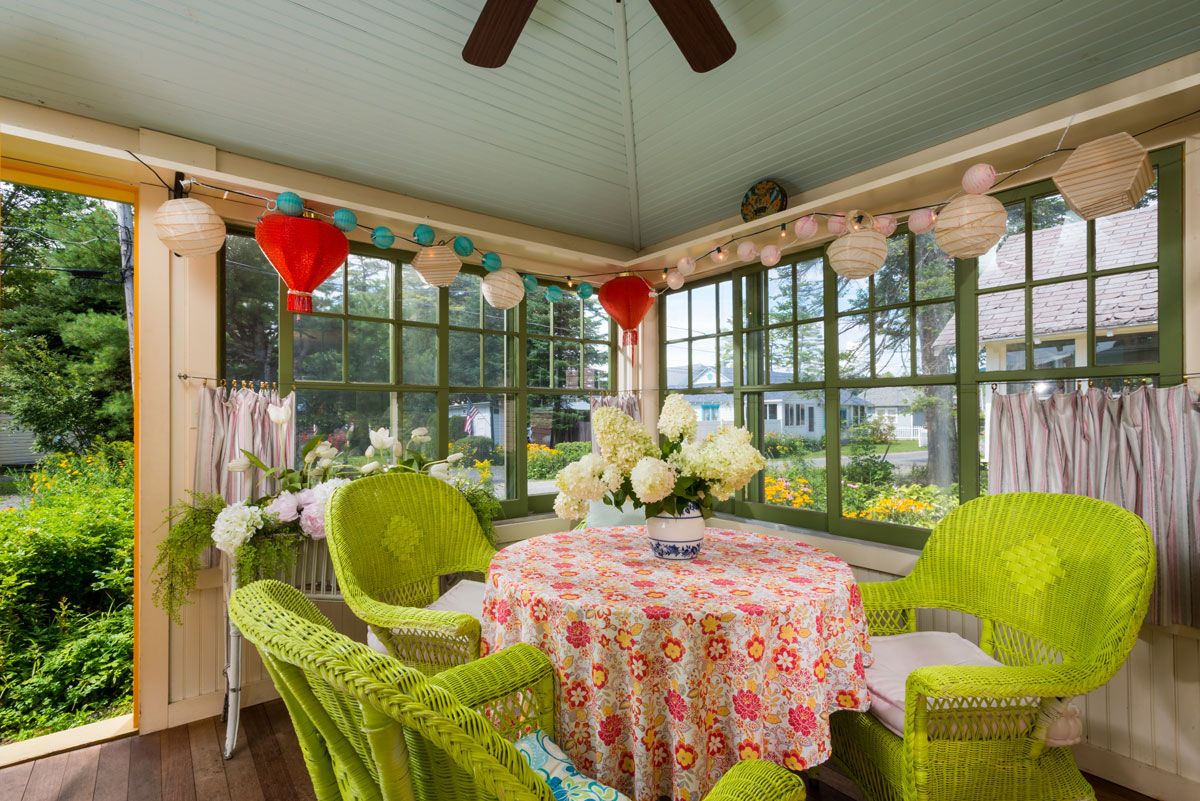 Vibrant color, bold prints, and fascinating finds lift your spirits in this lovely

 

Caroga Lake

 

B

ungalow.
Built in the 1950s, this bungalow was constructed to house factory families wanting a break at the lake after a hard week's work. Today, it is an interesting blend of modern design and old-fashioned coziness, giving it a look that is overflowing with charm.
The Working Man's Retreat
The small village of Gloversville was originally called "Stump City" because, after clearing the land, tree stumps were left everywhere. When it became an incorporated village in 1853, the name was changed to Gloversville because it had become well-known for its glove trade. Like so many others, Liane Schnur, a German immigrant who had been living in New Jersey, found opportunity in the factory town.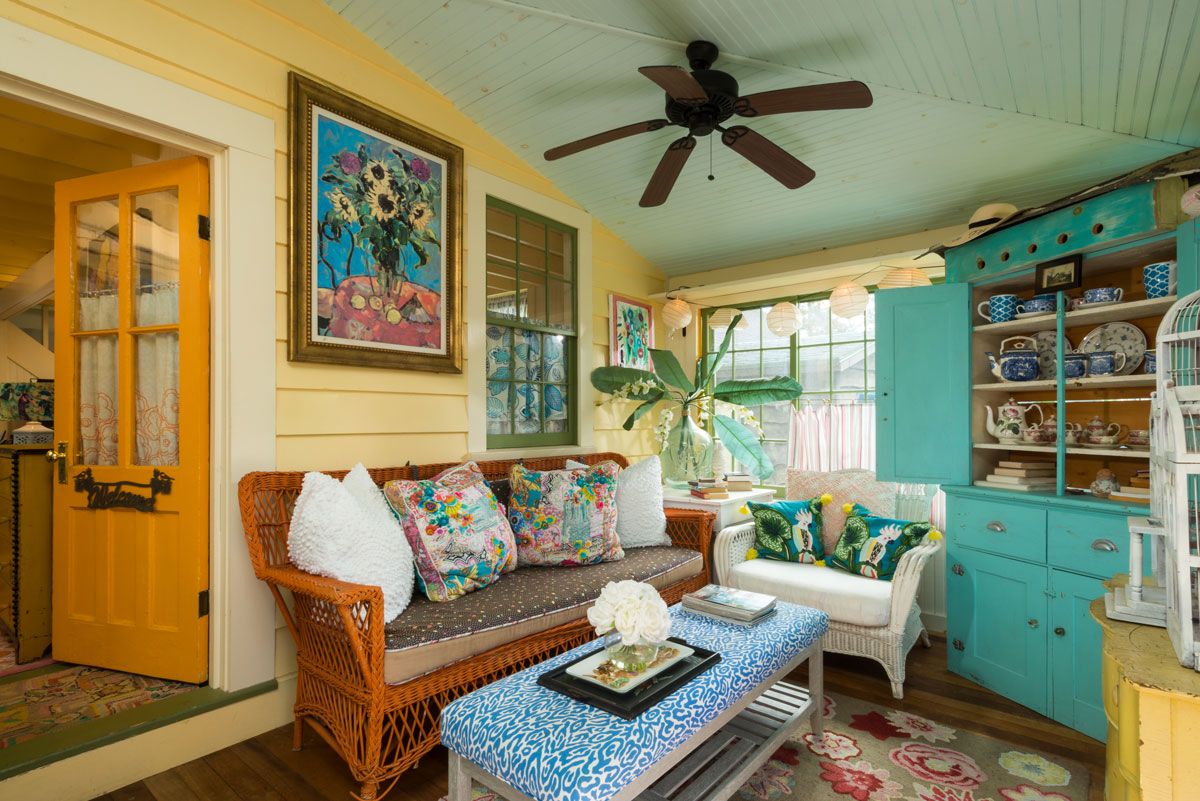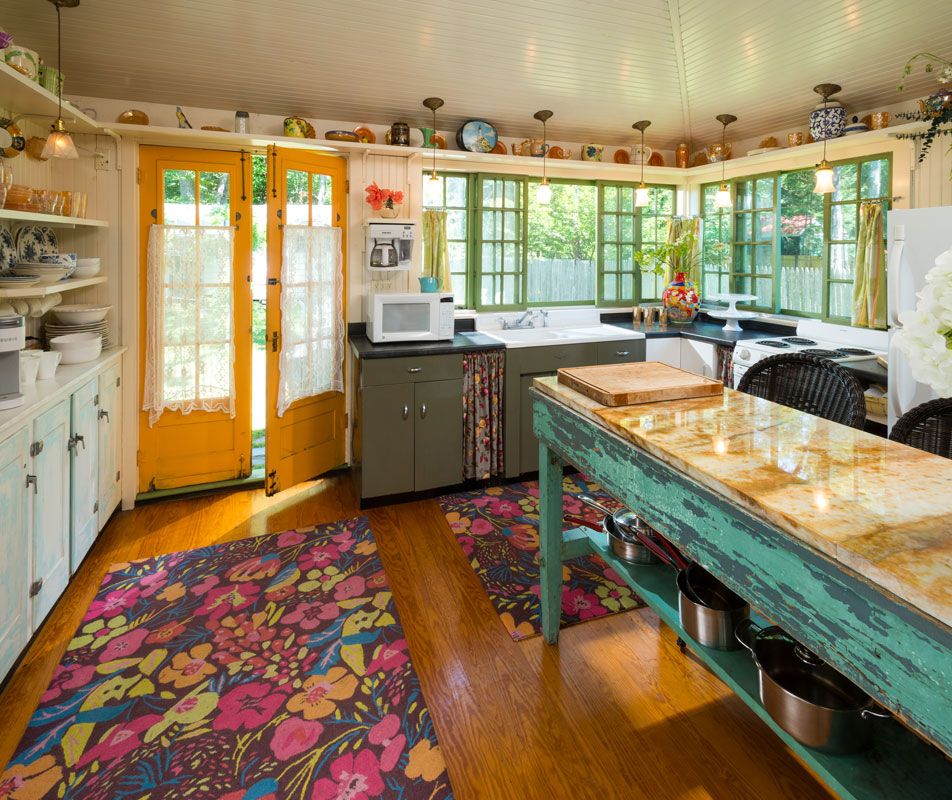 When Liane's daughter was seven years old, they rented a small bungalow on Caroga Lake for six weeks. The lake's sandy beaches and the lively Sherman's Amusement Park's rides, games and attractions nearby had been making dreams come true for families on moderate budgets since the 1920s.
In 2010, the amusement park closed but Liane never lost her love for the area or that little bungalow. After running a small dress shop, Liane directed her flare for style into renovating small homes.  She was able to acquire a mobile home in the retirement community of Fort Myers Beach, FL, and another bungalow on Caroga Lake, but wasn't going to give up on the property she would come to call the "Princess of the Lake".
Through much perseverance (and by plying the neighbor with blueberry muffins) Liane learned the owner of the Caroga Lake bungalow was willing to lower their original asking price. Eventually, after four years of sitting vacant, Liane's offer was accepted, and now, she has brought this once-neglected gem back to life.
The Princess Meets Prints Charming
Decorated with a grandmillennial aesthetic, the bright space feels like a breath of fresh air after the gray, neutral minimalist designs that have dominated the last decade. 
"I love color. This is the most color I've ever used anywhere. It all comes from my heart," said Liane. 
Full of personality, glorious light, and bold, quirky choices, it feels like walking into someplace familiar. 
"It makes me feel like I'm being hugged. It's just the most comfortable place. It represents family, feeling happy, and loved," she added. 
Surrounded on three sides by flower gardens, the bungalow's humble two-bedroom, one bath open floorplan maximizes the space. 
Decorated with a tasteful mix of unpretentious floral prints and lush tropical designs, all types of flora are fair game among the home's sherbet color scheme, making it feel welcoming, exotic, and comfy all at the same time.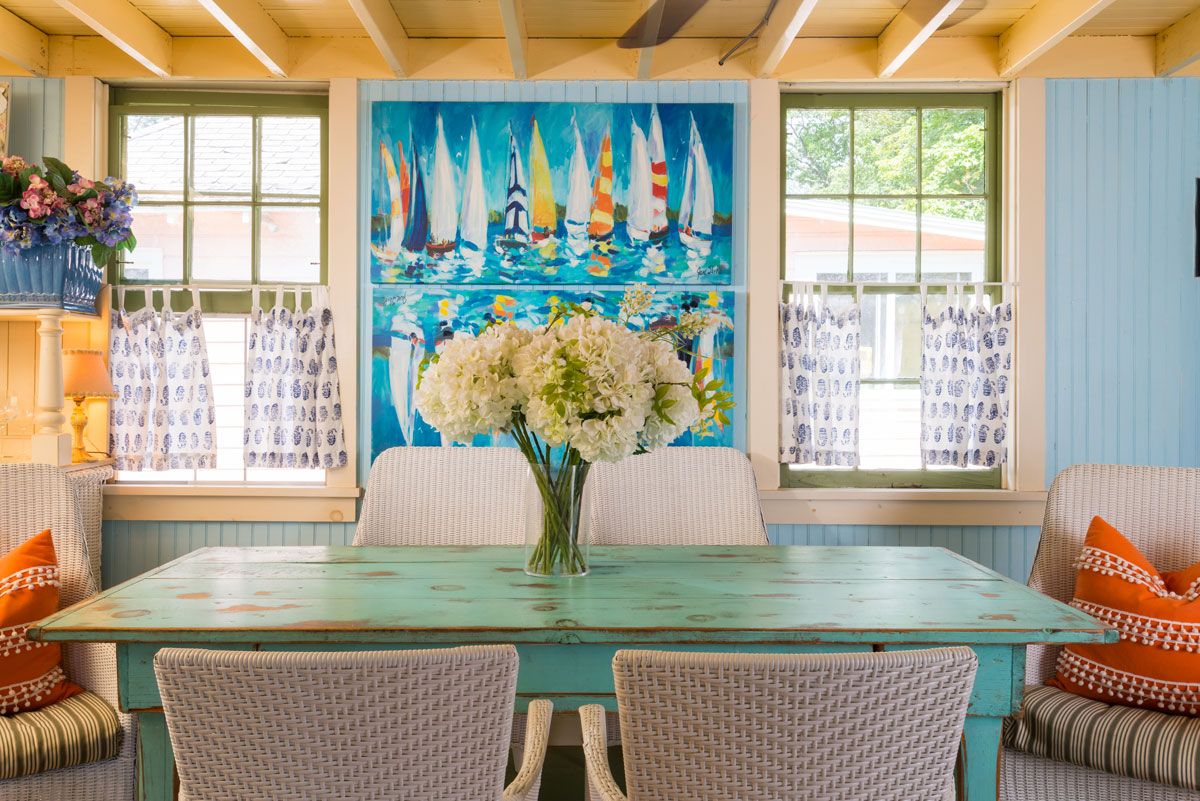 Dishware Everywhere
Antiques exist everywhere here, from the fun enclosed front porch to the wisteria-covered backyard firepit. 
Among their backdrop of painted wainscotting, large salvaged furniture pieces make a statement. In the original kitchen, a workman's bench is topped with a granite slab for an ample work surface. Throughout the house, and quintessential to granny chic design, antique dishes, plates, and crockery are a cost-effective way to add vintage vibes. 
Glowing translucent cobalt blues, amber browns, pastel pinks, and light green dishes (known as depression ware) contain the colors that are a hallmark of millennial style. The mismatched sets add an eclectic flavor that makes bunches of baubles, trinkets, and more practical items (like candle holders) feel equally at home. 
An old Coca-Cola bottle opener, tin containers, and other advertising memorabilia scattered throughout the house transport visitors to another time. 
Liane's crafty touch can be felt here too, not only in her paint finishes, but in projects, like the set of pillow cases she created from chenille bedspreads.
Just steps away, the private beach beckons, the silhouette of Sherman's Ferris Wheel standing stoutly in the distance. The park's bumper cars, carousel, and pavilion have been restored and are now available for private rentals. 
The entire upstairs loft, bathed in brightness from several skylights, is a cute place for young kids. The Princess of the Lake, now an Air B & B, and a second building in the backyard that Liane will be restoring this year, are destined to host families looking to get-away for many more years to come. 
"We can make our dreams come true even on a limited budget," said Liane. "You can achieve your dreams if you chase them. You've got to go after them. Don't give up."