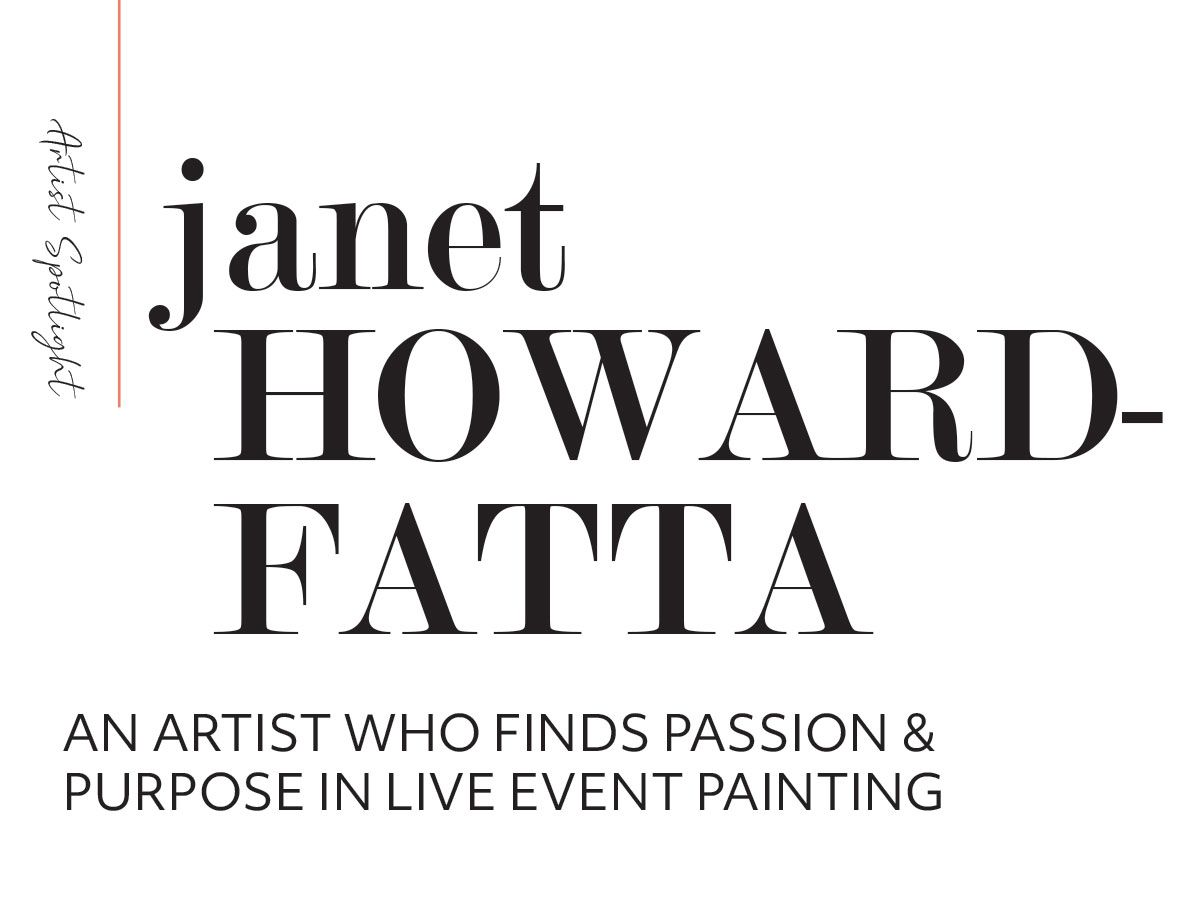 Written By Wendy Hobday Haugh  |  Photos provided by WENDY Hobday HAUGH And JANET HOWARD-FATTA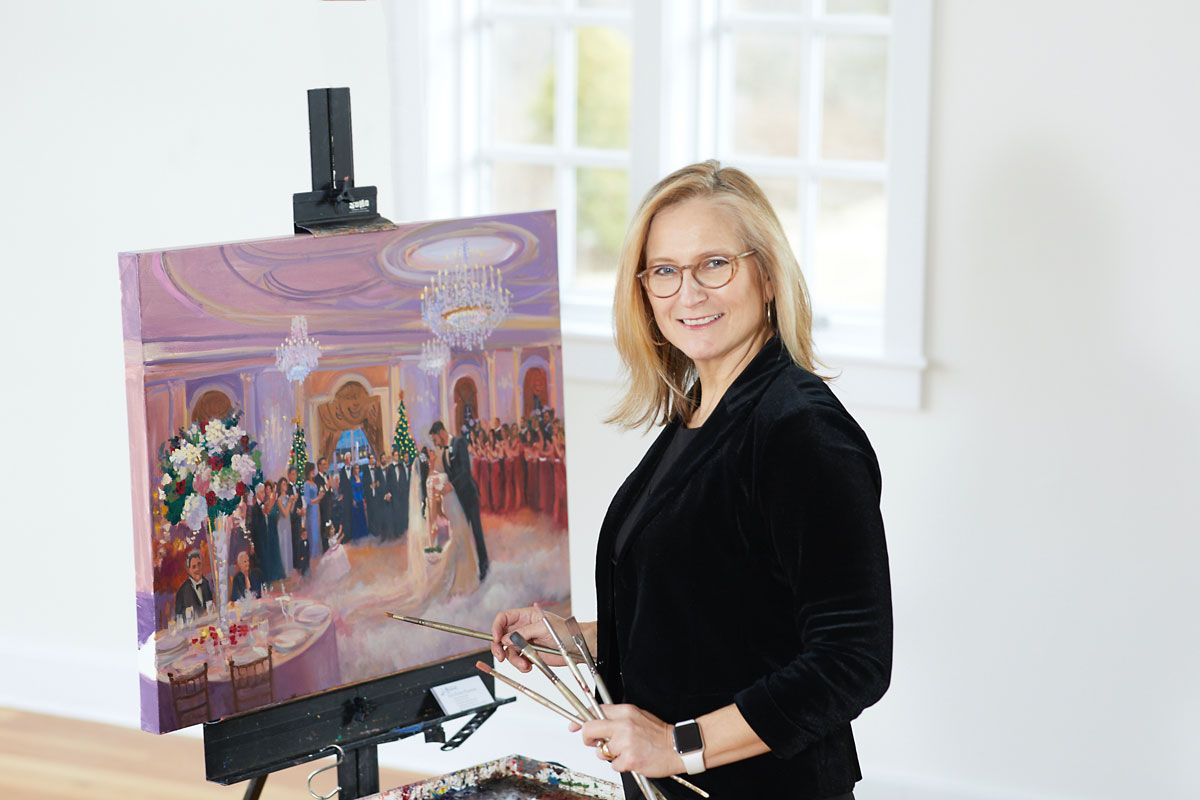 Throughout her illustrious career, artist Janet Howard-Fatta of Warwick, NY, has painted everything from landscapes and seascapes to figures and floral scenes. But in 2015, this talented woman embarked on an exciting new path as a Live Event Painter. 
"I've always loved painting figures and landscapes," she says, "and I really wanted to bring the two together. So one day, when a friend of mine was having a maple syrup boil, I set up my easel and began painting the event, putting specific people in place, including my husband and the dog. People gathered 'round to watch me work. It was so much fun!
That's when I knew I'd hit on something I'd really enjoy doing."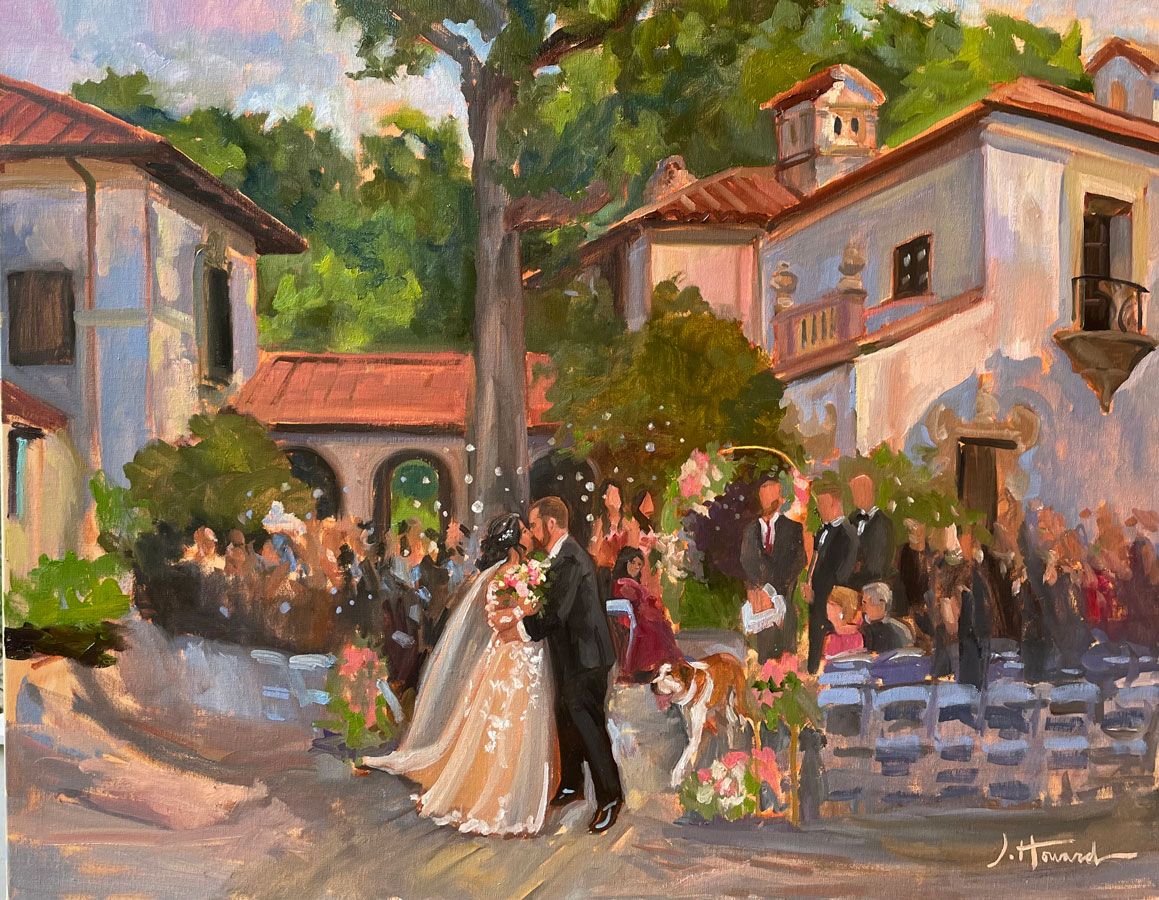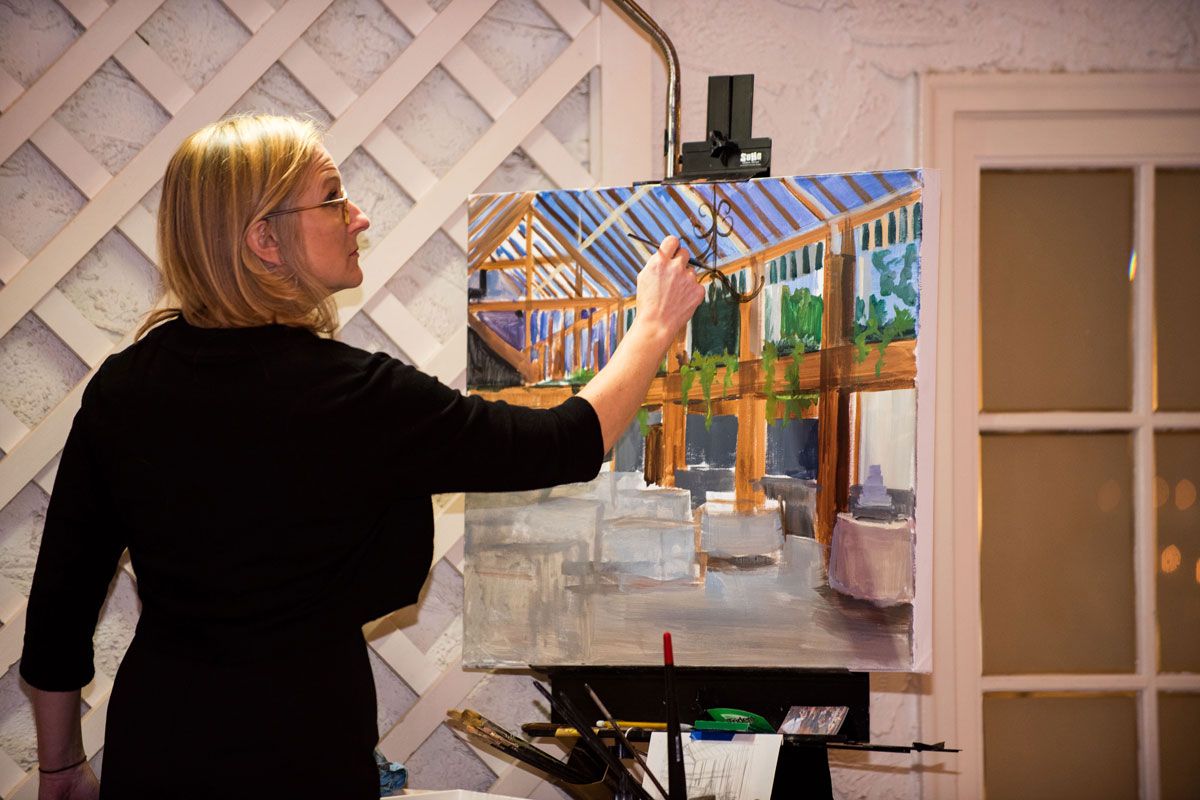 After volunteering to paint a neighbor's wedding, word circulated and her new career was launched. Janet thrives on people and relationships and is honored to participate in events through her painting. "Telling a story in paint on canvas allows me to capture the emotion of a moment," she says. "My impressionistic style captures the visual poetry of the event." 
Upon meeting this charming artist, it's easy to see why she does what she does. Energetic, friendly, and eager to meet new people, Janet would make a sparkling addition to any event. She works with clients beforehand to determine backdrops, activities, and specific people they'd like portrayed in their paintings. And, on the big day, her artist's station becomes a fun 'added attraction' at an already festive event. 
"I try to be as unobtrusive as possible, but with my bright light and easel, I'm definitely visible. People enjoy stopping by to ask questions and watch me work, and they'll often stop back periodically to watch a painting progress."  
Ever industrious, Janet worked 115 events last year, and 2023 was fully booked months before it even began. "There's a snowball effect," she points out. "One wedding often turns into five as people see what I'm doing and pass the word along." April through October is her peak season for live events. During the winter, she'll often paint commissioned scenes from photographs or videos. 
Janet Howard-Fatta studied illustration at the High School of Art & Design in New York City and earned her Bachelor of Fine Arts degree in Painting from the Pratt Institute in 1991. She has exhibited extensively over the years and is heavily involved in community art endeavors. Just for fun, Janet runs a Tuesday morning group in figurative studies. "This is my weekly 'playtime,' when a group of artists hires a nude and experiments with figure drawing."  
When asked how she manages to juggle so much, she credits her daily regimen of walking, meditating, exercising, keeping a gratitude journal, and sleeping 7.5 hours a night. "I tell people I'm really an artist/athlete."
Janet's husband, Louis—also a Pratt graduate—is a metal sculptor, artist, and Rockland County art teacher. "We built a barn out back for Louie's sculpture and, recently, he's taken up painting. My studio is set up in the living room, and Louie has taken over the dining room. As a painter, his content is very different from mine. I'm more skilled, but Louie's artistic voice is stronger." 
The couple has two children. "Luke, 23, is a talented diesel technician and welder," Janet beams. "He could have been a sculptor, and still might be. Caroline is a Chemistry Major at SUNY Binghamton. She's good at drawing but loves chemistry. Once, at an off-campus event, Caroline and her friends sketched portraits on paper plates. They charged a dollar a portrait, and made $95."
That lively, entrepreneurial spirit clearly runs in the family. At one time, Janet seriously considered pursuing a career as a pancake artist. "Several artist friends and I took a booth at the Warwick Apple Festival. We hauled in a big griddle and made pancake portraits. It was so much fun! You use pancake batter to form the head, batter mixed with cocoa to draw the features, flip it—and there you are!" 
Last summer, the Fattas purchased a rustic summer camp on Great Sacandaga Lake. "There's something special about the Adirondack air, trees, and vegetation," Janet reflects.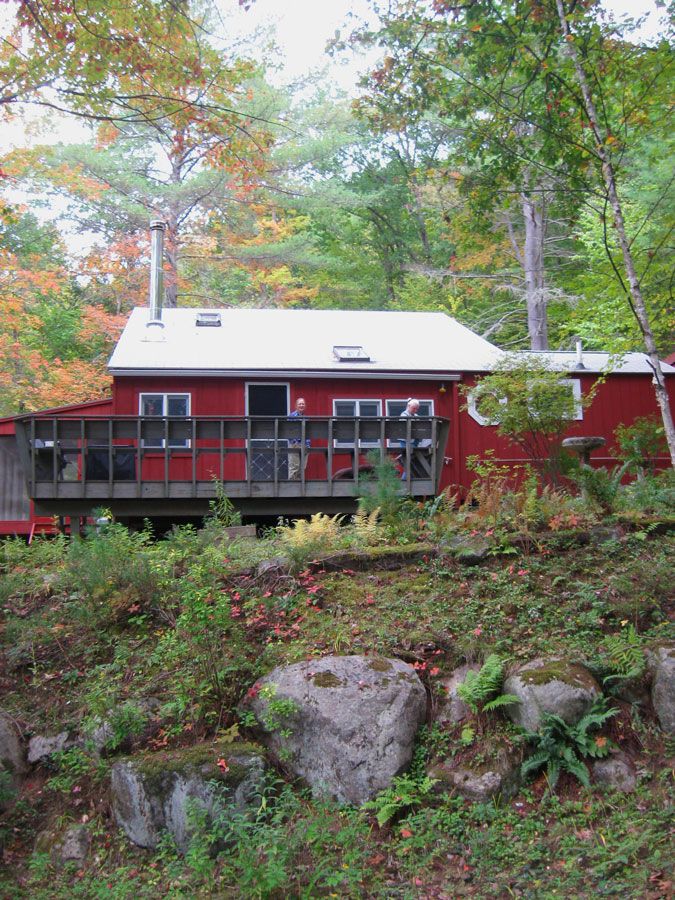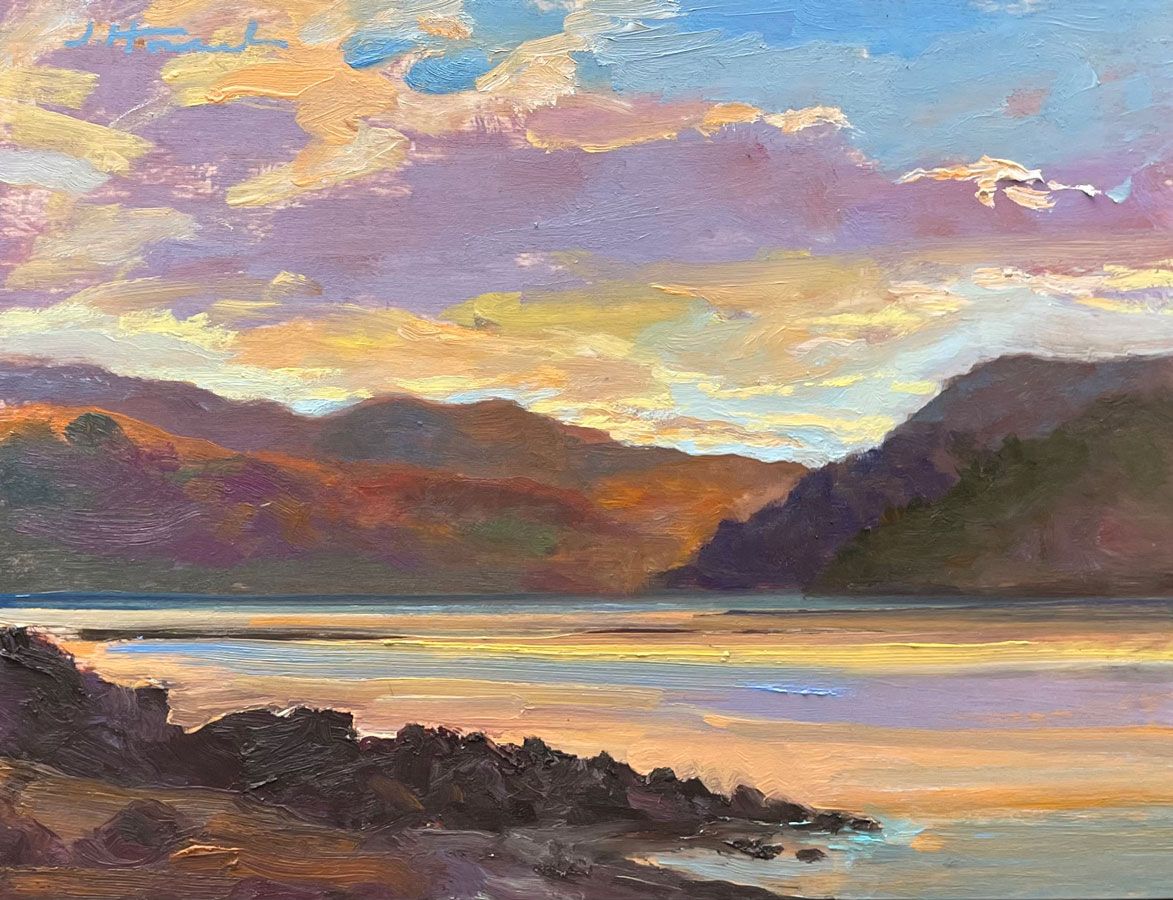 "It's very different from the Catskills. My husband had always wanted a place on a lake, and my son is an avid fisherman. We wanted someplace that wasn't too far a drive for us, and Sacandaga was a perfect fit."
When they first visited the camp, the couple had no idea that it had been built and enjoyed for 65 years by two other married artists. "But the second I entered the camp," Janet recalls, "I could tell by all the little artistic touches that an artist had lived here." And, when she ventured upstairs—and saw the big windows overlooking the woods and lake, and the telltale flecks of cobalt blue paint on the linoleum—she knew her instincts were right on. 
"I love the yard, the rocks, the ferns, and all the native plants, and I absolutely love stepping out the back door on to the big, flat rock that serves as a stoop. Sitting in the kitchen or living room, I can see the water sparkling through the trees. Everything about the location appeals to me."
Although Janet's fair weather months are currently tied up with downstate events, she looks forward to spending a lot more time at her lakeside retreat in the future. "I'd love to be working more in the Saratoga/Lake George area. I've painted several scenes from the Hall of Springs, done an event at The Inn at Erlowest in Lake George, and have an event scheduled this June at the Sagamore. But I'd love to paint even more live events in our new, upstate location." 
Janet Howard-Fatta is thrilled to have found an artistic niche that combines her two greatest passions: people and painting. She smiles when asked if there are events she'd like to paint that she hasn't already done. "I'd like to paint a funeral sometime . . . and a dog's birthday party." But, until then, her many weddings gigs will keep her busy enough. 
To contact Janet or see more of her work, visit jhowardstudios.com.