Written by and photographed by Colleen Coleman of CMC Design Studio LLC
In an era where we tend to throw so much away…always wanting the next best thing that comes along…I have some treasures-from-trash stories to enlighten your thinking!  I myself have always loved picking up an old chair or table curbside and turning it into something special. It's about seeing the "form," the bones of someone else's discarded fragments, and imagining the diamond buried deep inside. A challenge of sorts to make something out of nothing!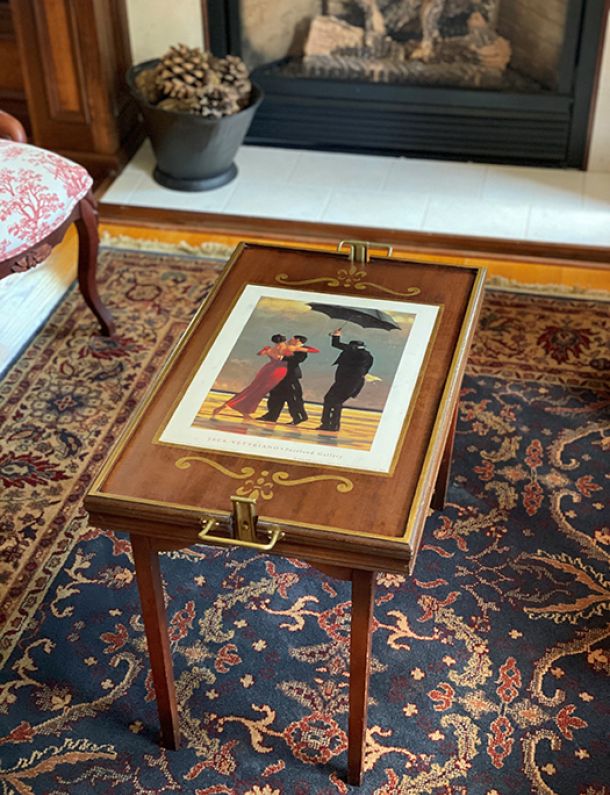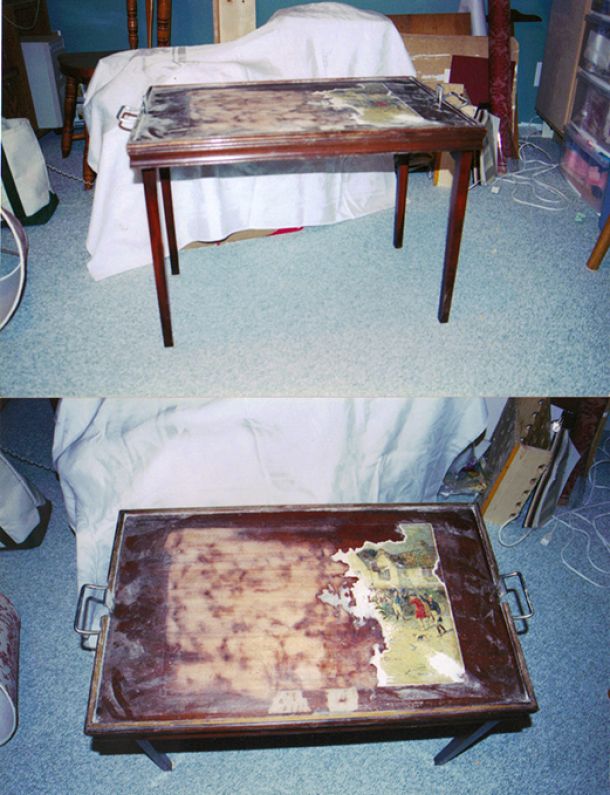 Take for instance this simple tray table with foldable legs. A $5 find at a thrift shop turned coffee table. With a little elbow grease, a new print centerstage to set the mood (The Singing Butler by Jack Vettriano), some brass paint artistically applied and voila! ...An artful centerpiece with a new purpose!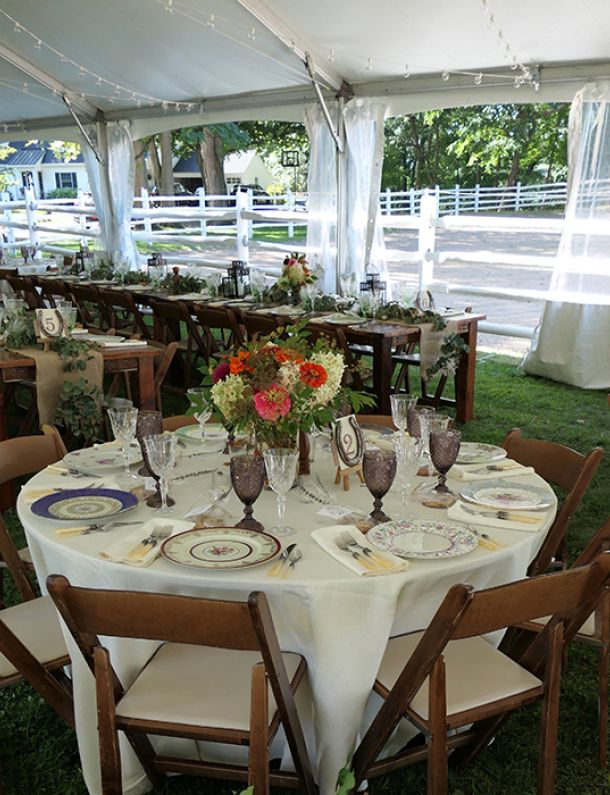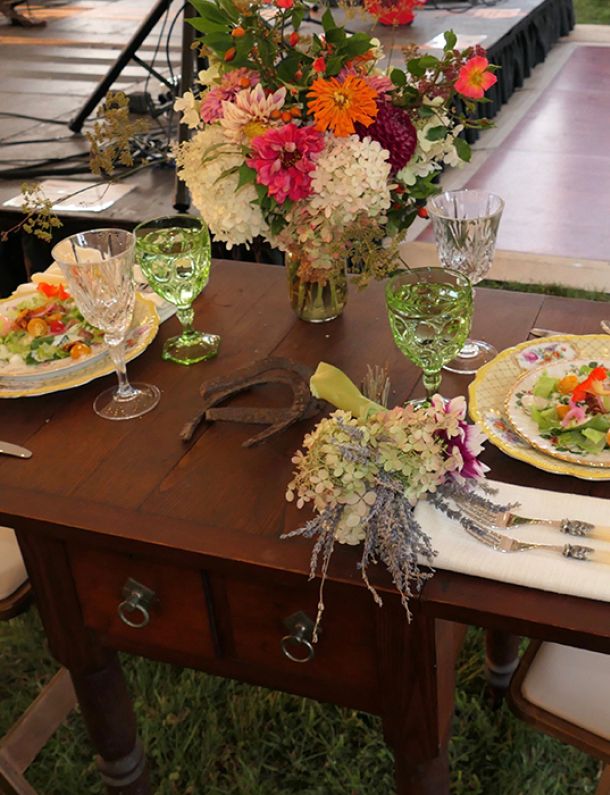 And what about all the porcelain china sets like Lenox, Mikasa & Noritake that we just had to have on our wedding registry…Did you know Lenox was the first company to develop a bridal registry?…and our kids have NO use for them! They are being donated to Habitat Restores and found in garage sales for pennies on the dollar! I don't know about you, but I love my set…my boys are just going to have to find a spot in their homes to display them when I'm gone! Anyway…here is a fabulous idea from my brother's wedding...Thank you John and Gina for the pics! Their caterer, Green Zebra Catering LLC, collects all sorts of china patterns and uses them for table settings. A mix-and-match that sets the tone for a formal event yet offering a casual twist by not having the entire place setting from the same collection...Genius!! ...And the head table was a true masterpiece! A vintage drop leaf side table borrowed from a dear friend…You know the saying…Something old, something new!  Both were magnificent touches to their outdoor wedding reception under the stars! With all the upcoming fall weddings being simplified and many with smaller, casual receptions…what are you waiting for…get yourself to Habitat Restore and Rebuilding Together…your guests are going to love this! Photo by Katherine Cumming Photography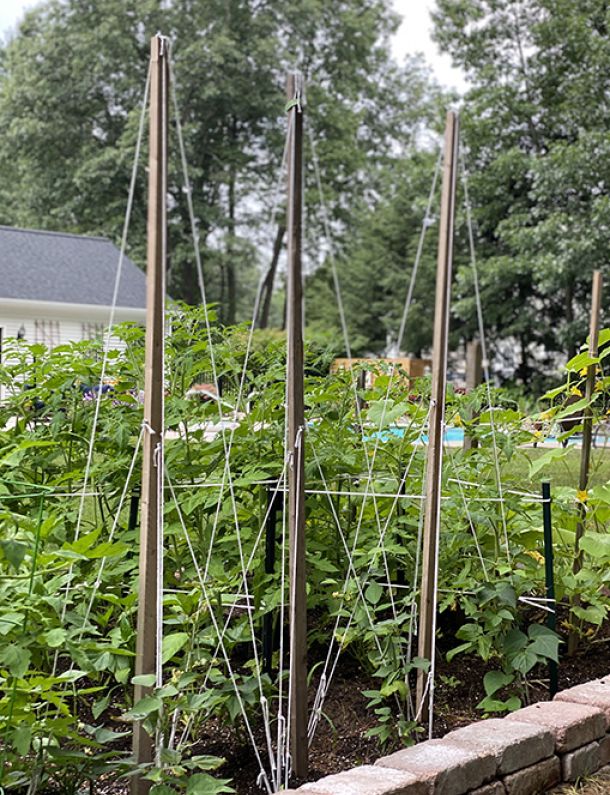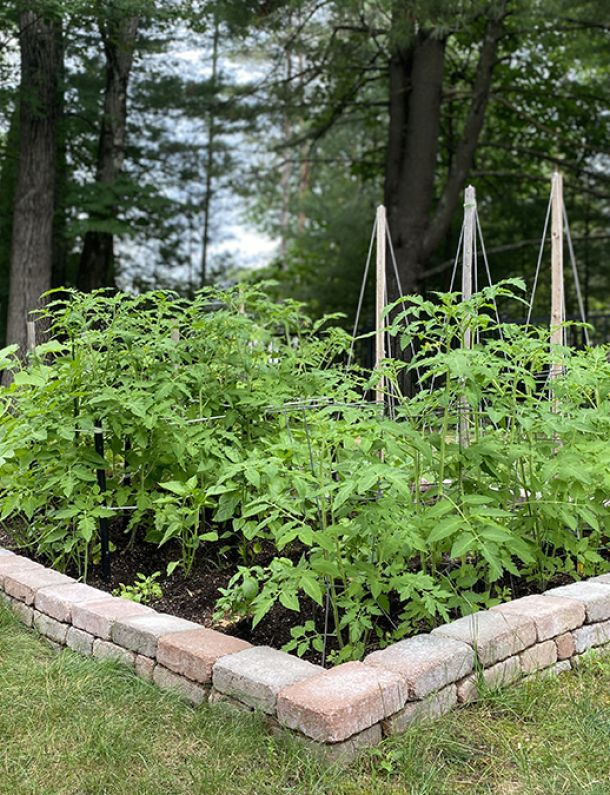 Now, if you're planning on updating your old patio, don't discard the pavers. My husband and I had a pool installed a few years back and decided to remove our smaller courtyard area, making room for a larger entertaining space for outdoor dining and gatherings pool side. The pavers were moved to a corner of our lot in hopes of being used again one day. Well this summer, some of them found a new life as the boarder for our vegetable garden. We dry-stacked the bricks in an alternating fashion, giving the garden a traditional vibe while keeping the surrounding grass at bay!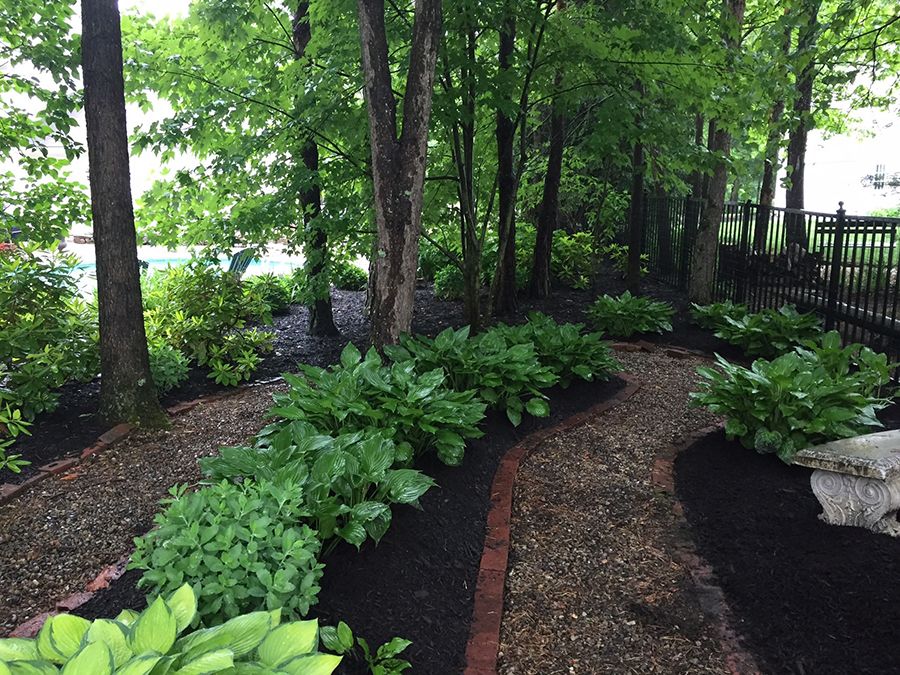 We didn't stop there…Our row of triangular trellis' for the beans were old pieces of wood from a crate. To craft the "trellis," we inserted a screw at the top of each pole and four more in alternating positions about half way down the posts. We tied twine to each of the screws and created a web for the beans to climb on by securing the rope to the ground with our old tent stakes. Simple and easy …and we used what we had on hand!
And don't stop at your own surplus...Hey, when my friends ask "Does anyone want old bricks?" I'm there with my car loading them up! ...Yeah, I have a thing for old bricks...I use them as a short retaining wall for my hidden garden path. Most of them are from historical homes in Saratoga and the surrounding lake areas. A little piece of history...if bricks could talk!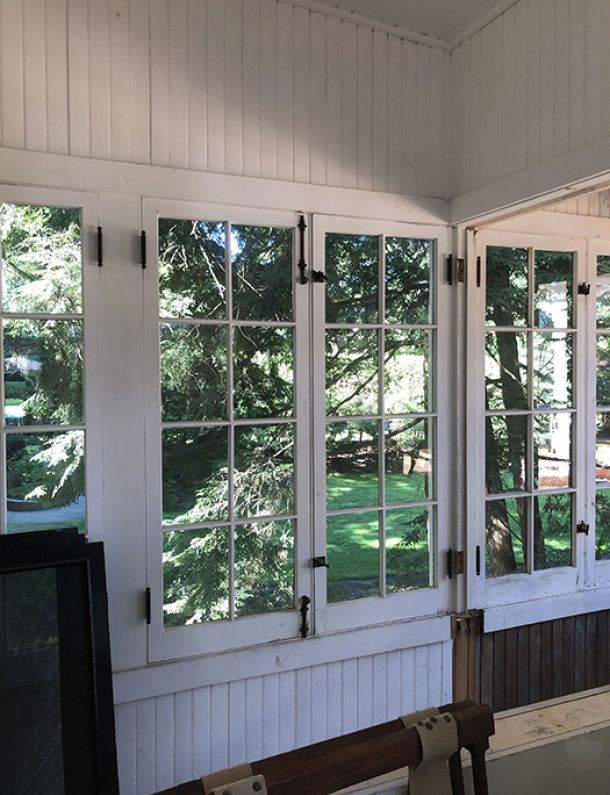 And when you are renovating your home, be mindful to think about the architectural elements, like windows, doors and moldings, you are removing. Last year I worked with a couple to design their garage addition which included a pool house. The old mudroom was reworked with a staircase to the new garage below eliminating one of the original 1800 French windows. While one panel had to be stored for another day, I designed a custom barn door for their pool house bathroom entry out of the other. My woodshop cleaned up the original hardware and replaced the glass with mirror for privacy. The panel was then set into a handcrafted door, original brass surface bolts and all! Integrating this element from their original home into their new addition brought old and new together. Offering a view into the past while maintaining a modern take on an architectural remnant.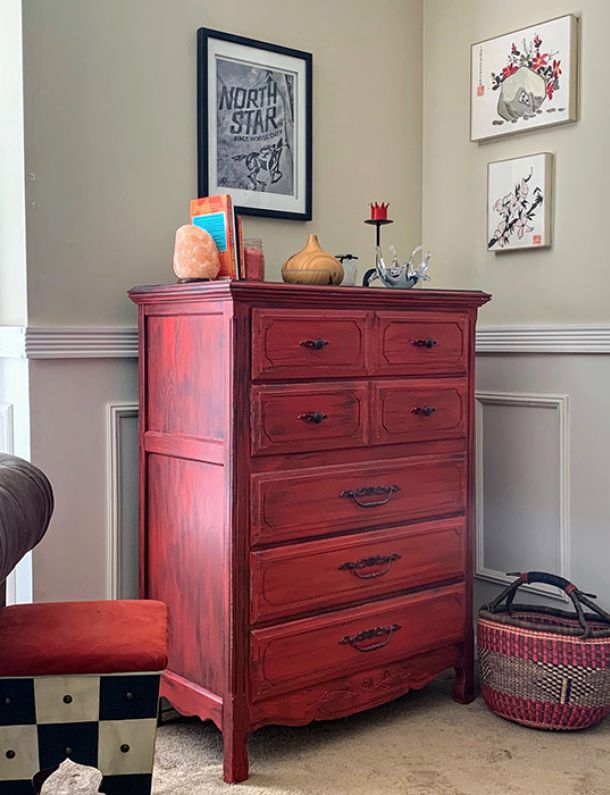 Or how about the old dresser your mom gave you for one of the kids…yeah, they didn't want it either… And that color! Well, don't throw the baby out with the bath water just yet! This clever, local decorative artist and muralist, Stephanie Salway of Starlily Design Studio, transformed an old chest of drawers from a tired green leftover into a bright and cheery cabinet for her client's collection of board games. Easy-Peasy…Okay, so this isn't in your wheelhouse of talents but you are beginning to see the vision! Stephanie is a great resource; from small items up to giving your kitchen cabinets a facelift…all with paint!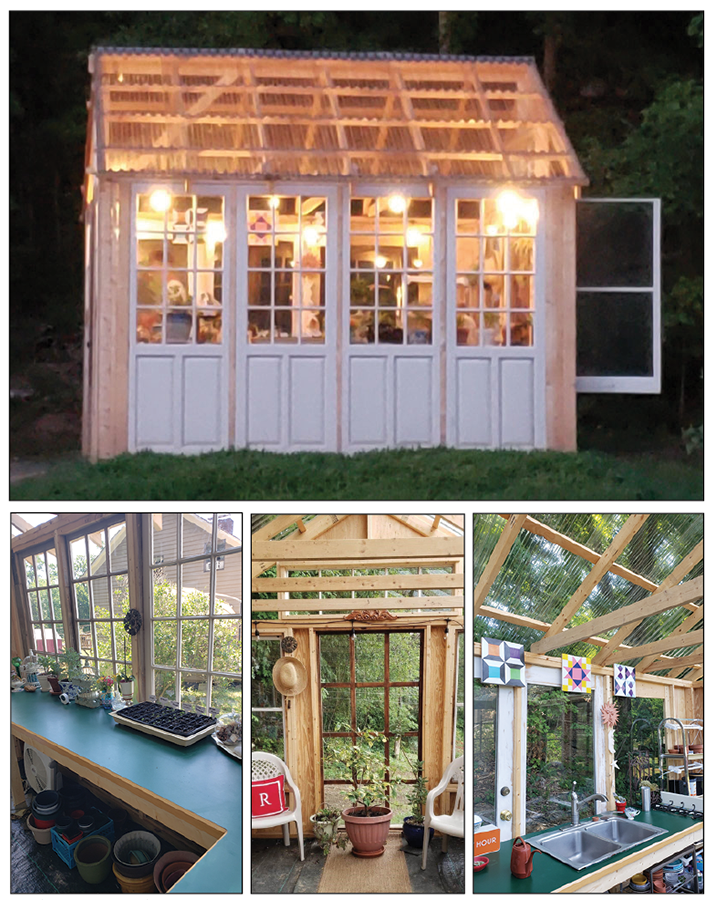 And talk about repurposing items from your home. Look at this beautiful greenhouse!  Everything except the roof was repurposed. The homeowners, Rilla and Mike Schulte, designed and built this dreamy escape using many items from their past and present home renovations over the years… Rilla explains, "On the front of the building we used three windowed doors from our existing farm which now matches the sliding door on our garage. The windows on the entry side were found on the side of the road."…see what I mean!…"The one gabled end has a transom window repurposed from here on the farm. The side windows were given to me from a friend and the large paned window was a handmade original from our 1880's dairy barn home. The countertops, sink and faucet are repurposed as well. When we moved here, we replaced what was in the kitchen. Hoping someday to have a greenhouse, I opted to keep the old pieces on hand. And get this, on the back side are atrium doors from our old house inserted with the glass top from our first dining room table from the 80s!"…Their greenhouse is so much more than repurposed items…it's a collection of life well lived; of memories, friendships and finds. And now…it's a retreat for the soul!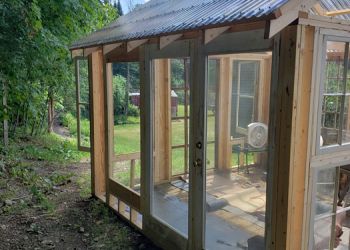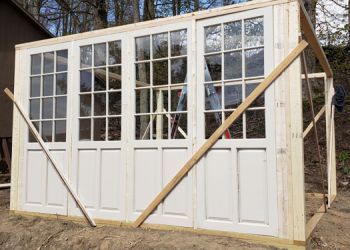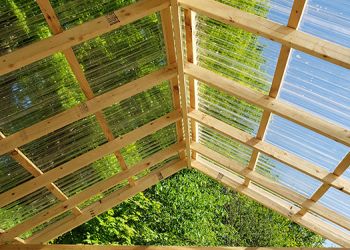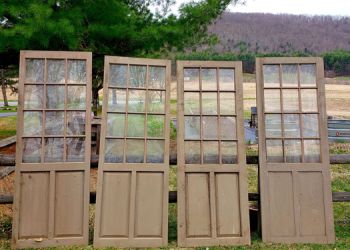 So, the next time you think you're going to give the garbage man that "whatever," think twice; call a crafty friend or try imaging it as something else. Just think, you will have created a pearl from sand…A cherished artifact with stories a store-bought piece just can't tell.
Happy treasure hunting my friends,
Colleen Coleman
Colleen Coleman of CMC Design Studio LLC
AKBD, CAPS & True Color Expert
This email address is being protected from spambots. You need JavaScript enabled to view it.
"Creating Environments for Life" TM