Two Brothers / Two Legacies:
MOTHER GOLDSMITH'S • 43 PHILA STREET
LOU'S LUNCHEONETTE • 457 BROADWAY • #3 IN THE SERIES...
WRITTEN BY CAROL GODETTE, PHOTOS PROVIDED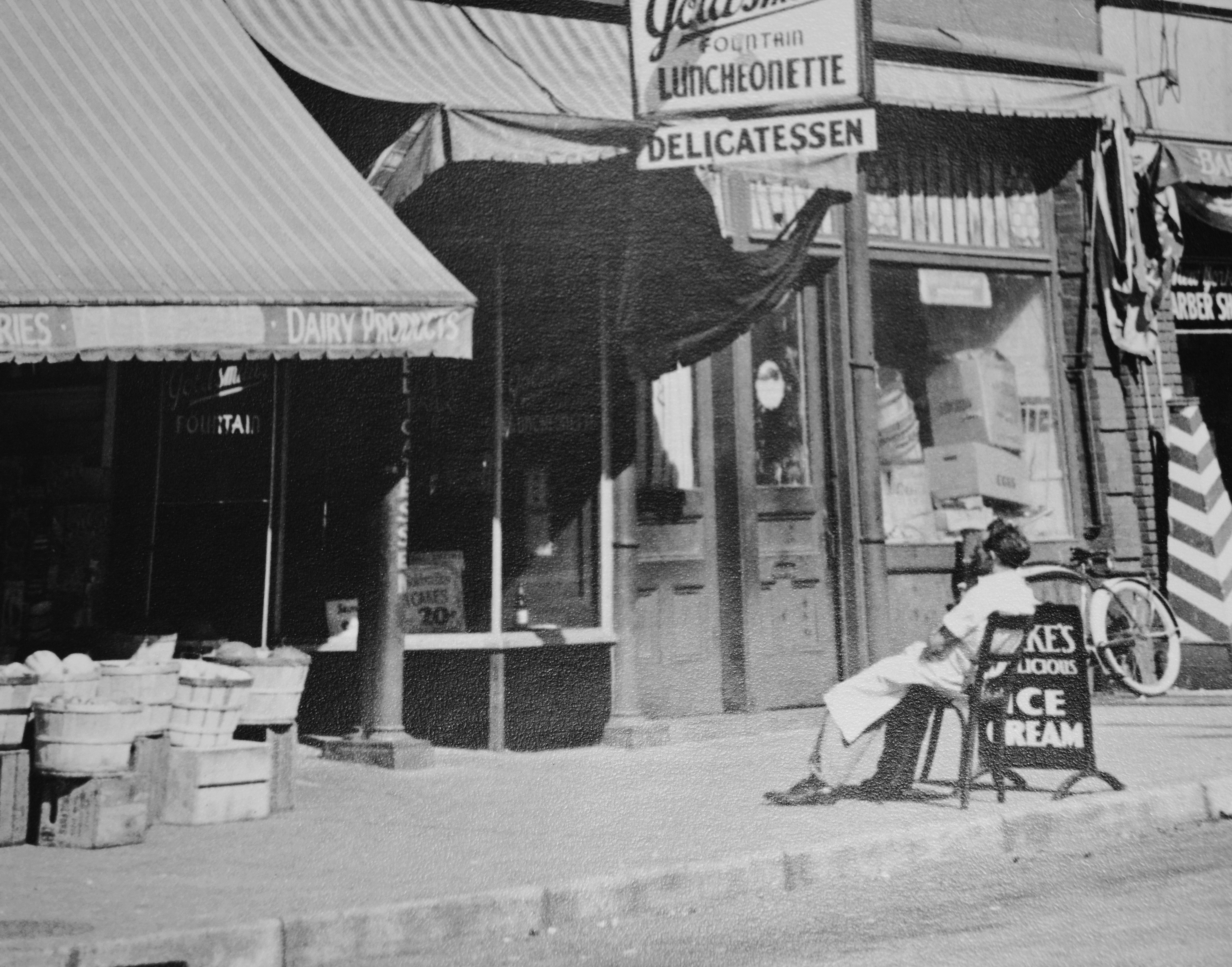 REMEMBER "CHEERS" the hangout "where everybody knows your name."
I like to imagine that James Burrow and brothers Glen and Les Charles visited Saratoga Springs' brothers Lou and Nate Goldsmith at their respective restaurants, Lou's Luncheonette and Mother Goldsmith's, and were inspired to create their hit TV show.
Each mainstay restaurant could have supplied all the script material ever needed for Cheers' 11 years on air. At the heart of it all were two hard working, restaurant visionaries who were marvelous hosts with keen senses of humor. Nate and Lou loved routine and weren't afraid of long hours with little time off. In August, Lou's was open 24 hours a day. Mother Goldsmith's served breakfast, lunch and dinner 7 days a week. Although each had a signature style, both were an everyday kind of place where "everybody came and everybody ate," says Stu Goldsmith, Lou's son and onetime helper.
Nate Goldsmith had the charm of Sam Malone and the warm heart of "Coach." His legally blind status barred him from entering the military and even driving, but that didn't dampen his passion for Broadway show tunes. Nate spent two years at the Brill Building in NYC trying to get his "little ditties" published. His unsuccessful attempts led him back to his hometown where he rented a small space in Leo Tannebaum's store at 39 Phila. He served pancakes from the front window.
One morning as Nate's friend Chinny Farone finished the delicious pancakes he declared, "God, you made these pancakes as good as Mother's!" That inspired Nate to use the name "Mother Goldsmith's" and soon he opened a larger restaurant a few doors down at 43 Phila Street.
Mother's quickly became the favorite spot of local businessmen, Skidmore students and the trainers, jockeys and owners of the Saratoga racing crowd. Sy Wallick, featured in a 1943 Life Magazine issue as a famous NYC street artist, was a 1940's summer regular at Mother's. For three summers he sketched his trademark caricatures of town luminaries and regulars that adorned the walls of Mother's.
Maureen Sweeney, daughter of Judge Michael Sweeney, loved going to Mother's and says, " I always wanted to sit in the booth where my dad's picture hung."
But the real draw was Nate himself. He played the ever-gracious host and "made himself seen," notes his wife Roslyn. Upon entering, customers were immediately served a bowl of coleslaw, pickles and beets for their table. They would be serenaded with Nate's tunes. "People liked that. It made customers feel comfortable," shared Nate's daughter Paula Fishbein. Skidmore students of the 1950's brought their homework to Mother's and studied there for endless hours as they drank coffee. One class even honored Nate with an honorary award as "citizen of the year," proudly recalls beloved wife Roslyn.
Norm and Cliff sat at the Cheer's bar discussing baseball at length, but at Mother's, the daily race card was debated. Every August morning as trainers finished their workouts, they gathered at Mother's to savor grits, coffee and the famous Danish table. Perhaps the Charles Brothers iconic call out of "Norm!" as George Wendt entered the bar was inspired from the time trainer Woody Stephens entered Mother's after winning a Belmont. The entire restaurant cheered "Woody, Woody!" a fond memory of the Goldsmith family.
The staff at Cheers became a family, but the Goldsmith family WAS the staff at both establishments. Wives, children and even brothers worked tirelessly at both operations with non-family staff members becoming an extension of the family. Roslyn was Nate's right hand: going on 300 lb. ice runs to Stewarts; pouring coffee; and driving him wherever he needed to go. Son Larry vacuumed the floors at age 10; graduating to dishwasher and busboy at age 13; then onto waiter, host, bartender, baker's apprentice and short order cook. Daughter Paula served customers. Lou's wife Reah relieved him to cover half of the round-the-clock August shifts.
Brother Lou Goldsmith first worked at Mother's after returning from WWII as a B-17 belly gunner. He soon realized he didn't like working for someone else and in 1951 opened his own restaurant at 457 Broadway. Lou's was known for serving breakfast all day long -fresh squeezed orange juice, homemade blueberry muffins, omelets and the best home fries. But most of all it was a popular spot for the late night bar revelers. As the moon was setting and Lou's was opening, late night restaurant workers made their way to 457 Broadway for homemade waffles and ice cream.
Food aside, it was the staff and customers that made Lou's iconic. The Burrows/Charles team would have completed their cast of Cheers by modeling their show after Lou's.
Carla, the sassy waitress who didn't suffer fools gladly could have been fashioned after longtime Lou's waitress Amy Van Wagner. Craig Wilson, former Saratogian employee and columnist for USA Today recalls, "Amy was our waitress, of course, all four-feet of her. Sassy as hell and efficient." She ruled the front of the restaurant and was a favorite among all the regulars.
Bill McKelvey, town character and often town crier, made regular daily swoops thru Lou's. Like mailman Cliff Claven who gathered "little known facts" from his daily route to spew out at the bar, Bill too would bellow out local news to all who would listen over a coke at the counter.
Lou's was where many Broadway employees came to take a break from their work worries. Longtime Menges and Curtis employee Ellen
Ruhle's obituary states, "she and her Broadway Buddies dominated the breakfast and lunch window at Lou's Luncheonette."
Lou's had it's own "bar," a counter on the north sidewall that was the focal point of the operation. In all but August, Lou and short order cook Pat Mangini opened just before 5 a.m., starting their day by giving free coffee to the police officers on duty. Occasionally Lou would oversleep, only to be woken by a phone call from the police reminding Lou that he needed to open up the restaurant.
News, gossip and even a horse bet or two was the order of the day at Lou's. And like at Cheers, a celebrity or two would drop in – Walter Winchell, dancer Edward Villella, jockey Ron Turcotte- alongside local prominent residents.
Just like we never wanted Cheers to end, customers of both restaurants were thankful that their favorite haunts were sold to owners who kept the spirit of both restaurants alive. Lou sold to the Compton family in 1979. They have maintained much of the décor along with the tradition of serving "breakfast all day." Nate sold his restaurant to Diane and Barry Hellwig in 1988. After 4 changes of ownership, current owners Ronnie Farber and Jodi Leuchten preserved Nate's tradition of displaying sketches of well-known locals on the walls of R and R Kitchen and Bar. SS