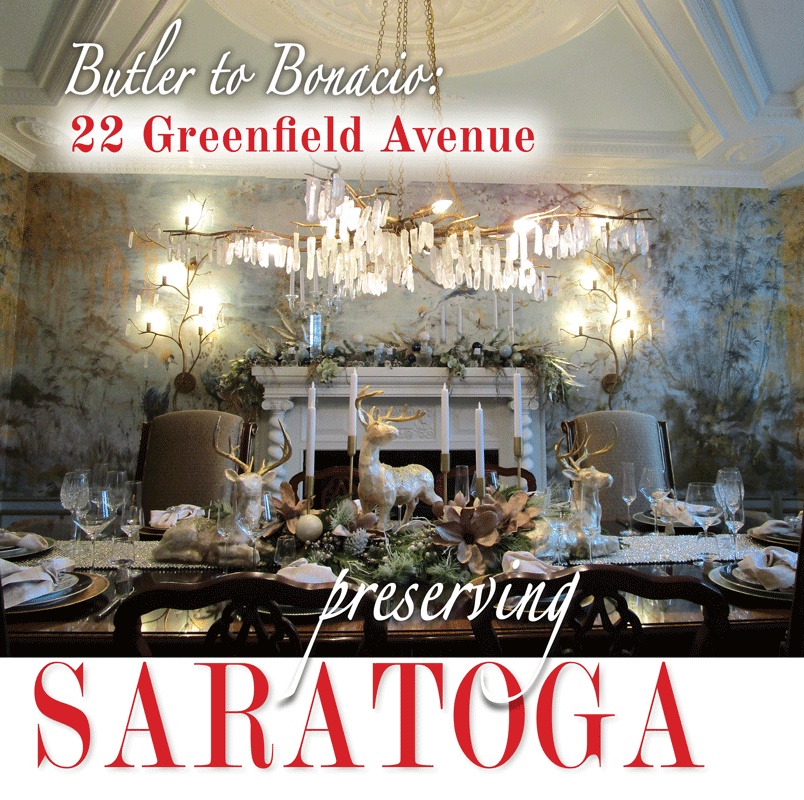 WRITTEN by Samantha Bosshart, Saratoga springs Preservation Foundation
Photos provided by Saratoga Springs Preservation Foundation (unless noted)
There is no question when you enter Sonny and Julie Bonacio's house at 22 Greenfield Avenue that someone loves Christmas.  There is a uniquely decorated tree in nearly every room.  "I love the holidays!" exclaimed the always enthusiastic, bubbly Julie.  It should not be any surprise to anyone who knows Julie that if she loves something she goes big.  With a laugh, their daughter Gianna commented, "I thought my parent's marriage would end over Christmas decorations."  Sonny readily admits "I'm 0-30 in curtailing Julie's Christmas decorating scope!"  
What may surprise most is that Sonny and Julie live in a historic house, not a new house that Bonacio Construction could have easily built.  In the first 10 years of their marriage, they moved 10 times as they moved from project to project.  After they sold their house on Lefferts Street, they were in need of a temporary place to live. "We had purchased two lots in Meadowbrook and were planning to build. Our attorney at the time, offered to rent his house to us," explained Julie.  "We moved in, fell in love with it, and never left," laughed Sonny.  "We love its architecture and the history," he continued.  "The front porch, the beautiful woodwork, the carriage house, and the location close to downtown – all of it!" added Julie. 
Circa 1930 photo of 22 Greenfield Avenue.
The Queen Anne style house, built in 1886, was designed by prominent architect S. Gifford Slocum. Photo courtesy of "George S. Bolster Collection, Saratoga Springs History Museum." 
It is easy to see why they fell in love with the Queen Anne style house designed by prominent local architect S. Gifford Slocum.  The house, today hidden by trees, is much larger than it appears from Greenfield Avenue.  Unlike most houses in Saratoga Springs, the primary façade does not face the street.  The ornate front door and long porch face east out of view.  The asymmetrical house features gables, projecting bays, decorative shingles, and half-timber detailing.  Typical of Slocum's designs, the house features a foundation and first floor with rough-faced stone and pink mortar. 
Samuel Gifford Slocum opened his architecture practice in Saratoga Springs in 1881.  Three years later, Phoebe E. Slocum, S. Gifford Slocum's wife, is listed on the deed for the vacant land located at 22 Greenfield Avenue.  The house that became their residence was constructed in 1886.  Slocum designed many houses throughout Saratoga Springs, including 1 Fifth Avenue, 605 North Broadway 795 North Broadway, and 107 and 115 Union Avenue.  He also designed several prominent commercial and public buildings – 358 Broadway; 510 Broadway, today the Algonquin; 511 Broadway; and the former fire house at 543 Broadway.
An 1886 advertisement in The Glens Falls Times, showed that Slocum had expanded, listing offices in Saratoga Springs and Glens Falls.  In 1888, the Slocums sold the house at 22 Greenfield Avenue, appearing to relocate to New York City, to Dr. Edward B. Atkins of Essex, New York, who may have summered in Saratoga Springs.  On February 19, 1890, The Troy Daily Times reported that Akins "sold his Greenfield Avenue cottage to Chauncey Kilmer, the millionaire papermaker of Rock City Falls."  Kilmer is never listed as living at the house.  
Kilmer may have most likely purchased the residence as a wedding present for his granddaughter, Mary K. Kilmer.  She married Walter P. Butler on July 9, 1890, only months after the April 10, 1890, deed recorded his ownership.  The city directories list Walter and Mary as living in the house the year they were married. However, it was not until 1898 that Chauncey Kilmer and his wife deeded the property to Mary Butler.  Over time, Mary acquired the adjacent properties located at 178 Woodlawn Avenue and 26 Greenfield Avenue, which had a house that now longer exists. 
Walter P. Butler was a prominent attorney and president of Saratoga National Bank.  One of his landmark cases was when he served as the defense attorney for the Saratoga Vichy Spring Company when the La Republique of Francaise sought to prevent the company from using the name Vichy.  The case was taken to the Supreme Court of the United States where in 1903 it was decided in favor of the Saratoga Vichy Spring Company.
In 1915, Butler became the first mayor of the city of Saratoga Springs following its incorporation.  While serving as mayor, he took the lead in rewriting the City Charter, simplifying it, and clarifying various taxing districts; drafting city ordinances; and organizing city departments. He served one term and refused reelection.  
The Butlers would often travel for the summer season and rent their home.  In the late 1800s and early 1900s, Lillian Russell, a famous actress and singer known for her beauty and style, was known to occupy the Butler residence.  Millionaire Diamond Jim Brady, who was known for his many pieces of jewelry he wore, including his favorite 25.5 carat ring, rented the house for Lillian.  She was said to have graciously tossed pennies to the children who gathered outside her house to watch her.  
Both Walter and Mary were philanthropic.  He was the chairman of the Saratoga Springs branch of the American Red Cross from 1917 to 1939, a member of the Board of Trustees of the Presbyterian Church, and a member of the Saratoga Lodge of Elks.  Mary was a member of the board of Managers of the Saratoga Hospital for more than 35 years, serving as secretary for 33 years.  She was also an original member of the Board of Trustees for Skidmore School of Arts, which became Skidmore College in 1922.   She was manager and served as the first president of the Hawley Home for Children following the death of Reverend Hawley for which the home as named after.  She also was actively involved with the Presbyterian Church among many other activities.  She and her husband raised their two sons, Clarence Kilmer Butler and John Prentiss Butler at 22 Greenfield Avenue.  Mary passed away in 1938 and Walter died in 1942.  
In 1943, Elizabeth A. Winde acquired 22 Greenfield Avenue.  She owned 605 North Broadway and converted it to the Beverly Manor Rooming and Tourist Home. The city directories list the house as vacant until 1948 when it was listed as the Beverly Annex, which was advertised as having large and small apartments, furnished, and unfurnished to rent.  Winde operated the Beverly Manor and Annex until 1969 when she defaulted on her mortgage.  
The house had a series of owners prior to Sonny and Julie purchasing the house from Keith Ferrara in 2005.  "It was the perfect place to raise our three children – Gianna, Luca, and Will.  It was always filled with their friends.  The house continues to be a place for their friends to gather during the holidays," said Julie.  Julie's parents moved into the carriage house not long after, providing help with the children as Sonny and Julie built Bonacio Construction and Julie & Co. Realty into the successful businesses that they are today.   
"We understand that preserving architecture and history is important to the fabric of our community," continued Sonny, who has not only been involved with many new large-scale developments, but also the rehabilitation of nearly 40 historic buildings throughout Saratoga Springs – the Algonquin, Caffé Lena, Van Raalte Mill, and Rip Van Dam as well many houses, including several on North Broadway.  
It was not until 2020 that Sonny and Julie did extensive work to the house.  The house was rewired, replumbed, insulated, and a new HVAC system was installed.  The exterior and interior were also repainted.  They made an effort to retain the original, historic windows, decorative woodwork, and fireplaces.  The focal point of the house, the kitchen where Sonny, his mom, and Gianna cook delicious meals, was expanded. A pool was installed, and a large garage addition was built.  The garage accommodates their fun cars – some of which include the 1972 Chevy K10 truck that Sonny had when he was 16 that his employees purchased and returned to him when he turned 50 as well as the 1958 Corvette convertible that Sonny bought Julie for her 40th birthday. 
This holiday season, the house will once again be filled with near and dear family and friends.  Wishing you and the Bonacio family a happy holiday season!