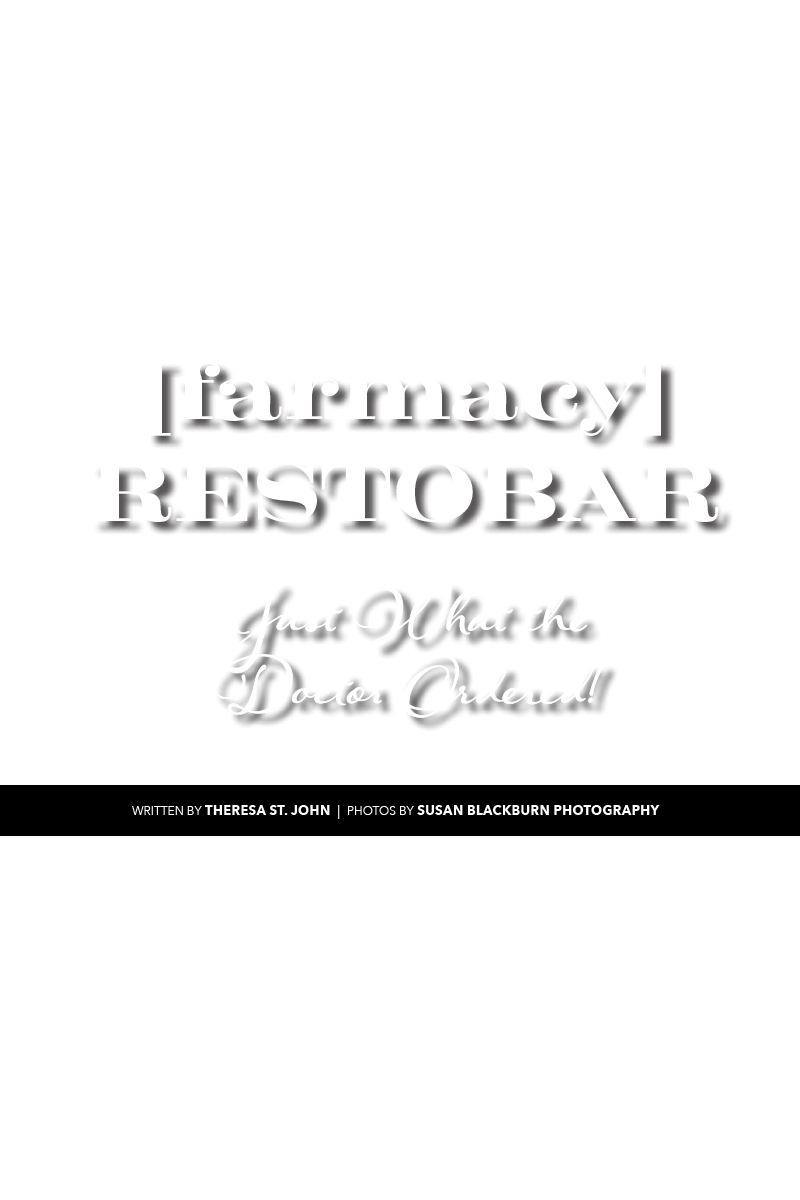 Our warm welcome begins on the sidewalk – before we even enter Farmacy, once a 1900s family feedstore, now a chill Restobar in Glens Falls, New York. A large garden cart stands off to one side, showcasing potted ferns in a deep Crayola green surrounded by several pots of colorful flowers. Attached to the building's exterior brick wall, which faces an alley, are tiered shelves carrying more of the same. 
Tables and chairs stand against the weathered masonry, offering privacy to folks who might want to eat outside in a quieter setting. In contrast, several others are arranged on the sidewalk just outside the restaurant's busy front door. Peeking inside, we spot the chef selection counter, where six chairs invite patrons to settle in, get comfy and enjoy a chance to chat with the chefs while they cook in the open-air kitchen. 
Wait - what? Learning we can interact with a chef while they're busy creating a meal for us sounds so cool - we're already planning when we can visit again. And we haven't even sat down yet! 
We're led to a table toward the back of the restaurant. It's near a window where natural light streams in. I think it's perfect – we'll watch the chef cook our meal, the bartenders create our drinks, and people-watch, all at the same time. 
When I look on Farmacy's website, I read their bartenders have over a decade of combined experience in the art of mixing spirits and combining flavors. I take a minute, then choose their craft cocktail named BRAAAIIINSSSS. I love gin, and the bartender mixes this with lite vermouth, curacao, and lemon after an absinthe rinse on my stemmed glass. It's refreshing and goes down easily. Susan nurses a creamy espresso martini, while Chris enjoys a coconut cream ale.   
We try the local broccolini salad adorned with pickled onion, cheddar cheese, and bacon. The flavors are fresh and light and have just the right amount of crunchy textures to complement each other. 
When I ask where the restaurant sources its food, owners A.J. and wife Christina explain how they like to work with farms that make unique, different, or simply 'grown-right' products. "We like to use products in their prime and try just enough manipulation to let the ingredients shine through." Says A.J. If you study their website, you'll see a list of the local farms they partner with to bring the very best foods to our tables. 
We tear pieces off the warm sourdough bread that comes next, spreading softened, burnt rosemary butter with a sprinkle of pink salt over the top. The butter is made on-site, and its character is a little sweet and salty in the same mouthful. 
OK; can we just talk about fine china for a minute? Every plate is different at Farmacy - which we find pretty charming. I love how each selection from the menu is presented on someone's grandma's dinner plate. No two dishes are the same. We wonder aloud who it might have belonged to. Did it adorn the table of the rich and famous? A dignitary? Some noble countrymen? Was it passed down and brought here from another country? "It's going to be hard eating from plain white dishes at other restaurants now," we kid with the general manager, Naomi, when she visits our table.  
"We have boxes and boxes of mismatched china here," she says. "People often give us odd pieces or whole sets when cleaning out a relative's home, or it might be a set they no longer use themselves. We love how they're so different. We feel it sets us apart – having all these little touches, you know?"
We do know – and we love it.
We decide to try a few different dishes, passing them around the table. The half-dozen pink moon oysters present nicely in a china bowl filled with pebbles and come with a dropper bottle of tomato basil mignonette. We've never seen this dropper bottle before. Naomi explains that it's a French term. She shows us how to squeeze a few drops on each oyster before we slurp down the delicacies. "The mignonette sauce really brings out the oyster's natural sweetness." 
The chef cooks our grilled hanger steak exactly how we like it – rare and so tender we don't even use the serrated knives set to the side of our plates. The meat is set atop a green chimichurri sauce, and we can easily taste the flavors of finely chopped parsley, minced garlic, olive oil, oregano, and red wine vinegar. The mashed potatoes remind me of gramma's – they still have little lumps! 
Years ago, before I started writing about food, I fell in love with the sauce on a burger at a fast-food hamburger joint in town. (Admit it, you've been there, done that!) Anyway, Farmacy offers an "elevated" version of that special sauce. Honestly, this house burger is the best I've tasted, and the sauce is – well, a much-nicer version of the one I discovered years ago! This burger is thick, juicy, a mouthful of texture and flavor, smothered in beer cheese, bacon, and pickled onion. The brioche bun is fresh and comes with crispy (not soggy) french fries. 
I ask how they fared during the pandemic. Christina is quick to answer. "We had a dedicated team and such a supportive community. We had opened the restaurant ten months before and celebrated our first anniversary during the pandemic." Their daughter had just been born. They were new parents and owners, navigating the world of COVID-19 that had blind-sighted all of us.
Man, I hear so many stories like this one. Who knew what was coming in the late months of 2019 and early months of 2020? "It was certainly scary and emotional for everyone." A.J. pipes in. "But our team and the community really stood up and supported us. They helped ensure we were still standing when all was said and done. We're very humbled by the outpouring of love we received. It's still so surreal."
Getting back to the good eats, we find out they not only offer dessert, but they also make their own ice cream! "We make ice cream just about every day here," Naomi shares. "We have three ice cream machines imported from Italy." When the three of us try a spoonful of molasses ice cream nestled beside their flourless chocolate torte set atop a generous smear of torched smokey meringue, we look at each other and sigh. The consensus is in; we've just died and gone to heaven.
The other dessert we try is a still-warm donut rolled in cinnamon sugar, with a scoop of peanut butter ice cream plopped in the center. Our first bites are ridiculously good. We all take another.
"This is so creamy!" we say at the same time.
Naomi laughs. "The texture comes from the machines and the precise temperature we store our ice cream. This way, it won't become too hard." When I ask about varieties, she tells us the entire team collaborates on flavors – and that guests of the Restobar even suggest some, writing requests on the back of their bill. Naomi grins, sharing how they offer a flight of ice cream – for serious lovers of the frozen dessert.  
I wonder where the couple sees the restaurant in, say, 3-5 years. Their answer is refreshing. "We hope to see the business exactly where it is right now. We don't want to grow any larger. We aim to keep focusing on fresh, local, seasonal, and constantly changing menus. We have built a team continually working on new ideas to share with our guests. We hope to add more profits to the business and make upgrades for our visitors' convenience, comfort, and enjoyment. At the end of the day, we love our charming historical space and look forward to calling it home for a long time."
As we say goodbye and turn to leave the restaurant, my eye catches a sign on the wall near the entrance. It reads, "Let food be thy medicine and medicine be thy food." Hippocrates wrote it.
It seems Farmacy lives it.