Oh, the glorious sunshine!!  
Can you hear the joy in my voice as it shoots from my fingertips as I type? I just spent the weekend doing yard-work and now it's time to get the patio ready for Spring! Don't hesitate, NOW is the moment to update, or up-the-ante, with a few amazing finds. Come with me as I peruse the shops and showroom floors to introduce you to some gotta-haves that will make your Spring sizzle!
To start, where would you be without a great outdoor chair…or set of chairs!? At The Furniture House, there is plenty to choose from, especially the LuxCraft Adirondack Balcony Chair.  If you haven't sat in one of these, stop in to take a spin. The taller seat offers a clear view across lawns, over decking rails, and endless panoramas to take in all the fun. With little maintenance required, these durable pieces enlist UV stabilized color that will not deteriorate, even in prolonged hours in the sun! They're even environmentally friendly…made in America of recycled plastic derived from post-consumer waste like milk and detergent bottles. And have you seen the colors?! So many combinations to choose from to brighten up your patio or deck. And don't forget to order your Cup Holder that fits onto any of the LuxCraft gliders, benches, and deck chairs …with a 3.25" opening diameter, most any cup or glass will safely fit and keep your beverage at the ready…even when you drift off for a little snooze! Don't wait, patio furniture goes fast this time of year, so head over to The Furniture House now for the best selection!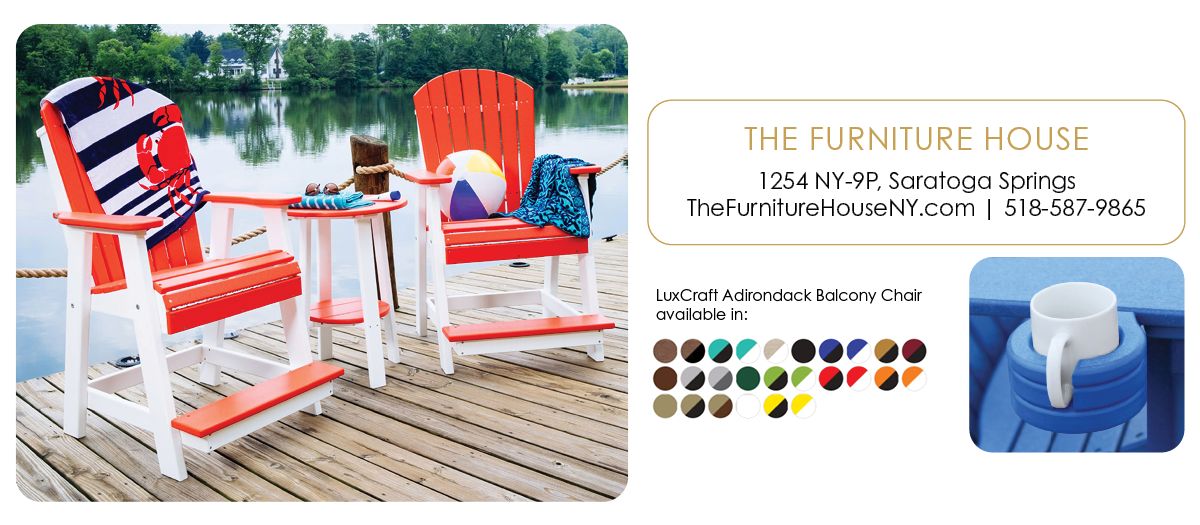 And where would we all be without some good outdoor appliances to keep our summer entertaining hopping! At Earl B. Feiden's Appliances, check out the Perlick 15" Signature Series Wine Reserve…of course wine is on my mind!! Available in stainless steel or panel ready, the interior shelves extend fully on vibration dampening glides, minimizing wine disturbance. A very important feature as movement can disturb sediment in the bottle, causing complex chemical reactions which could lead to a dull flavor – and no one wants that! The 20-bottle capacity will chill your favorite wine up to 70% faster than leading competitors. An optional factory installed lock also makes it a great overall must-have no matter the age of household members. So, maybe you're more of a beer connoisseur: let me introduce you to the Perlick 24" Signature Series Beverage Dispenser. With the same efficient cooling speed, this dispenser can accommodate two 1/6 barrels or one 1/4 slim or standard barrel. Get ready to pour your favorite craft beer! Similarly, there are two options for the faucet, single or double handles, to best coordinate with your beer selection(s). And not to worry about condensation when cooling on hot summer days, both these units have a specialized Perlick Anti-Condensation System™ with commercial stainless steel inside and out. Beautiful and efficient! Get ready to bring on the guests, your personal outdoor bar has arrived!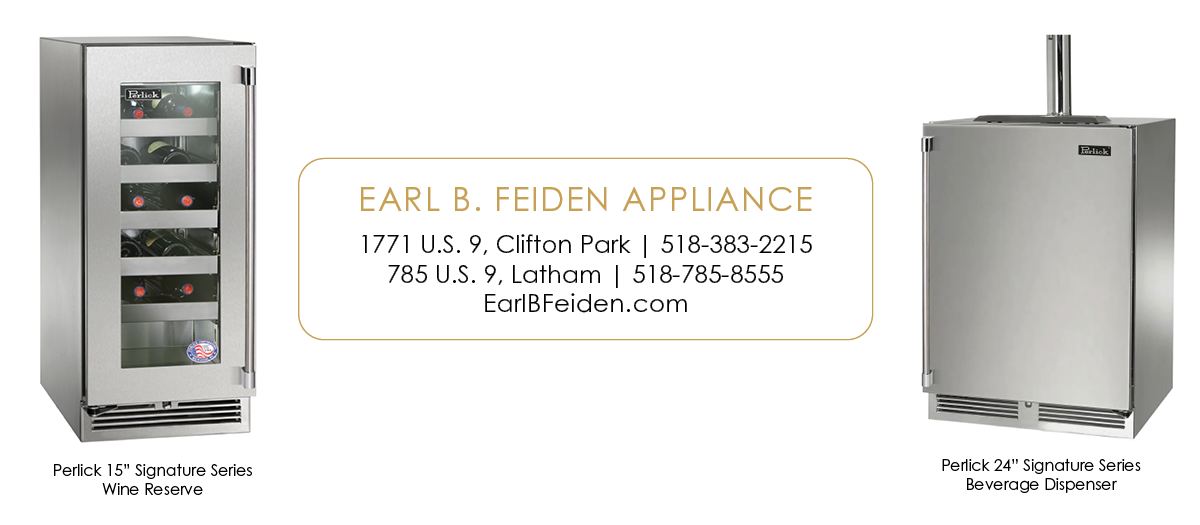 How about wood fired pizza …OUTSIDE! Marcella's Appliances is now featuring the XO 40" Wood Fired Pizza Oven + Cart. Look at this distinctive, Italian culinary il apparecchio which heats to the perfect baking temperature in just 20 minutes. The XO's patented Air Plus Technology perfects your pizza by utilizing "combustion air from the bottom of the oven to keep the embers alive and redistribute the flame along the roof of the cooking chamber." The floor of the oven is crafted with interchangeable firebricks that retain heat and create the crust of your dreams. The stainless-steel interior dome continues to circulate the heat, roasting your toppings to a mouthwatering perfection! Oh, I can taste the delectable pizza with sizzling meats and veggies…can't you?! Don't limit yourself, try cooking other delicacies like seafood, smokey casseroles or even moist cakes and desserts! Don't forget the cart…It comes with a handy slide out shelf, tool set bracket and storage area for your selection of hardwoods at the ready. Not to mention it makes your oven the perfect height for baking all these scrumptious delicacies! Go ahead, order your red, black or yellow XO Wood Fired Pizza Oven + Cart today!!
Let's chat about the interiors…what is spring without jazzing up the inside. Afterall, we all know we spend just a little time inside too! Many times, one of our forgotten surfaces is the floor. Because we are pretty tough under foot, it's sometimes deemed that a good wool rug isn't worth the investment…well, I'm here to tell you it is! Stop in at Jacobsen's Rugs on Broadway to chat with their sales team about the broad selection of area rugs sourced from five different countries around the world! Think of buying a rug like any other investment in your home. The better it's crafted, the longer it will last. Wool rugs in particular are well wearing and have the history to prove their value. Not all rugs are crafted equally. For instance, take the time to turn over a corner and note if the rug is knotted. A well-made rug will have a higher count of knots per square inch, such as this Pakistani Hand-Woven Wool Rug with 280 knots/sq inch. The background, shimmering like rippling water, is full of summer reflection with an overall trellis design and simple tulip-like florals abounding delicately above in blues and soft creams. The simple fringe on each end testifies to its authenticity. Currently, Jacobsen's has this offering in a 9'01" x 11'11" rug but other sizes can be ordered upon request. Now, when you visit their shop, be sure to look at the rugs horizontally or if mounted on a wall, pick up an edge and see how the colors change. Try it on this alternative rug selection which is a bit more Contemporary in style yet still Hand Knotted from India. Also crafted of wool and silk, it's palette ranges from camel to soft off whites and creams with blue grays throughout. This modern context is much like a piece of artwork beneath your feet at 9'0" x 12'2".  As Teresa Barnett of Jacobsen's testifies to her clients, "Each rug is its own masterpiece, a treasure for generations." This particular rug has a luxurious marble texture with a soft movement about it. Perfect for any interior and available in alternate colorways and sizes. And don't forget a good pad to protect the wear and value of your hand-crafted purchase. Go ahead, stop into Jacobsen's Rugs on Broadway in the Old Firehouse to view their vast collection of beautifully hand knotted rugs for yourself. You'll never regret investing in a well-made piece of your own history in the making!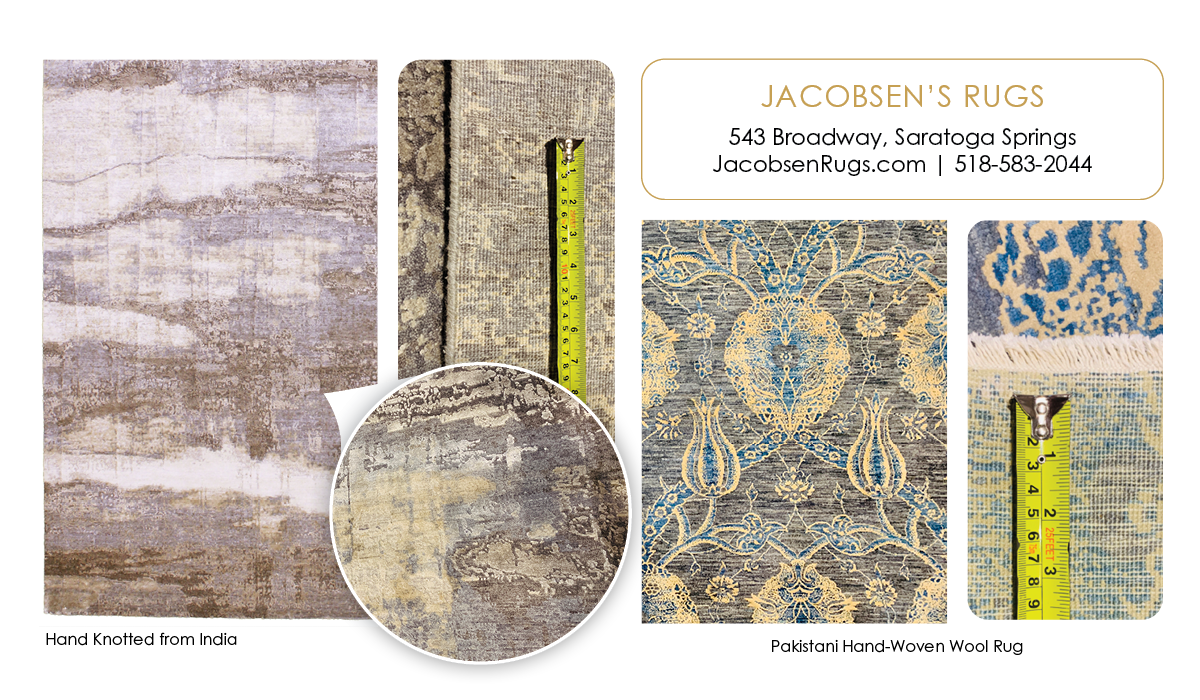 And let's not forget, while strolling down Broadway, pop into Silverwood Home and Gallery to see their new "Art in Bloom" Show featuring artwork by local artists inspired by Spring. One of the featured pieces is a Contemporary Multi-Media Landscape by Keirsten Poultney. Her artwork is highly influenced by her career as a fashion designer, juxtaposing remnant textile fibers and brush strokes on canvas. Her palette of color exudes Spring and beckons you to appreciate the boundaries between mediums. And where would we be without a little nod to Track Season 2022! These Vintage-style "And they're off" Backlit Signs won't last long as track enthusiasts prepare their homes for another glorious summer to come! You can also find other options with words like "Saratoga" and "Upstate" to add a soft light to a rear patio or covered porch! Either way, it's time to announce that Spring is here!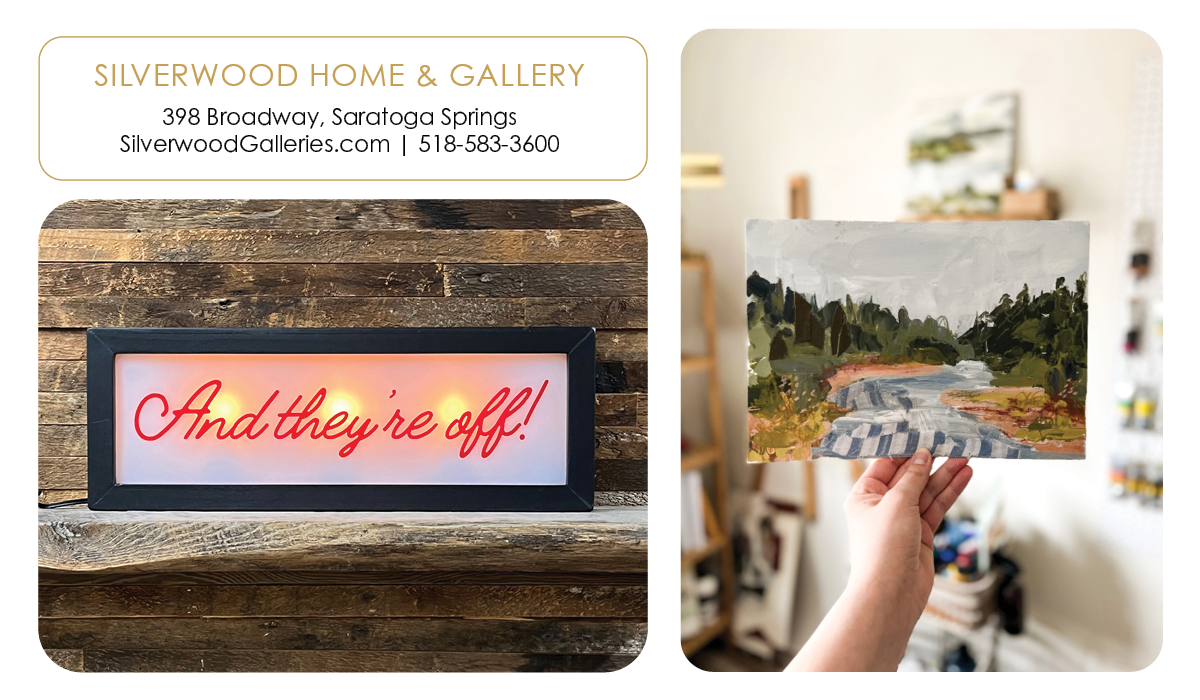 I'm ready for Spring, are you? My windows and pool are open early so I will follow suit in preparing my home for taking in all that our Saratoga seasons have to offer. Remember, shop local and shop often. Put that phone away and engage. I want to see your smiles and hear your laughter…There's nothing better than spreading joy, peace, and happiness.