I know when we hear those words "Aging in Place" we immediately think of our parents, grandparents or someone else. Our minds tell us "That is something far in the future, I'm young and healthy with no use for words like aging!"  But as a good doctor once told me, "You can't stop father time!" We all age… Ugh! … We all need to think of where we will be in 5, 10, or even 20 years. Will Grandma & Grandpa be moving in with us? Am I dealing with a progressive illness where my needs will change in the years to come? We all fight age, heck, count the bottles of face cream, hair color appointments or number of sit-ups you do to keep those years from showing your true age! 50 is the new 30 they say! But time gets us all so let's discover together how we can buy back a little of our time in the homes we love by Seamlessly Aging in Place!
Now, mind you, I could write a book on this topic but to keep you from growing one more gray hair, I will only go over a few key rooms. Let's start right at the entry to your homes. First, most homes have some sort of step-up into the house. And how do most of us enter our home? Through the rear or garage door off the driveway. The steps are usually a builder 2x10 make-shift staircase without rails. Here is an area where a simple wooden rail could be added to make getting in and out of the home easier! Trust me, I broke my foot a few years back and I wish we had one installed. It was May of 2020 so I had no luck of getting one installed when I finally needed it…learn from me friends…And your door hardware, if you're updating your house, it's very wise to add a few bucks to the budget to exchange out all your knobs for levers. Here's why…as we age, arthritis finds about 58.5 million of us. A lever is easy to open with an elbow or fist. Besides, it's a great way to update your old door! 
Onto the Master Suite, hopefully on the first floor…our sanctuary as we get more "mature". Let's keep it that way by ensuring your entry is 36" wide. Why you ask? Because that is the ideal door width for a wheelchair. Okay, I saw that…you rolled your eyeballs at the word "wheelchair"… Essentially, all I'm saying is the wider doorway allows for best passage. If you can only fit a 32" door max, try using an expandable door hinge which pulls the door away from the casing, offering another 2 inches of clearance for say, a big comfy chair. There, did that sound better?? For the Master bath or even a guest bath, before the renovation begins is the time to talk to your contractor about incorporating a zero threshold into the shower. This means, you don't have to step over anything to get in. The floor of the shower is sloped just enough to encourage water to the drain, keeping water out of the general bath area. And when you're selecting shower valve trims, levers are always going to be easier to operate. Now, hold onto your hat, we need to discuss grab bars in the shower. I know, you don't want your beautiful new shower to look institutional. I get that... Whenever I work with clients 40 or older, I always "block" behind the walls to prepare for grab bars in the future. That way, if the time comes, you know you will hit wood when installing them. However, if your need is more present, there are several companies who offer bars with a simple, architectural form and detailing to coordinate with their everyday collections. A very seamless addition to a beautiful shower!  
Moving onto the kitchen, there are so many new items on the market that can help you age gracefully and safely in your home. Once again, hardware pulls are best over knobs. You don't believe me? Try this…find a tennis ball, hold it in your hand and cover your hand with a sock. Now, try grabbing that knob? This exercise mimics an arthritic hand.  Ahh, you are beginning to see the light! 
For kitchen safety, look into an induction cooktop. Many of the options available today have an auto shut off when an overflow spill or forgotten pan begins to overheat is detected. Induction cooktops do not generate their own heat, they only heat the pan being used on them. So, from small fingers to a visiting grandparent, the chance of accidentally getting burned is minimized greatly! Another area to closely think about is using a wall oven in lieu of a traditional range. Think about it, you have your family over for a turkey dinner and you need to bend over and lift that juicy 25lb bird out of the oven to bast it several times. I don't know about you, but I've guarded my back since I hit 40! Standing upright to remove food from the oven is a luxury you don't want to miss out on! Wall ovens that open to the side also increase safety, negating the need to reach across a hot oven door. 
Another tip is to install your dishwasher with the lowest rack at about 15" off the floor, alleviating the need to bend low to load or unload dishes. With the top of the dishwasher now being at around 42" high, you could add a pantry cabinet above with easy access to maximize storage with minimal reach! A sweet bonus would be to craft this pantry as a pull-out unit, bringing all the contents out to you! Onto refrigeration… Oh, how we love our tightly sealed refrigerators that keep our food well preserved! (see my article on Appliance Trends, page 38). When building or renovating, be sure to stop at Earl B. Feiden's and ask about touch open options. You heard me right, a simple finger touch or elbow nudge can now open a frig! Where was that when I was feeding 3 boys! As a designer, that opens up a world of design possibilities! And if you haven't seen a drawer microwave, I suggest you ask about that too! With the wave of a hand, a panel opens allowing you to input your desired cooking experience. Place your food in the drawer, and off it goes, into the cabinet and out of the way. There is no reaching and your countertop is open for maximum food preparation. A win-win situation! Speaking of countertops, be sure to keep an area at the countertop for a stool or chair. As we seamlessly age, there are times we just need to sit down as we are lovingly working in the kitchen all day. It's great for the kids and grandparents to help as well. Underneath, be sure to spend a little more money on drawers over doors in your base cabinets. Your storage room and ease of access increases greatly…and no more crawling into the cabinet to find that one lid that escapes you every time! I can feel your want-to-be wrinkles losing the battle already!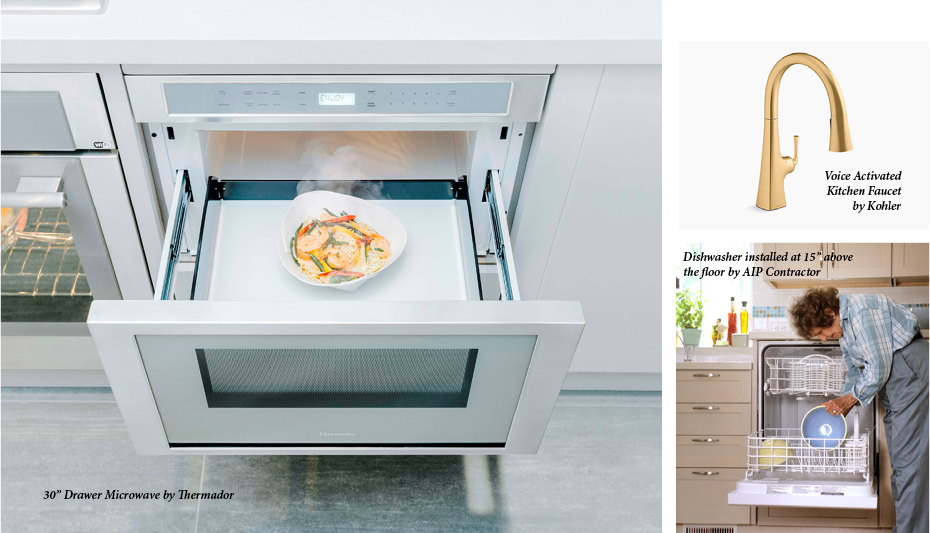 One last kitchen item, the sink faucet can also be of great aid, and for all ages. With voice activation, you can command it to fill your pot with exactly 4 cups of water, or bring your chicken cutting fingers under to clean without touching the lever to activate it. Alexa and Siri are getting very busy!! 
Okay, onto the second floor. So, you are building a house. Think about stacking a closet upstairs over a closet downstairs. This area can be used for a small elevator in the future. It's best to look into what the current market is offering and think about your own personal space needs in tight quarters when considering the interior size. You may never need it, but it is good to know you have planned for it. Another option is to increase your staircase to 48" wide to accommodate a chairlift system while maintaining mobility for others. Once again, plan ahead with proper blocking in the wall. 
How do you feel now? Better? You CAN seamlessly age in place in your home with a bit of thought ahead of time. And in no way does any of this "LOOK" like you are aging. In fact, your home will look quite up-to-date and highly functional. And isn't that what we all want at any age??  
Until next time my friends,