When This Old House Ventures, LLC, the granddaddy of home improvement media brands,was looking for a project in the region, Whitbeck Construction's name kept coming up.
"All roads lead to Rome, as they say, and in this case, that meant to us," said co-founder Matt Whitbeck.
TOH wanted to work with Whitbeck Construction not just because of what they do, but HOW they do it. The Construction Company focuses their efforts on renovating a healthier home. The owners are educators in the green build and sustainable build sector of residential construction.
CONTINUING A LEGACY
Whitbeck Construction's project, the re-overhaul of a 157-year-old home for the Williamson family, was just what This Old House had been searching for.
Evan and Whitney Williamson are the 7th generation of the family to live in the house. Working with Frost Hurff Architects, Whitbeck Construction is completing their renovation, which will include a mother-in-law apartment, a new kitchen, living room, and master suite.
Filming began in April 2021 after some back and forth details were ironed out. Signs were hung notifying anyone on the property that they would potentially be part of the filming, and a camera was positioned to capture a 24/7 livestream of the work in progress (access it online at
www.thisoldhouse.com/webcams).
SAFETY, SHORTAGES & RETAKES, OH MY!
Because This Old House has a crew of people (from 8 to 15 on any given day) joining the crew of tradesmen completing the work on-site, safety is a priority.
Whitbeck Construction and the entire This Old House team ensures that the highest standards and protocols are being met during the shoot.
The pandemic also threw a wrench into their timeline in the form of material and labor shortages. Delays in receiving materials didn't help either. Windows, for example at the time of ordering had a 12 week lead time. Some manufacturers are currently quoting longer than that. The production schedule and the construction timeline has been a delicate dance for all involved. Everyone working together to achieve the desired result has been the key to this project's success.
KEEPING IT BRIEF
The filming process however, has been an enjoyable one for Matt.
"What all the members of the team are so great at, is being gifted storytellers. They have the ability to condense something and nail it down, so they can include three or four things in a 23-minute show. They have to be spot-on to do that," he said.
Time constraints never compromise the work,or the show, however, which is entirely unscripted, yet still informative.
"They offer expert analysis in that specific genre of work that's happening. They give a play-by-play of the tools and technology, how it all ties together, and why it works in the house. They plant a decent seed," said Matt.
Then it takes days, weeks, or months to edit it all together.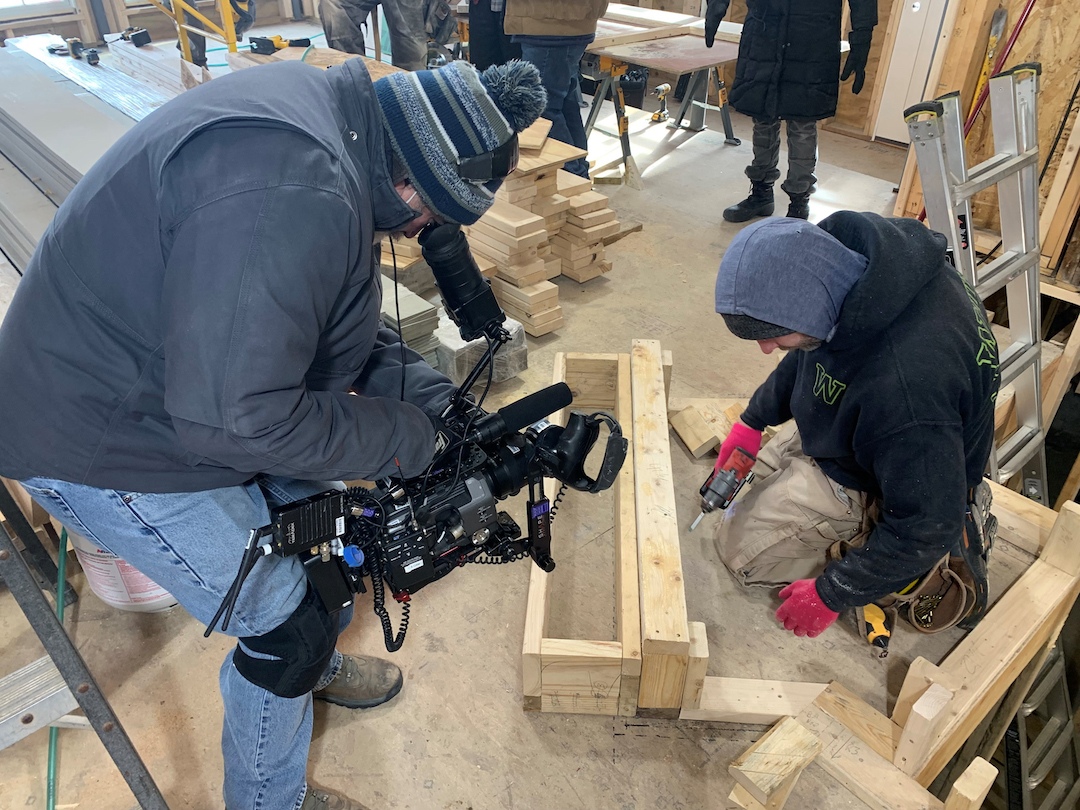 THE INS AND OUTS
In addition to construction jobs, Matt Whitbeck travels to teach others about best practices in sustainable design, some of which he was able to include in the Williamson home.
Once they removed the home's original cast iron furnace (an energy hog that once was fed with coal but was converted to natural gas mid-century) they replaced it with a high-efficiency air-source heat pump and energy-recovery ventilation system that capitalizes on the weather outside to keep the temperature comfortable and consistent inside.
In late Spring, you can see this project and others in the series, "Restoring a Family Legacy" airing in up to a dozen episodes of the This Old House program on PBS. Content from the project may also be appearing on their various other print and televised media platforms.
For more information, follow Whitbeck Construction on Facebook.