"These houses in Saratoga Springs are special.  They are jewels – they are so rare.  They are worthy of preserving," said one of the owners of 695 North Broadway.  The pink house located at 695 North Broadway is like a pink diamond ring that has been recently cleaned and reset, bringing back its sparkle.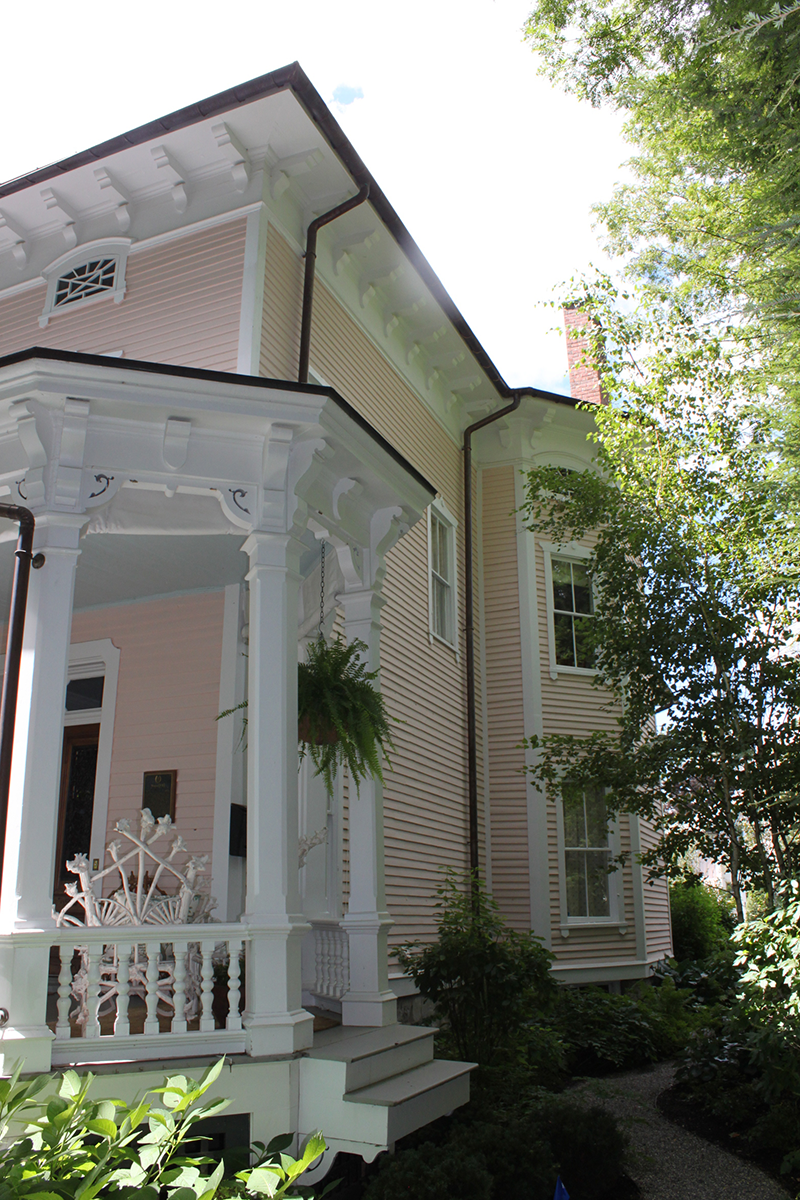 The house was most likely not originally painted pink. However, the owner chose to keep the 1868 Italianate residence painted pink "because it works, it is beautiful."
 
In 1868, James H. Wright built the two-and-a-half-story house in the Italianate style, popular between 1840 and 1885.  Typical of the style, the house features a low-pitch, hipped roof; wide overhanging eaves with decorative brackets; tall narrow windows and doors with decorated surrounds; multi-pane, segmental arched attic windows that interrupt the cornice line; and a central, square cupola. 
Wright, originally from New York City, was a tailor who arrived in Saratoga Spring with his first wife Susan in 1855.  In 1870, he was elected president of the Village of Saratoga.  On September 20, 1875, James and his second wife Sarah mortgaged the property for $5,000 to Charles S. Lester, a county judge and prominent financier.  Two months after mortgaging his property, Wright was elected Treasurer of Saratoga County.
Wright was reelected as Treasurer in November 1878.  Not long after, the December 7, 1878 Daily Saratoga defended Wright against accusations of misappropriation of county funds made in other area newspapers. 
The Saratoga Sentinel wrote that Wright had "$16,000 (the equivalent of $361,000 today) of county funds in his hands" and "little or no moneys deposited in the banks."  Five days later, several newspapers reported that his family admitted he was defaulter and his whereabouts were unknown after he boarded a train to Albany.
News of Wright's misappropriation of funds caused depositors at banks to become nervous and withdraw their money within days, creating a "run" on two banks and causing them to cease operations. It was later learned that Wright fled to Montreal.  There was swift movement to sell Wright's assets.  The stock and fixtures of his store on Broadway were sold in January and on May 8, 1879, Charles S. Lester, the holder of Wright's defaulted mortgage, sold 695 North Broadway to Joseph W. Drexel for $9,300. 
Drexel was a banker and philanthropist.  His father established Drexel & Co., a bank in Philadelphia, in 1837.  In 1871, his brother Anthony established Drexel Morgan & Co. with J. Pierpont Morgan. Drexel was a partner in Drexel Morgan & Co., working for his brother and Morgan, senior partners, until his retirement in 1876.  He purchased 695 North Broadway to serve as a summer residence for himself, his wife Lucy, and their four daughters.
After retirement, Drexel spent his life pursuing his interests, music, and philanthropy.  He played several instruments and his collection of musical instruments from around the world served as the foundation of the musical instrument collection of the Metropolitan Museum of Art, where he served as a trustee.  He also served as director of the Metropolitan Opera and as president of the New York Philharmonic Society.
Beyond his musical philanthropy, he sought to assist the poor. Drexel bought two large farms in New York and New Jersey, where the jobless were clothed, fed, housed, and taught agriculture skills until they could obtain a job. In Maryland and Michigan, he purchased large tracts of land that he subdivided into lots and built houses and places of work that he then sold to the poor at cost.
In 1881, Drexel joined a group of investors in financing the expansion of a resort on Mt. McGregor.  The resort included a cottage that Duncan McGregor built and used as a hotel.  In 1882, Drexel and his fellow investors financed a railroad to run 10.5 miles north of Saratoga Springs to the summit of Mt. McGregor.  The following year, they moved the cottage to allow for the construction of the Hotel Balmoral, which could accommodate 200 guests. 
Joseph Drexel and his brother were friends with Ulysses S. Grant. After Grant served two-terms as president, he, his son Ulysses Jr., and Ferdinand Ward, formed a partnership in the firm of Grant and Ward.  Unbeknownst to the Grants, Ward was running a ponzi scheme that collapsed in 1884, bankrupting the Grant family. That same year, Grant was diagnosed with throat cancer.  In order to make money to provide for his family following his death, Grant began to write articles for Century Magazine about his Civil War experiences.  The magazine offered to publish his memoirs, but Mark Twain made Grant a better offer through his publishing company.
Grant, on the advice of his doctors to seek a cooler climate, received an offer from Drexel.  Reportedly, Drexel first considered having Grant stay at his house on North Broadway.  Ultimately, it was determined that the fresh mountain air at Mt. McGregor would be better for Grant's declining health, so Drexel furnished the cottage for Grant and his family to use.  Grant arrived on June 16, 1885 and completed his memoirs on July 19.  He died only days later in the cottage, on July 23.  Immediately upon Grant's passing, Drexel made it clear that he intended to leave the cottage as a memorial to his departed friend. Through his generous offer the cottage has been preserved and open to the public for over 130 years.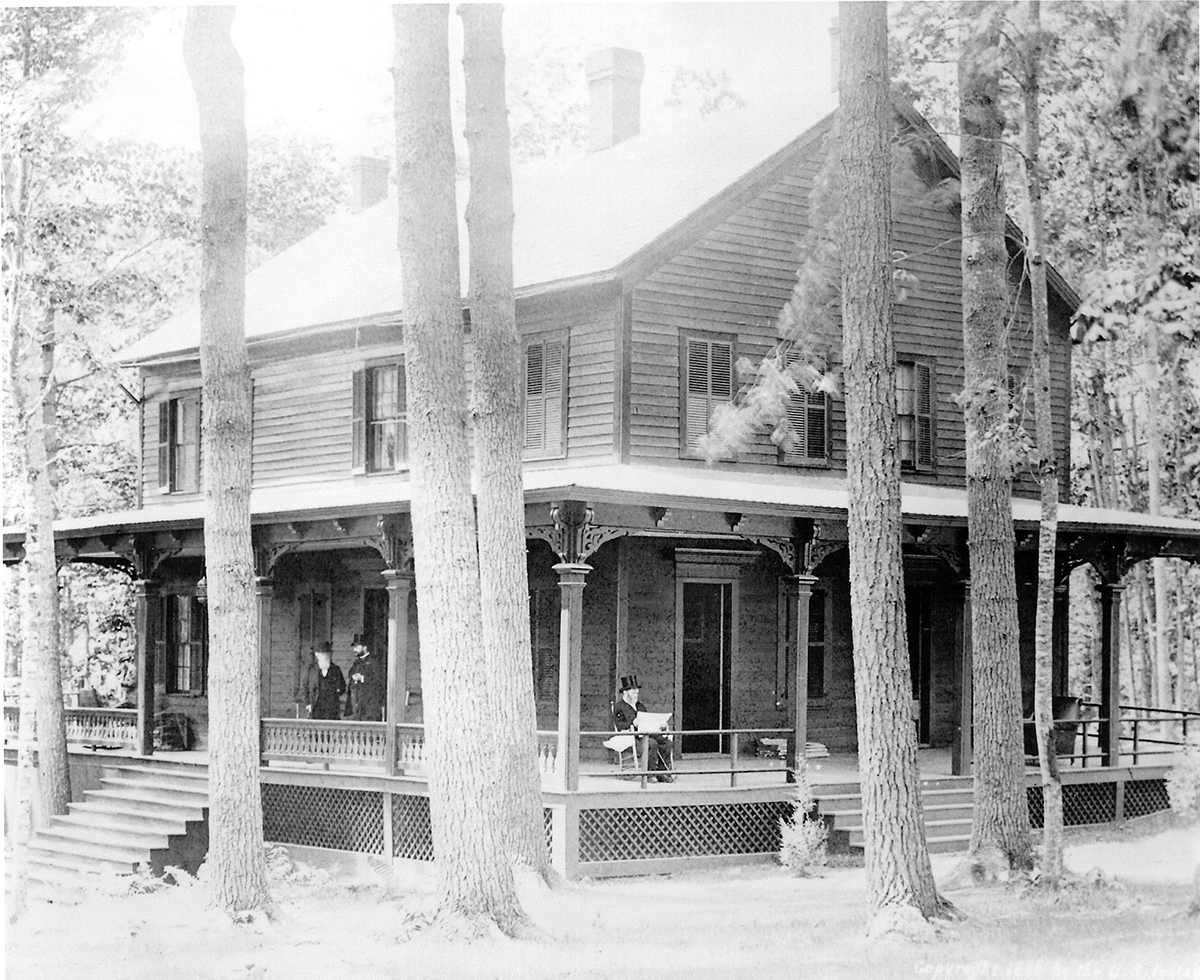 Ulysses S. Grant writing his memoirs on the porch of the cottage at Mt. McGregor in 1885. 
To learn more visit grantcottage.org. Photo courtesy of Grant Cottage Historic Site.
 
In 1888, Drexel died. That same year, the house at 695 North Broadway was sold to Norma Harriet Barrett.  Her husband, Hooper C. Barrett, and his brother operated a hotel in New York City.  During Barrett's ownership, the house was rented to numerous people.  In 1901, Hooper Barrett declared bankruptcy.  The Barrett family defaulted on the mortgage from the Drexel Estate and Drexel's daughter, Josephine, was awarded the property in 1923.  She retained ownership until 1928.  
The house had several owners until 1967 when John R. Gaines acquired it to serve as his summer residence.  Gaines, whose primary residence was at his Gainesway Farm in Lexington, Kentucky, was a giant in Thoroughbred racing, who established the Breeder's Cup and founded the National Thoroughbred Association, a precursor to the National Thoroughbred Racing Association. The property at 695 North Broadway remained in the Gaines family until 1997 when it was purchased by William E. Redmond, Jr. Seven years later, the house was acquired by Henrietta K. Alexander, an heiress of King Ranch in Texas, as a summer residence. 
In 2018, White Birch Farm, a Florida and Connecticut Thoroughbred breeding and racing operation, purchased 695 North Broadway to use during racing and sales seasons.  "We had an opportunity to get a great house with a rich history," said one of the owners.  "In fact, I remember talking horse business on the porch many years ago."  The wrap-around front porch is the owners' favorite space.  "We love to spend time on the porch – working, reading, and entertaining." Off season, the property is also used by White Birch Paper company as a meeting retreat.
The owners did extensive work to both the house and carriage house, including restoring the slate roofs, adding copper gutters, painting interiors and exteriors, remodeling the kitchen and bathrooms, installing new wiring, plumbing, and HVAC, as well as installing a pool and completing extensive landscape work designed by Madison Co.  "We felt it was the right thing to do to invest in the property because if you do away with these houses, you do away with your history," said the owner.
The carriage house as seen from the cupola of the main house.

One of the largest projects was the adaptive re-use of the carriage house into a guest house, which was designed by local architect Tom Frost of Frost Hurff Architects. "The carriage house provided us with an opportunity to create a unique space that is inspired by the West and the Adirondacks," said the owner.  The staircase is truly one of a kind – handcrafted by Rich Martin of Northern Dean, who oversaw the rehabilitation of both the house and carriage house.  
Last year, the Saratoga Springs Preservation Foundation recognized the work of the owners with a Preservation Recognition Award. "Architecture is a creative expression of a time and place. It is part of our heritage that provides an opportunity to learn from it," expressed the owners.  The community is grateful to them for their significant investment to preserve a great part of our heritage.