Carolyn Wilcox, artist and owner of Silver Maple Stained Glass in Hope, is passionate about infusing the wonders of the natural world into her original stained glass designs. After retiring from a 21-year technical career in the Air Force in 2006, Wilcox knew she wanted to find another government job. But in the meantime, she began dabbling in various craft forms. Having done a lot of watercolors in her early twenties, Wilcox was eager to find a challenging new medium to rekindle her artistic side. While living near Hanscom Air Force Base in Massachusetts, she engaged in a series of lessons in stained glass making. 
"Immediately, I became hooked on the art form," she recalls. "Eventually, I quit my job to pursue stained glass making full-time."
In creating her artwork, Wilcox uses the copper foil, or Tiffany, method. First, the edges of each piece of glass are wrapped in a thin copper foil. Then, the entire lengths of joints where pieces of glass meet are soldered together. Unlike the traditional lead came technique commonly seen in flat stained glass church windows, the copper foil method enables artisans to work with much smaller pieces of glass, create the stunning curves of Tiffany's renowned Art Nouveau shades, and attain a sturdier, more flexible unit.
When Carolyn Wilcox first began working with stained glass, she used patterns created by other designers. But all that changed when she returned to her hometown in 2014. "Moving back to Hope really seemed to bring out my artistic side. Inspired by the wildlife and woodland flowers and plants surrounding my home, I began drawing my own designs. I have found my niche," she muses. "I make what I like—and am happily surprised that others seem to appreciate my originality.
The artist enjoys working with glass of varying shapes, sizes, colors, and thicknesses. "Glass with mottled thickness and density is trickier to cut," she points out. "But the 'snap' of a piece of glass cut cleanly is the best sound in the world. Learning to make new, more intricate designs takes time and patience as well as courage and the willingness to fail as you perfect each new technique."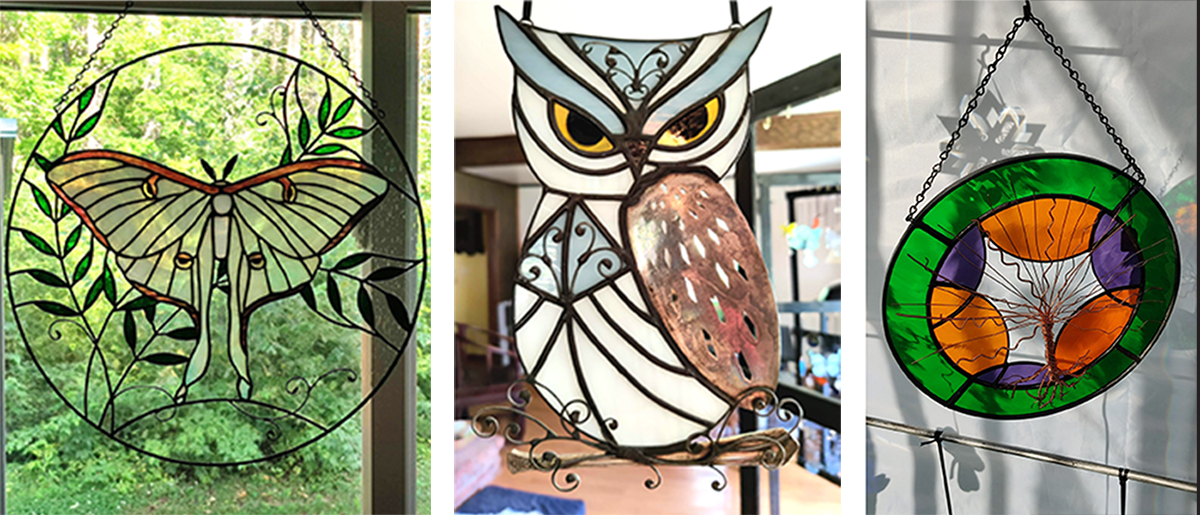 "Luna", "White Owl" and "Multi Tree"
Wilcox enjoys incorporating unexpected materials into her pieces. "I started adding wire and other embellishments a few years ago and now add them to as many pieces as I can. It adds a bit of whimsy and magic to my work. Over the years, I've made dozens of wire trees which I call, as a group, my 'Funky Trees.' In Luna, one of my favorite pieces from last year, I made a 3D antenna for the moth out of copper sheeting. I've also created several owls using vintage silverware. I call them my 'Serving Owls.' On one, I used a serving spoon for the wing and the spoon's handle for the branch at the bottom. On another, I used the serving part of a utensil for the body and a butter knife for the branch."
One of Wilcox's larger pieces—a tribute to nature titled Access—has roughly 400 pieces. Begun in the spring of 2021, it took the artist several months to complete. "I strayed from my original design quite a bit as I went along, which I hardly ever do. Originally, I wanted this to be sort of a gateway to nature, with layers going back into the forest, ending with the mountains in the distance. If you look closely, you'll see that there's a doorknob, a keyhole, and a key. In this piece, I incorporated some of my favorite spring things: mushrooms, lady slippers, fiddleheads, apple blossoms. I tried to stay relatively true to the spring season with my colors also."
Silver Maple Stained Glass is a home-based, grassroots business. "I actually grew up in this very house," Wilcox says proudly. "My family has lived here since 1972, and my mother now lives just down the road. This was always 'home' for my three wonderful kids. Having always spent holidays and vacations in this house in Hope growing up, they consider it home and love coming back to visit." 
In addition to running her thriving studio, Carolyn Wilcox helps to coordinate the annual SVAN (Sacandaga Valley Arts Network) Art Trails, a self-guided weekend tour of numerous artists' studios that takes place every August.
"The trail includes artists in Saratoga, Fulton, and Hamilton counties, the majority of whom work from their home studios with no regular business hours," Wilcox explains. "Art Trails encourages artists to interact directly with the community, affording people the opportunity to learn how these artists create their works."
Wilcox enjoys opening her home gallery and interacting with the public during this two-day event. "I love talking to people about how I create my art, from concept to process. Most of the people who take the art trail are there to learn something new, not necessarily to buy something. People can select whatever locations interest them most and set their own itineraries. We have sculptors, painters, weavers, wood-turners, multi-media, photographers, and more."
Carolyn Wilcox is committed to promoting the work of local artists working in diverse media. "Arts education is a big part of the Sacandaga Valley Arts Network mission, so the annual Art Trails is good for our community as a whole because it highlights the many wonderful and varied artists we have in our area." 
To contact Carolyn Wilcox or see more of her work, call
(518) 863-2256 or visit facebook.com/silvermaplestainedglass
Learn more about the Sacandaga Valley Arts Network at www.svanarts.org