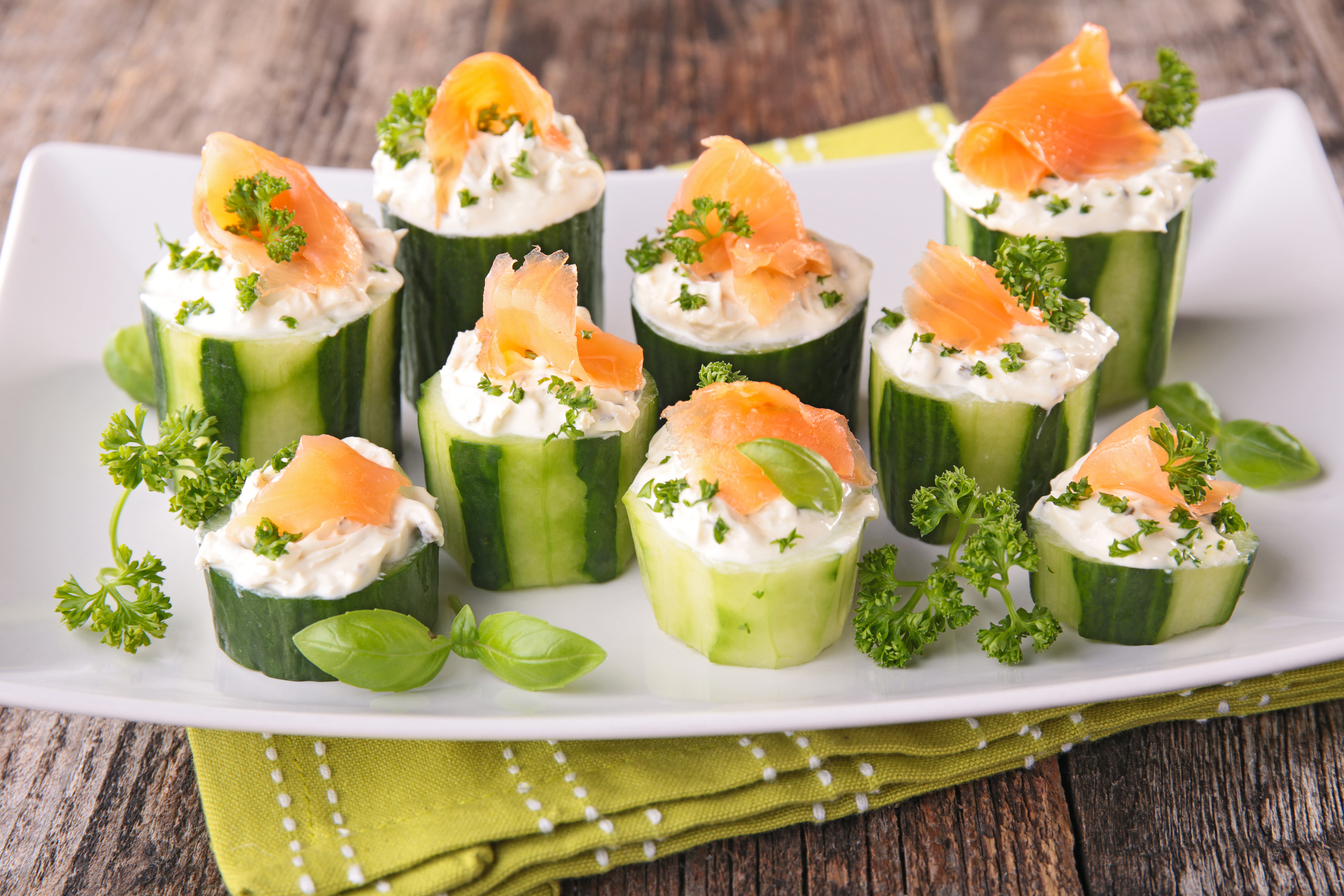 This is my favorite time of year because there are so many fun outdoor activities to enjoy, especially when it comes to casual entertaining. Relaxing under a sunny sky with friends, drinks, and delectable nibbles is a delightful way to spend an afternoon. 
So why not plan your own outdoor get-together? Hosting a laid back gathering al fresco can be stress-free and fun. With that in mind, I have put together a menu of easy to prepare party foods and a new seasonal cocktail too.  
Let's start with my latest libation creation, the Campari Peach Cobbler Cocktail. Campari is an Italian liqueur with a distinctive flavor that combines deliciously with sparkling peach moscato. A whisper of cinnamon gives the drink a flavor reminiscent of a classic baked peach cobbler. Next are my Cucumber Canapes with Herbed Cream Cheese and Smoke Salmon… delish and so easy to put together. Cantaloupe Citrus Soup is cool, refreshing and fun too served up in "shooter" glasses. My Savory Garbanzo Cocktail Sandwiches are a satisfying plant based nosh, with a flavorful chickpea salad served between slices of flaky puff pastry. Finally Strawberry Vanilla Shortbread Cookies add a sweet touch to the festivities.
If you would like to round out your menu a bit more, go downtown to The Savory Pantry for gourmet style dips and other delicious cocktail nibbles. And while you're in town don't forget the wine…head over to Purdy's Discount Wine and Liquor for an impressive selection and expert advice.  
As always, I hope you enjoy these recipes.
Until next time, have fun in your kitchen, enjoy cooking (and making cocktails!) for the people you love, and remember… it doesn't have to be perfect, it just has to taste good!