Hello my Foodie Friends! 
Spring time brings back many memories of my mother's ability to make foods taste delicious. Every spring, she would start a family vegetable garden. With five young children to keep busy, the vegetable garden promised to transform our backyard into a space of learning, discovery, and nourishment. Creating a veggie garden was a wonderful way to keep all our tiny hands busy. It also hosted invaluable lessons from life cycles to the responsibility of hard work that were learned inside the garden. How do you get five very different little rascals to love their vegetables?  My mother had us working in her garden weeding and debugging her vegetable plants. I did not like weeding, but debugging was fun. 
After a day of gardening, we would come in to the house and were hit with cumulus clouds of steam and wonderful aromas of all kinds of steaming vegetables. My brothers and sisters would stop in our tracks, and all breathe it in at once. Every one of us wanted a taste of what she was cooking and quickly washed up for dinner without being asked.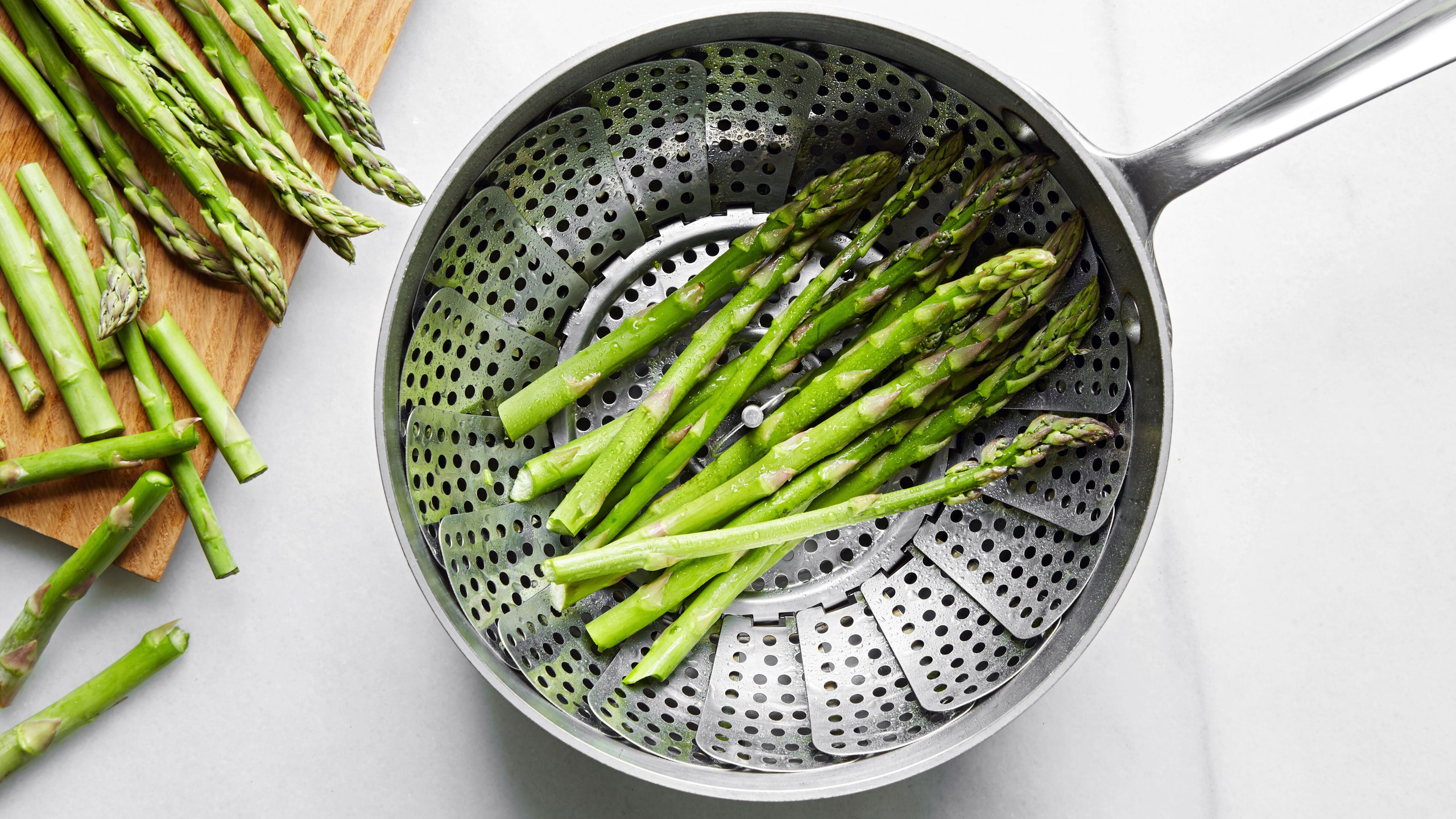 Of course, we all knew the penalty for not washing up before coming to the table. If she saw dirty hands at the table, there would be consequences and your stomach would continue to growl longer than your siblings. My middle brother was known as Dirty Hands Dan. He would test her every once in a while, thinking he could get his dirty mitts by her. He never did. She would look at him with a stare that she must have learned in "mom school" we thought. Her words were quick and practiced "Daniel, hands, face, neck and ears now!"  He would run like the wind but smiling the whole way. I think he loved her saying that. To this day when I see him, I will say "Dan," and he will recite, "Yes John, hands, face, neck and ears, now!" It puts that little boy smile on his clean face to this day. 
I also remember that while my friend's mothers were boiling vegetables, my mother was steaming them. What we didn't realize at the time was that by steaming them the flavor and aromas were richer. The texture made them melt in your mouth. I now know that she had five children to feed, and she wanted us to eat our vegetables. According to Helen Chen, steaming has many benefits, including the fact that you "accentuate the natural flavor of foods, retain nutrients and vitamins while cooking with less fat or oil." Foods that are steamed require little or no added oils or fats, and they retain vitamins and minerals and cook quickly and evenly.
To assist with your steaming needs; we have several ways to steam food with the use of bamboo steamers and metal steamer baskets inserts. The bamboo steamers are handmade of 100% natural bamboo and are ideal for vegetables, seafood, meats, and fruits. They are also perfect for cooking, reheating, and serving your favorite dim sum. Bamboo absorbs condensation so no water will drip back onto the food.
How steamers work:  A bamboo steamer is designed to sit over another pot containing boiling water (specially designed steaming rings, make it easy to steam on 11" or 13" diameter stockpots).  As the water boils, the steam enters the steamer through the open slats in the bottom and is contained in the steamer by the lid.  The bamboo steamer absorbs any condensation, keeping water from dripping back onto the food.  When heated, it forms a hot container and, with the cover in place, can keep food warm for up to half an hour. 
Metal steamer inserts are another method of steaming vegetables. Metal steamer inserts are adjustable, collapsible, stainless-steel baskets that expand to 9-inches. Metal vegetable steamer inserts adjusts to fit various-sized pots for steam cooking food and preserving fresh textures, flavors, and precious nutrients. Cook and reheat single or multiple servings; perfect for steaming vegetables, fruit, dumplings, eggs, meat, poultry, fish, seafood, desserts, and more. The footed design elevates food above the boiling water; smaller and more economical than electric food steamers and dishwasher safe.
This spring, create some lasting memories with your family and eat healthier. Whether you have a big yard to garden, or you have a few pots on a balcony, consider planting a family garden for fresh vegetables. Stop by Compliments to the Chef, your Neighborhood Kitchen and Cutlery store located at 33 Railroad Place, Saratoga Springs. Get steaming towards Spring. Remember, my Foodie Friends that: "Life Happens in the Kitchen".
Take Care, John & Paula