One remarkable figure from the past was John McBain Davidson, a business and sportsman, who was attracted to the Spa resort by the pleasures to be had. His presence, and that of his family, contributed to the local narrative for years.
Mr. Davidson's 1824 birth was preceded by the death of his father. He was raised by older brothers and a guardian, Erastus Corning, who directed his ward into steel products, which evolved into manufacturing safes, needed when most of the economy traded on a cash basis. The name of this successful venture was J. McB. Davidson & Company, with operations in Troy and Saratoga Springs. His safe business played a role in a Tweed Ring scam in downstate Gotham. This sullied Mr. Davidson's reputation, but not his finances. In 1863 he partnered with Alfred Van Santvoord and Chauncey Vibbard and founded the Hudson River Day Line, a passenger-only line and the fastest connection between Albany and the Port of New York. Mr. Davidson left manufacturing in 1867; his retirement was well enjoyed in Saratoga Springs.
Due to his connection with steamboats and foundries, Mr. Davidson became associated with the sailor-boxer-politician John Morrissey. The Troy Whig July 25, 1866 wrote,
"Morrissey began life in an iron establishment owned by the Davidson Brothers, at Troy. With this firm he grew up, and first attracted the attention of Mr. McB. Davidson from his immense muscular strength, with which none of his fellow Trojans could cope."
This relationship led Mr. Davidson, along with William R. Travers, Leonard W. Jerome, Cornelius Vanderbilt, John Hunter, Erastus Corning, Jr., James M. Marvin, and other sportsmen into the racing invention John Morrissey was planning on Union Avenue in Saratoga for 1863. These gentlemen officially incorporated in 1865 as the Saratoga Association for the Improvement of the Breed of Horses. Mr. Davidson also pioneered the winter sport Sara-tobogganing, as he held an interest in the Glen Mitchell property, which included a track for trotters.
John McB. Davidson may have played a role in Saratoga's great gift to the world, the potato chip. Like all folk tales, no one will really ever know what actually happened in Moon's Lake House. The undeniable fact is George Crum certainly was a Saratoga Lake pioneer in many ways, and that he was a very successful man of business, having built a shrine of rare cooking. One of the reasons for the 'chip-mystery' might be quintessential to chefs from the beginning of time; never reveal your secret recipe. It may have been that his chips were made from a peculiar variety of potatoes, which he alone raised. Some believe that, rather than Commodore Vanderbilt being the influence behind the creation of the potato chip, it was instead the rascally prankster John McBain Davidson, whose unusual middle name is often misspelled. Mr. Davidson was known for his mischievous sense of humor and would often take practical jokes to an extreme. Mr. Crum had long been in Mr. Davidson's employ as a wilderness guide and cook, and victim of his badinage. It may have been that George Crum created a retribution potato chip snack on one of Mr. Davidson's camping trips, which would have required mass quantities of certain beverages to slake his victim's thirst. Evelyn Barrett Britten in her legendary, Chronicles of Saratoga wrote, "Much confusion exists in stories of the origin of Potato Chips." She wasn't kidding!
John McB. Davidson married a woman from Massachusetts named Anna Flora Knight, and was in position to build a notable edifice just a whinny away from the popular race track across Union Avenue. He and Anna turned to noted Saratoga carpenter turned architect R. Newton Brezee in 1885, and they lovingly referred to the planned structure as Villa Beatrice, after their only child. The unpredictable has a way of finding us all; in August of that year a tremendous storm struck the grounds of the Vichy Spring colonnade, and several dining there were injured in a lightning strike, including Mr. Davidson. Legendary track announcer Tom Durkin, in discussing his pending retirement, quoted the cautionary proverb, "man plans, God laughs."

This same wisdom certainly applied to John McB. Davidson, as he died of cerebral apoplexy at his home on 47 Franklin Street in Saratoga Springs on January 30, 1887, after being in failing health for about a year, and before his new home on Union Avenue was ready for occupancy.
His widow Anna Flora Davidson and their daughter Beatrice became the occupants of the Davidson Cottage, and were well known in the Saratoga community. Mrs. Davidson led the Women's Civic League, and she and her daughter were active in many of the movements in the first part of the twentieth century, and perhaps were considered a bit eccentric. In 1906 Charles Evans Hughes was elected as New York's Governor, and he ushered in a series of reforms which would eventually lead to a ban on racing. The fully bearded Governor Hughes was insultingly referred to by frustrated horseman as "that animated feather duster." A protest was organized for the 1908 Saratoga County Fair to convey dissatisfaction to the Governor. This included Mrs. John McB. Davidson and Beatrice, waving feather dusters which supported 'Personal Liberty' placards in the direction of the hirsute Chief Executive, who fled. 
Anna Davidson and her daughter enjoyed being on the cutting edge of twentieth century technology, and their home on Union Avenue played a role. The ladies, in summer 1908, accompanied by their chauffeur, set a new speed record, traveling from New York City to Saratoga Springs in just over seven hours. Their auto was the latest produced by the George N. Pierce Company of Buffalo, New York. Their Great Arrow car so revolutionized road travel in speed and comfort that the manufacturer changed his product name to Pierce-Arrow. Mrs. Davidson and Beatrice held a dinner party in July of 1910 at their home for several members of the US Army Corps of Engineers, all involved in testing the Wright Brothers' new military flyer. Anna Davidson certainly was interested in new inventions and inventing, perhaps inspired by her late husband who in 1858 patented an adjustable wrench that could adapt itself to any size screw or bolt head in a single movement. Mrs. Davidson was determined to bring a new idea developed in Saratoga Springs to fruition, such as the porcelain lined bathtub at the Magnetic Spring and game of solitaire at Canfield's Casino. She teamed up with her aunt, Margaret Eloise Knight of South Framingham, Massachusetts to patent several automobile improvements. Some folks referred to 'Aunt Maggie' as 'Lady Edison,' as she was granted nearly 30 patents. Her first invention was a shuttle-stop device for a mill loom at age twelve, after witnessing an accident in a New England factory where her brothers worked. In 1871 she patented a device that produced the modern square-bottomed paper grocery bag, which earned the decoration of the Order of Science and Merit from Queen Victoria. The Saratogian reported in January of 1911 that Beatrice, perhaps under the guidance of her Great-Aunt Maggie, received notice from the U.S. Patent Office granting her patent for an improved heel for boots and shoes. Beatrice maintained a lifelong friendship with Saratoga Springs resident Louis Howe, who was part of FDR's 'Brain-Trust,' and many feel the progenitor of the New Deal.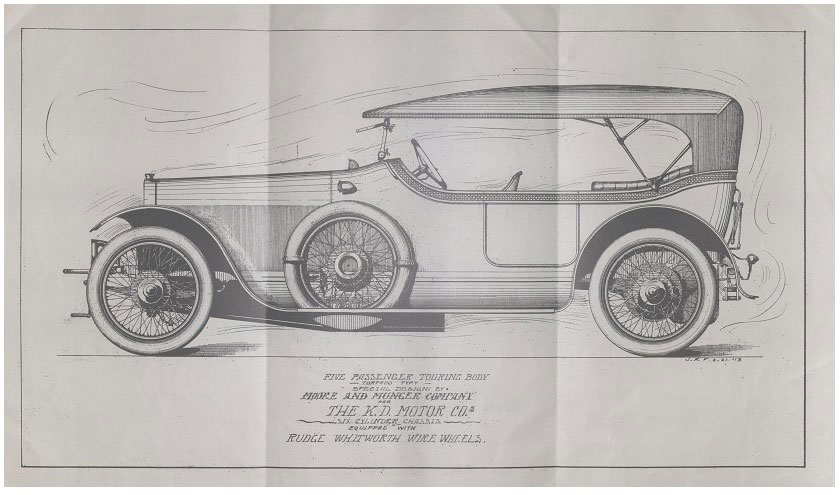 Original advertising image from the Knight-Davidson Motor Company records, Baker Library, Harvard Business School. The March 13, 1913 issue of Motor World magazine reported from the Boston Auto Show; "there is nothing of the severity in the lines of the K-D Car. It departs further from the accepted straight-line effect than any other car in the show, though the lines are pleasing withal and suggest not at all the multitudinous curves that help give the typical foreign car its outre appearance to American eyes. Yet the body has a decidely foreign appearance that is heightened to a degree by its wire wheels and its unusual fender lines. The hood is long, to accomodate its six-cylinder motor, and after the manner that apparently is coming into greater vogue, slopes gradually upward from the front."
Aunt Maggie turned her attention to automobile engine refinement, where she improved the sliding crescent valve system on both the induction and exhaust side of the combustion chamber, which produced more horsepower at greater fuel efficiency while reducing the noise produced through a power recovery system. Margaret Knight and her niece, Anna Davidson, and Anna's daughter Beatrice became partners, who incorporated an automobile manufacturing concern known as the Knight-Davidson Motor Company, or K-D Motor Company, with a healthy $100,000 in working capital. All three partners attended the Boston Auto Show with the K-D Motor on its first public display in 1912, with hopes of licensing their powerplant to an automobile manufacturer. In 1913, the women contracted out the chassis and body design to pioneering auto designer Charles Greuter, and the custom coach company Munger & Moore produced a prototype which was exhibited at auto shows, where prospective customers would sign up to have their K-D touring-car built. The March 22, 1913 Saratogian wrote,
"The Knight-Davidson company created a sensation with the new six-cylinder K-D motor, fitted to a specially-built gun metal torpedo body from the Moore & Munger Company of New York City. The car complete is considered by expert engineers and connoisseurs to be the most up-to-date and finest product in motordom."
Their new auto featured right-hand drive, retractable canvas top, embellished beltline trim, wire knock-off wheels and a single door on each side with concealed latches and hinges. This provided entry to either the front bucket seats or the back seat, which contained a locker for dusters and goggles. 
Manufacturing difficulties with the six-cylinder machine prompted the deletion of the waste-exhaust energy extraction system, which made the original K-D engine stand out in the market place. The highly competitive automobile industry proved difficult to enter with limited production, and the high-end sticker price thwarted sales. Unfortunately, Margaret E. Knight passed away in 1914, ending the K-D business venture.
In 1915 the Davidson Cottage was the location of Beatrice's wedding, where she married Lieutenant Percy A. Cook, formerly of the British Navy. The couple had interests in New Jersey and Florida. Following Mrs. Davidson's 1925 death, the home was leased during track season, and eventually sold to drug store magnate Mac Finn. Presently the Davidson Cottage is the location of the Saratoga Dreams B&B.
The holiday season is a time of gifts given and received, some having been made by the lamented departed, with many a bestowal treasured for lifetimes. Posterity can be grateful that Saratoga Springs City Historian Beatrice Sweeney, in 1969, gifted the papers of the Knight-Davidson Corporation to the Harvard Business School.