Gemma Tremayne defines "soul places" as those to which you are particularly drawn, where you instantly feel "at home."
In my mind, Saratoga has an abundance of "soul places." Each one inspired locals to buy and develop them for a unique purpose that carried on over the years. Some buildings began and remained places of innovation, others as places of care, and others remain a sanctuary. Generations pass and the structures and owners change, yet the spot's essential personality perseveres.
The "soul" of the red brick Queen Anne Victorian at 628 North Broadway is "service to our community." This building was somewhat of a second home to me; my parents moved there when I was an adult. Visits and gatherings were frequent during their nearly 20 years living there.
I loved visiting the third floor, which held a small wooden stage tucked under the 3rd floor front windows. Other than imagining plays that turn of the century children would put on for entertainment, I never gave much thought to 628's long history. However, once I began reading about the well-known families who previously occupied this spot, the personality of the address was apparent.
The former owners of record include Theodore and Kate Hamilton, Joseph and Ellen Clark, Jean and Louis Noland, James and William Burke, Richard and Barbara Stone, and Mark Phillips and R. Thomas Armer. Every single one was a philanthropic, civic-minded leader who served Saratoga Springs. All but Phillips and Armer are deceased, and upon each of the preceding owners' deaths, the Saratogian newspaper ran lengthy articles outlining their many examples of service to the community.
Downstairs family parlor of 628 North Broadway shown when property was a family home. Since 1945, over 13,000 wakes and/or funerals have taken place in this room.
1887 -1910 Hamilton's
Now known as the William J. Burke and Sons/Bussing & Cunniff Funeral Home, the Queen Anne building was designed in 1887 by Newton Brezee as a single-family home for lawyer Theodore Hamilton and his family. (Ironically, another of Brezee's grand Victorian residential designs - 105 Lake Avenue - would later become Tunison's Funeral Home.) 
Today 628 North Broadway serves our community as a stately place to pay respect to a deceased friend or family member. Before it became a funeral home, the stewards of this property were active citizens who left their mark on our community. 
Theodore Hamilton was a journalist, beloved lawyer, and three-time Saratoga District Attorney. He and his wife Kate built the structure at 628 North Broadway on a 140 ft x 50 ft parcel of land-a quarter of the size of present-day Burke's property. The Hamiltons raised four children in the home, enjoying the wrap-around front porch, first-floor music room, parlor, and dining room. The couple hosted frequent social gatherings, including a well-received event in 1897 to celebrate Margaret Sangster, editor of Harper's Bazaar; author Kate Upson Clark; and Margaret Hamilton Welch, editor of the New York Evening Post.
Professionally, Hamilton was "regarded as one of the keenest attorneys in the area." (1899 Saratoga County: "Bench and the Bar.")
Tragically he suffered a cerebral hemorrhage at his home in December 1904. He was 53.
His untimely death shocked and saddened the community. The December 6, 1904, Saratogian featured nearly a full page of tributes in his memory by the Saratoga County Bar. 
626 North Broadway was home to Commander Antoine McNair and his
wife until his 1923 death. It was torn down, adding to the lot size of 628.
1910 -1932 Clark's
A few years later, in 1910, Mrs. Hamilton sold the home to industrialist Joesph Clark and his wife, Ellen. Senator Edgar Brackett lured Clark to Saratoga to build a textile mill. Brackett helped finance Clark Textile, a company that made silk gloves. Clark's Mill, sold in 1919 to the Van Raaltes, served the community for years with needed jobs. In addition, the Clarks supported Bethesda Episcopal Church by donating a Skinner pipe organ in 1920. (The organ served the church until 1967.)
But, less admirably, the Clarks served their own needs by enlarging the lot of their 628 property. 
Writing under her pen name, Jean McGregor, city historian Evelyn Barrett Britten described a preservationist's nightmare. Her Saratogian column of October 3, 1947, offhandedly describes the Clark's annexation of the next-door lot, 626 North Broadway: 
"The home of Commander and Mrs. Antoine De R McNair was the scene of much social festivity in the last half of the nineteenth century. It was purchased by the late Mr. and Mrs. Joseph H. Clark and torn down to improve the landscape of 628 North Broadway." 
City directories confirm that the McNairs' residence no longer existed after McNair died in 1923, but it doubled the Broadway frontage of 628.
There are no reports in the local papers of a backlash from tearing down this historic house. However, the following year, in 1924, just before Mr. Clark's death, the Clarks donated $5000 ($86,600 today) to Skidmore's endowment fund, thus ensuring that Skidmore College would be chartered. In 1922, the Board of Regents gave Skidmore five years to increase its endowment. The Clark's pledge helped show locals' commitment to the then-newly chartered independent college.
After Mrs. Clark's 1932 death, 628 North Broadway sat vacant for three years. 
These gardens replaced the structure that stood at 626 Broadway.
1935 -1945 Noland's
In 1935, Louis Noland, president of the Saratoga National Bank, purchased the property. Like previous occupants, he was a leader in both business and fraternal organizations. His daughter Margaret was awarded the Yaddo Medal for outstanding character, leadership, and scholarship. Additionally, she was instrumental in founding the Katrina Trask Nursery School. Noland's career brought him to NYC, prompting him to sell the property in 1945. 
This circa 1950 photo shows James & Sally Burke, owners of
628 N. Broadway.
1945 - Present: Family Home to Funeral Home
Funeral directors William and James Burke had operated a funeral business at 465 Broadway for forty years, mainly doing at-home wakes. Funeral trends had changed from at-home wakes to funeral home wakes, and, as a result, the Burkes needed more space and more parking. The Burke brothers found what they wanted just three blocks up the street from their business. They loved Brezee's design, with the large entrance and three parlor-type rooms. It was perfect for a funeral home, except for one obstacle: its "residential A" zoning status. The approval process to grant a variance for "Zone D Commercial" status took six months. Once granted, the business operated at two locations for the next 38 years. The office, showrooms, and embalming room continued at 465 Broadway. Wakes and funerals were held on the first floor of 628 North Broadway, while James and Sally Burke resided on the second and third floors. In 1983, the business consolidated to a single location at 628 North Broadway.  
Since then, the North Broadway location has served thousands of families in all aspects of planning, mourning, and paying tribute to loved ones. The Burkes' business tradition of respect, dignity, and honesty has been imparted to each employee who has worked there.
The tall ceilings, soft lighting, tastefully decorated rooms, and well-maintained building create a feeling of comfort. When each of our parents died and were waked there, my sisters and I appreciated the homelike atmosphere. It didn't feel institutional. My sister Janet said, "It made me have a greater appreciation for the home wakes of the past."
My parents, Richard and Barbara Stone, moved to the second and third floors of 628 in 1984. They renovated the second floor, adding a modern kitchen and replacing the first-floor kitchen and its oak wall icebox with tin lining. My father, a partner in the Burke firm since 1972, became the sole owner in 1987. He died prematurely in 1990. Days after his death, representatives from Service Corporation International, a "big box corporation" that buys up small funeral homes, contacted my mother about purchasing the funeral home. She refused. A few weeks later, they visited in person, presenting her with a blank check to fill out. My mother knew the Burkes, and my father and employees Mark Phillips and Tom Armer had worked for years to build a business with a personalized, small family feel. She passed on their offer.
After my mother died in 2003, Mark Phillips and R. Thomas Armer, who were not just dedicated employees but shareholders, took ownership of 628. They moved the offices to the former living quarters on the second floor and reconfigured the downstairs to meet their growing demands of space and needs to become more handicap accessible. They continued serving the community and declined buyout offers from SCI.
Linda Haner says, "Everyone at Burkes pays attention to tiny details. I've lost three family members in three years. I had all the funerals at Burkes. My brother, father and mother all had their own wishes. Each time the staff worked with me every step of the way. It was seamless."
Moving forward
Today Daniel J. DeCelle and his son Nicholas D. DeCelle are fulfilling Burke's philosophy of a small family-style funeral home. The DeCelles, after years of working at Burkes, bought the property officially in March of 2022.
Dan, a twenty-one-year veteran at Burke's, just received a 25-year pin for his involvement in Little League. Son Nick is a 3rd term Vice President of the Dake Foundation for Children.  
None of their combined extensive life experiences in and out of the funeral business prepared them for the biggest challenge of their career: the Covid-19 pandemic. However, despite the many obstacles and difficulties the pandemic presented, the funeral home intended to serve the community as it always had. "Things changed daily in real-time," said Dan. "I began every day at 5 a.m. going to multiple stores for bleach, wipes, and PPE to keep families safe."
Richard Stone, former owner of Burke's, and then employees Mark Phillips,
Jamie Turcotte, and Tom Armer in 1990, shortly before Stone's passing.
In March 2020, when the world went into shut-down mode from the pandemic, the funeral home could only allow ten masked mourners at a time into the building. In July, state regulations expanded the limit to 30 socially distant mourners. Tape measure in hand, the DeCelles laid out a one-way traffic pattern with numbers on the carpeted floors, furniture barricades, and a front door entrance/ back door exit system. Dan and Nick shifted the positioning of the casket to improve traffic flow. Embalming was a sterile, lengthy process involving complete PPE protection. 
This past summer, the DeCelles decided the 140-year-old building needed an extensive "face-lift." What began as just painting extended into carpentry on the ornate trim, repointing the brick, and masonry work on the foundation and chimney. As a result, Breeze's design will continue to serve Saratoga Springs in style for many years and will continue to shine its civic duty and community service personality.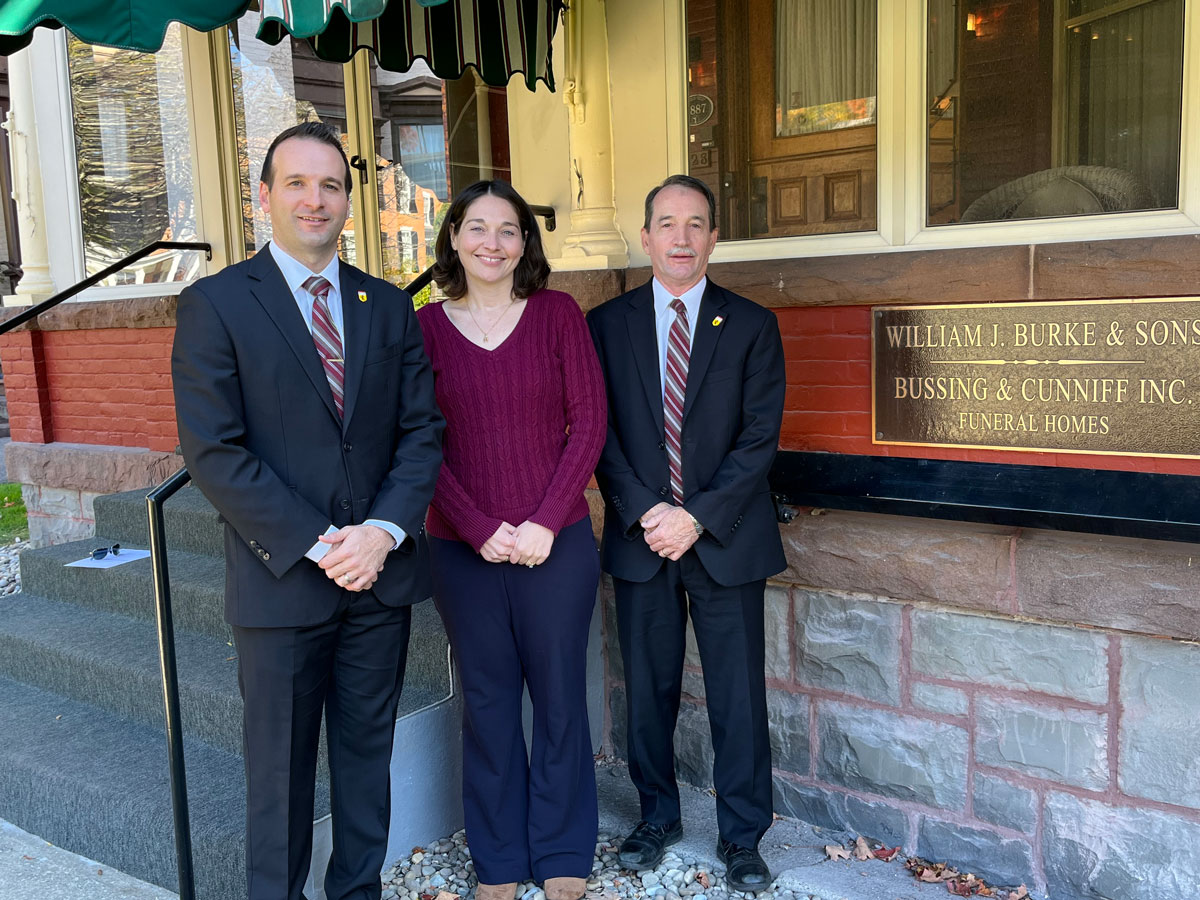 Today,  Burkes is still a small family operation. Nick and Dan DeCelle formed DND 628 LLC and took over ownership of the building in March 2022.
Dan's daughter Stephanie is the office manager.
Author's note: Special thanks to Mitch Cohen for his deed research; Dan and Nick DeCelle and Mark Phillips for their expertise.