Nestled in the center of a residential street that could've easily been the stage set of "Leave it to Beaver" or "The Donna Reed Show," 64-66 Ludlow St. has served as a century-plus sanctuary for many locals. Architect Newton Breeze's handsomely designed three-story brick building has been a haven of safety and serenity since 1904 – first as a home for children, then as a YMCA, and finally a residence for scores of locals.
Beginnings - 1854-1901
In 1852, Matthias Pike and his family moved to Saratoga from Fort Ann, where he had served as justice of the peace and superintendent of the poor. Two years later, he and his wife Sarah purchased a large plot of land on Ludlow Street. It sat undeveloped for nearly 50 years. After the couple's deaths, Lemuel Pike, Matthias' son, sold the family property in 1901 to the Saratoga Home for Children (later named the Hawley Home for Children). One would like to believe that Lemuel followed in his father's footsteps of caring for the poor and collaborated with Reverend Bostwick Hawley to convey the property to create a safe sanctuary for needy children.
1901-1965 Hawley Home for Children
Ludlow Street remains one of my favorite streets to stroll and observe the architecture. Growing up, I often walked down Ludlow Street, never failing to stop and admire 64 Ludlow. The brick building, created as a home for children, is unlike neighboring clapboard structures. Local architect Newton Breeze was hired to create a permanent building to house needy children. The home was ultimately named for the president of a privately funded corporation, Dr. Bostwick Hawley. The building began housing as many as 34 children at a time, starting in November 1904.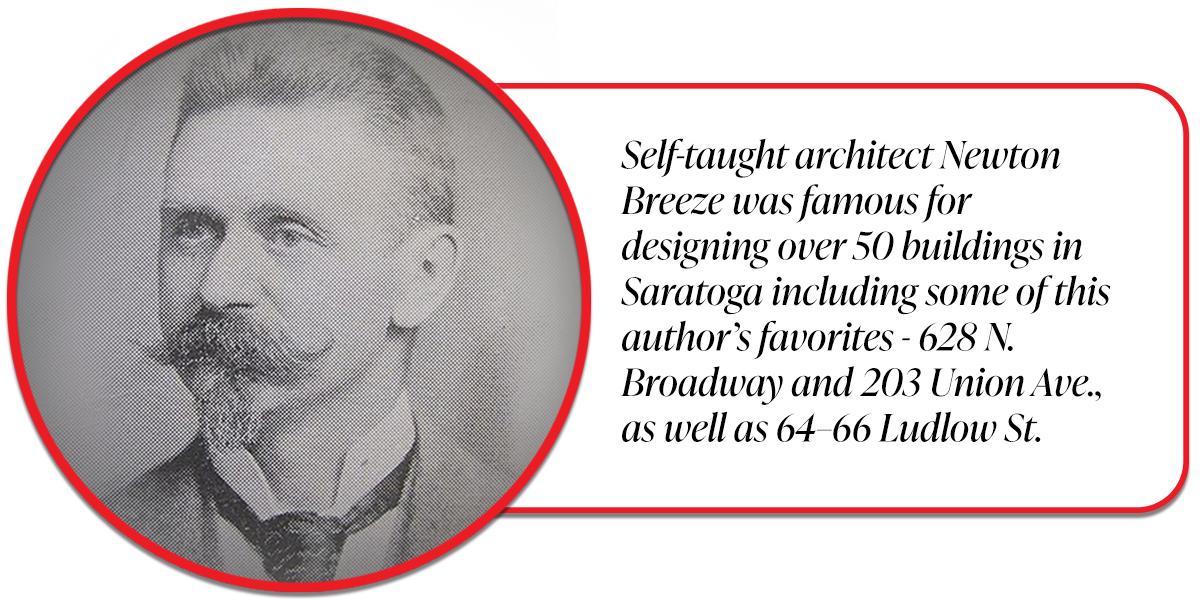 The massive slate roof with the tall wooden shingled tower in the center softens what could be an institutional design. The covered porches feel welcoming. I love the symmetry of the attic dormers. They conjured up images of Sara from "A Little Princess" living in the attic, hungry and lonely. Nothing could have been further from this case. From all I have read, the children residing in the Hawley Home received attentive care. 
Unlike typical orphanages, the home primarily served as a temporary placement for struggling families. Its mission was to "aid in the physical, mental and educational development of children."  
Parents placed their children for a few weeks or even years in the Hawley Home until they could financially care for them. 
Browsing through the comprehensive Hawley Home scrapbooks housed in the library's Saratoga Room, I was warmed by the generous outpouring of support our community extended to the children who lived there. Skidmore students were assigned a resident to read to and mentor regularly. Restaurants such as Siros, Pennell's, and the Ash Grove invited the children for yearly dinners. Jockeys from The Track made summer visits complete with gifts and treats. Other civic groups sponsored outings to Kaydeross Amusement Park. What particularly touched me to read about were the Tam O' Shanter restaurant employees, a once popular Italian restaurant in Ballston Spa. The employees saved their extra tips for an entire year to treat the children to a picnic and day at Lake George's Storytown Amusement Park (now known as The Great Escape.)
Endowments and yearly letter-writing appeals funded the home.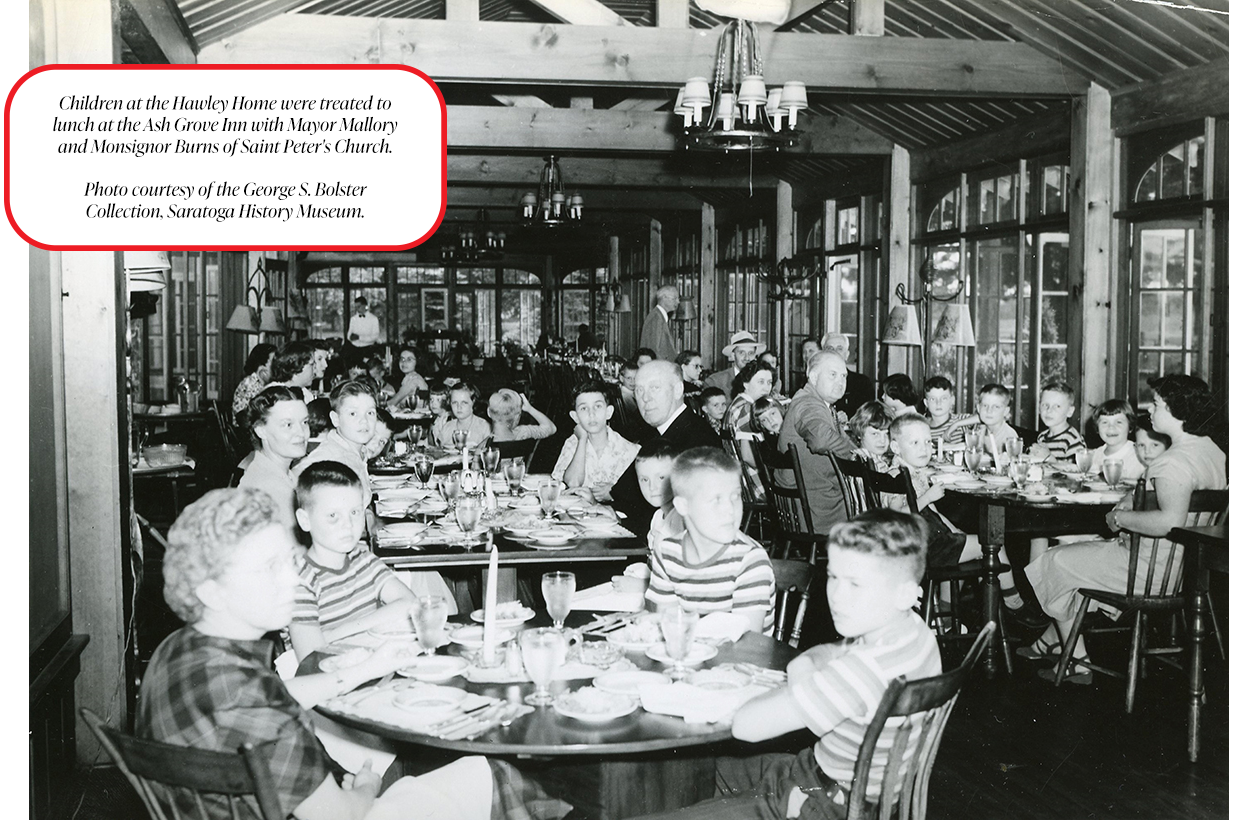 Here is the inside text of an annual appeal from the 1960s:
We think we get as much love and security as any kid who doesn't have his own home. Thirty-five of us, aged 3-12, live at the Hawley Home. We eat good meals planned by a dietician. We get cod liver oil, extra vitamins, and dental and medical care. We play, watched by resourceful house-mothers, and we meet other kids at Church and Sunday School, at Cubs and Scouts, and at school.
Despite these efforts, new state regulations forced the closing of the physical building of the Hawley Home in 1965. 
However, the valuable services the Hawley Home afforded our community live on today. The endowment was rolled into the Hawley Home for Children Foundation, a low-profile yet invaluable community organization aiding needy children. 
Lois Radke has dedicated 40 years of volunteer service to the Hawley Home Foundation because "it serves children's health, education, and welfare. Every penny you donate goes directly to the kids of our area," says Radke. Besides college scholarships and various grants, the foundation works directly with school nurses and psychologists to identify and fund students needing summer day camp. In addition, the foundation's board members are a "who's who" of civic-minded community members.
December 1965 - February 1972 YMCA
In 1965, the membership of our YMCA had grown to 1200 members. At that time, the YMCA consisted of a few meeting rooms in a building at 509 Broadway. There were no athletic facilities, and space was limited.
As a stop-gap measure, the YMCA purchased 64-66 Ludlow for $10,000 in 1965. It expanded its meeting room space to 20 rooms. 
The move was controversial. Neighbors of the surrounding residential streets protested the sale, fearing there would not be adequate parking and the YMCA would reduce the value of their homes. Despite this opposition, the building became a short-term solution for a larger YMCA facility. Jr. high dances, a ping pong table, and a teen hang-out prevailed for the next seven years at this address.
1972 until the present - "Residential Sanctuary."
Once the YMCA relocated to a larger athletic facility on South Broadway, this spot was converted into smaller residential units. For many years the building operated as multiple apartments.
Then Larry Abrams converted the structure into ten privately owned condominiums. Each is unique and varies in square footage, ceiling height, and special features such as screened porches.
Chad Morrison and his husband David purchased unit 101 in 2021. "We really liked the small number of units in the building and the location. It's super quiet with a nice mix of owners. We also find the diverse architecture in the neighboring streets appealing."
Breeze's turn-of-the-century design has withstood the test of time, providing safety and serenity to countless Saratogians.
Author's note: Special thanks to Mitch Cohen and his deed research;The Saratoga Room; Lois Radke; and Chad Morrison.