Sandwiched between a '50s style motel and a six-story brick condominium building, 260 Broadway's refaced facade can easily be overlooked. However, the skull and crossbones emblem over the dungeon-like glass and metal riveted doors may cause a passerby to give pause and wonder-What goes on at the other side of that door? 
In 1890, the building was unlike any other in the world.
At the time, the world wasn't ready for innovator/visionary and idealist Franklin Webster Smith. A devout Baptist and an abolitionist, Smith opposed gambling and horse racing. Instead, he envisioned Saratoga Springs as a cultural mecca, a sentiment today often echoed by Elizabeth Sobol, CEO of SPAC.
Although ridiculed by some, this prompted Smith to build "a reproduction of the house of Pansa at Pompeii; buried by the eruption of Mount Vesuvius in 79 A.D." It remains the sole reproduction of a Pompeian home anywhere in the United States.
Finished in 1889, the art-filled Roman-style concrete structure drew an astonishing 60,000 visitors in its first four years. Smith traveled to the ruins of Pompeii three times, spending over $75,000 (2.2 million today) to furnish the house, which also served as his summer home. 
In keeping with the Pompeian design, the house had two parts— one for the public and one for private family use. The atrium was where Cuspius Pansa, a Pompeiian nobleman, received what Romans referred to as "plebians," or commoners.
Today the skylit atrium entrance is the only original feature of "The House of Pansa." Four Roman columns mark the corners where a pool (now covered) once stood. The cleverly designed sloped roof caught rain that drained into the marble pool.
House of Pansa was a favorite school field trip destination. High school Latin classes and students from colleges such as Vassar marveled at the frescoed walls, bronze busts, life-sized statues, and rich upholstered furnishings. A Westbury, CT newspaper field trip report from 1892 states, "A visit to the House of Pansa was worth the cost of the whole trip. To a student, this house offers an opportunity for many weeks of study."
Sadly, Franklin Smith financially over-extended himself with other ambitious endeavors, such as a National Gallery of History and Art in Washington, D.C.
Much debate ensued as to the fate of the House of Pansa. Nationwide, preservationists wanted it preserved; locals wanted it to be an extension of its next-door neighbor, Convention Hall.
In 1914, prominent local businessman and ardent Free Mason, James Mingay, purchased the building from Franklin Smith's Bostonian sister.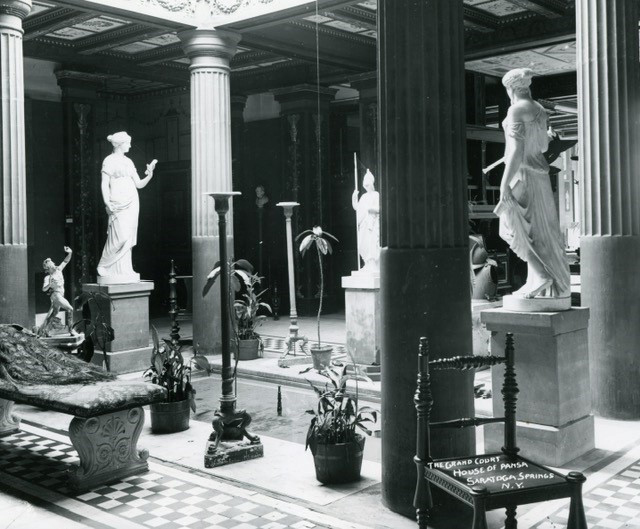 So, what went on behind the doors at 260 Broadway from 1914-1952?  The Masonic Hall Association
It was the most unique Masonic Temple in the world. Knickerbocker Press reporter William Burnham wrote," The home of the fraternity will be unusual because of the fact that the building will contain many relics on which Masonry was founded in early days."
Initially, the front rooms and furnishing were kept intact. The Masons spent over $50,000 on lodge rooms and a dining hall in the rear of the building. Occasional open houses allowed the public to enter behind the mysterious doors to view the quaint Roman treasures.
Historically known for devastating fires, Saratoga suffered another blow on Christmas Eve of 1926. A fire at 260 Broadway destroyed many of the one-of-a-kind treasures.
The doors closed for the Masons in 1952 and reopened later that year as a synagogue and Jewish Community Center for the Congregation Shaara Tfille.
So, what went on behind those doors from 1952-1989?  Congregation Shaara Tfille
To the passerby, the heavy wooden doors of the brick-faced synagogue gave no hint of what went on behind the other side of them. Fortunately, Sophie Goldstein's interviews in the public library's Saratoga Room give detailed accounts.
And many present and former locals, such as Marci Weinstein Goldgar, remember entering through the huge heavy doors into a large lobby. Loud voices filled the former atrium as members talked before and after services. The sanctuary was Marci's favorite part of the building, where she felt most connected to her present and rooted in her past. During services, she felt the warmth and familiarity of community members she had known all her life.
Marci attended Hebrew school on the second floor. Next to the classrooms remained a large auditorium, once used as an art gallery in the Pompeia. Before class students blew off steam by playing kickball. Marci recalls, "Over 50 years later, my Hebrew school memories tend to be more of the kickball games before class than what happened once we settled into the hard wooden desks of the classroom in the late afternoon preparing for my Bat Mitzvah."
In the 90s, after Congregation Shaara Tfille sold the building and moved to a new location on Weibel Avenue, the building struggled to find a unique identity. For a while, it housed a furniture store, the Broadway Design Center. Large open rooms had dividers to simulate a smaller living room or dining room area to showcase furniture.
Real estate developer Bruce Levinsky of the Merlin Development and Construction Company purchased the former House of Pansa in 1997 for $1.1 million. Under his ownership, which continues today, the building was refaced, and solar panels were added to the roof.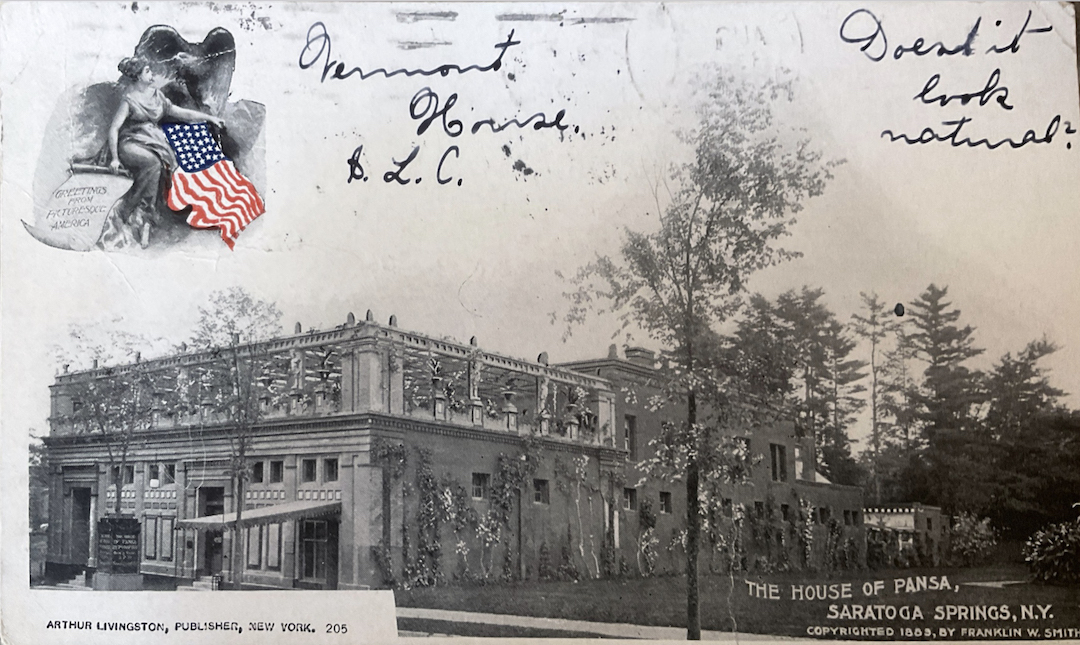 So, what went on behind those riveted doors from 1999-2016? Palio Communications
In 1999, buzz-worthy activity began once again behind the riveted doors of 260 Broadway. Ed Mitzen, Guy Mastrion, and Mike Myers leased the space for their rapidly growing communications and marketing firm, Palio. The average Saratogian walking by the refaced building with its striking green awnings had no idea that creative geniuses were working with Pharma companies like Pfizer, GlaxoSmithKline, and Johnson & Johnson on their marketing strategies.
Guy Mastrion distinctly remembers when he first looked at the space to lease. "We knew if we took down the former furniture store's dividing walls, we could design a space where creative people could think freely. The open space and high ceilings made for a cathedral-like environment. It was a Manhattan loft in the country. I knew the space would become a destination for creativity."
Guy was right-at one point, Palio grew to employ 150 people with over $31 million in revenue.
The marvelous atrium was kept original. Patrick and Judy Donovan, faux finish experts, marbleized the tall columns and doorways.
Palio sold its business to inVentiv Health in 2016. Today, Guy regrets not keeping a few of the original photos of the historic House of Pansa.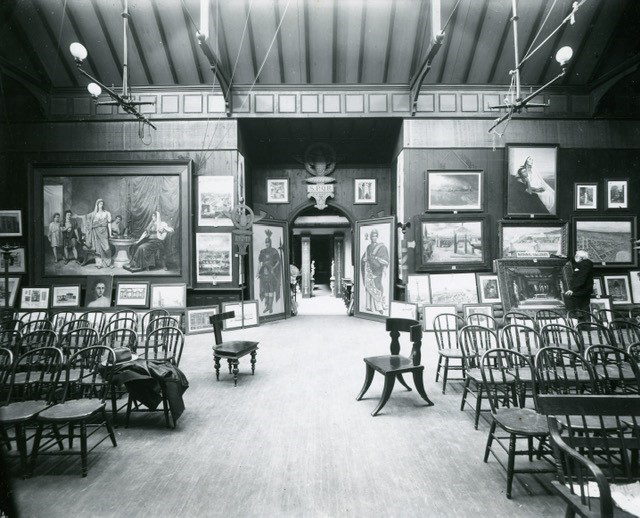 So, what happens now behind those riveted doors? Headquarters of the World's Strongest Coffee
Franklin Smith's spirit of innovation and uniqueness lingered at 260 Broadway. The atrium's black and white marble floors with red trim - the company colors of Death Wish coffee - caught Mike Brown's (founder of Death Wish Coffee) and Eric Donovan's attention. The company's success skyrocketed after they won a 30 second Super Bowl commercial, valued at $5 million. They needed a space that allowed expansion.
"This building has a ton of character," commented Eric Donovan, Vice President of Business Development, on a recent "behind the doors" tour. The space checked all the boxes for the innovative, fastest-growing coffee company in the grocery world.
In March of 2020, as the world was shutting down, Death Wish Coffee moved into 260 Broadway, creating a retail space and corporate offices for social media, research and development, marketing, and graphics design and branding. 
As I dodged a ping pong ball on a recent tour, I realized this was not your typical corporate headquarters. Instead, workers enthusiastically professed their love of coffee, their jobs, and their workspace.
Jeff Ayers, Media Master, produced a perfectly preserved 1892 guidebook visitors received with their 50 cent admission fee to the House of Pansa. Jeff's love of the building led him on a search to purchase one of the few original 48-page handbooks in existence. My hands trembled as I viewed this rare relic.
Undoubtedly, forward-thinking Franklin Webster Smith would approve of the latest steward of the building he created.
Authors Note: Researching this building was all consuming. I couldn't have done it without the help of  fultonhistory.com, Marci Weinstein Goldgar, Guy Mastrion, Eric Donovan and Jeff Ayers, and Elaine McCardle.