"The first time I walked down Broadway, I had a sense of a place that I had been looking for my entire life," Matt Hurff responded when asked about his first visit to Saratoga Springs – a visit he made with his girlfriend, now wife, Karen when she accepted an interview at Skidmore College.  One could say the rest is history.  Karen accepted the job as an instructor of the Riding Program at Skidmore College, where she is now the Director, and today Matt is a well-respected architect who owns the firm Frost Hurff Architects and has made his own mark on Saratoga Springs, from preservation to new construction projects.  
Matt grew up in Devon, Pennsylvania, a suburb of Philadelphia. "It was a town where I always felt a sense that something beautiful was lost – there were only fragments of buildings from the early 1910s and 1920s that remained," said Matt, alluding to why he was drawn to Saratoga Springs. Unlike his father and brothers, Matt did not get an MBA.  He chose to pursue a fine and studio arts major with a concentration in architecture at Wesleyan University.  This different career path should not have been a surprise to his family since from the time he could play with blocks he always had a fascination with buildings and how they were constructed.  
After graduating from Wesleyan University, where he met Karen, he attended Harvard University where he earned a Master of Architecture from the Graduate School of Design. In 2001, Matt was hired by local architect Tom Frost of Frost Architecture, who also is a Harvard alum.  (To learn more about Tom Frost see Simply Saratoga Spring 2019).   I personally can attest that Matt and Tom's personalities are complete opposites!  Yet they are similar.  Both are unpretentious, despite their Ivy League educations.  Both are more comfortable at a job site wearing boots and jeans than wearing a suit and tie for a special occasion.   Most importantly, both care about the same aspects of design – respect for context, attention to detail, and an awareness of human scale.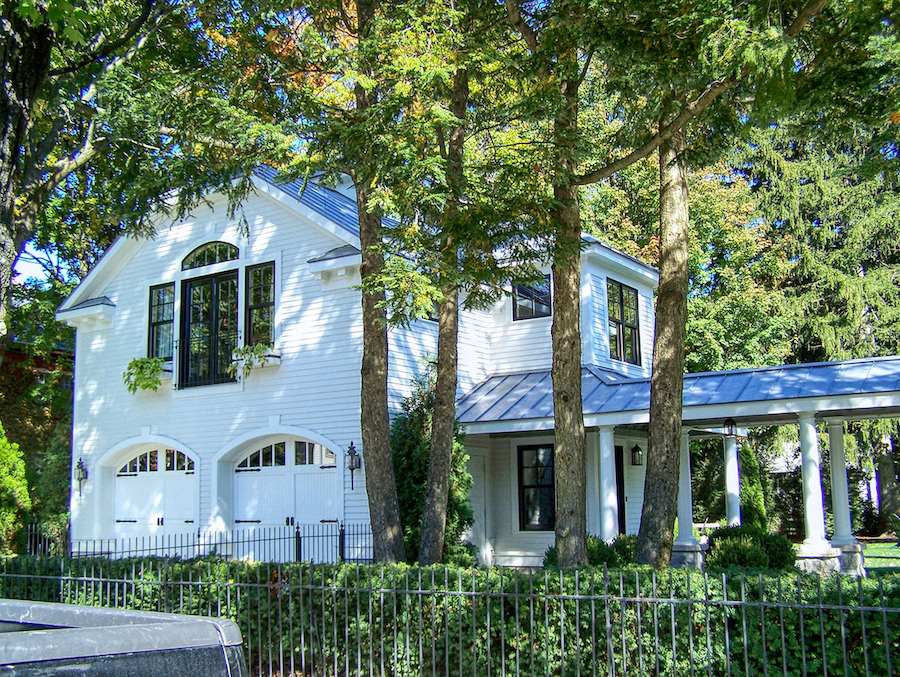 In 2010, Matt became a partner, and the firm was rebranded Frost Hurff Architects. At the time of Tom's retirement, Tom said, "Matt is thoughtful.  I respect his talent.  I'm very happy he is the one to continue the firm."  In turn, Matt said, "I will keep the Frost name on the door because he epitomizes the character of the work of the firm – contextual, but distinctly contemporary – taking tradition and evolving it to changing circumstances." 
Over the nearly 14 years that I have been with the Saratoga Springs Preservation Foundation, I have had the opportunity to work with Matt on several projects throughout the city, including many at the Saratoga Race Course, where the Foundation provides the only required local advisory opinion for proposed capital improvements.  It is through the review of those projects at the oldest sports venue in the United States that I came to know Matt best.  As the preservation architect for New York Racing Association, he has been involved with preserving the oldest buildings – Barn #76, Ice House, and stables – and designing the newest – the 1863 Club, the Marylou Whitney Pavilion, and the Post Bar.  
"I appreciate and honor the different layers of historic development and the architecture of the race course, but as an equestrian, I understand that the track is an active facility that must adapt to remain viable," shared Matt.  He ensures that the original character-defining features of the historic buildings are restored and creatively designs new buildings and additions that are distinctive but respect the historic context of the property.  
His additions are often seamless changes that often may go unnoticed, such as the copper roof of the Grandstand and Clubhouse, the new escalator, and the upgrades and expansions of twenty-three 1950's dormitories that have improved living conditions for the backstretch workers and the original concrete block appearance.  
Ultimately, it was Matt taking cues from the 1928 Clubhouse who assured that the exterior of the 1863 Club, largely designed by another firm, integrated into the race course.  When he came to me with NYRA's desire to connect The 1863 Club to the historic 1928 Clubhouse, my initial reaction was "over my dead body!"  However, Matt explained that the connector between the two buildings, if designed properly, could bring a ceremonial entrance for the horses to enter on to the track.  He was right, so much so that it was featured in the 2020 Travers Poster. In recognition of him being right, I bought him one.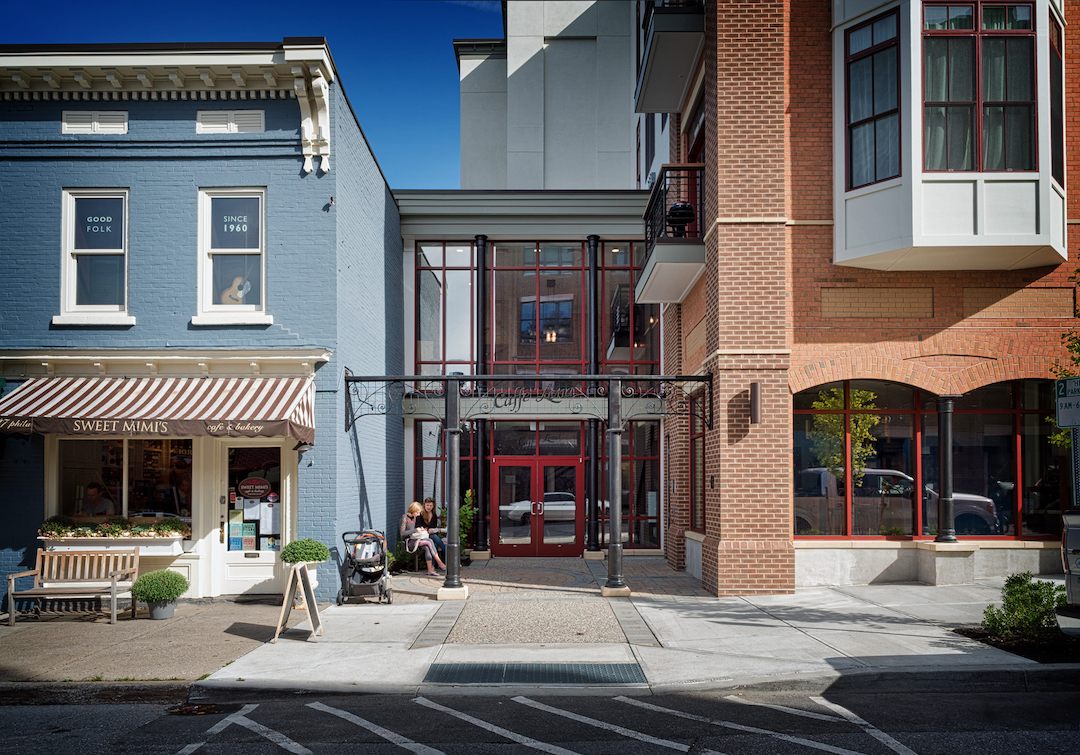 Outside the race course, projects like Caffè Lena, The Spencer, and Embassy Suites also illustrate his approach to design.  As a trumpet player who performed jazz and blues in college, Matt appreciated and understood the importance of retaining the essential character of Caffè Lena, the oldest folk music venue in the United States, when adapting it to accommodate a growing audience and modern needs –   kitchen, restrooms, and ADA accessibility.  I think, and I'm certain others agree, Matt was successful in keeping the intimate feeling that was created by Caffè Lena's founder Lena Spencer and revered by so many.
Matt not only designed the renovations for Caffè Lena, but he also designed The Spencer, the condominiums located next door to Caffè Lena.  "The redevelopment of the parking lot provided an opportunity to restore a piece of the urban core," shared Matt. Like many of his projects, it received recognition from the Saratoga Springs Preservation Foundation because of the thoughtful way it transitions between the downtown urban core and the surrounding residential neighborhood.
The Embassy Suites is another example of Matt's work.  While it may seem out of context for some, one must not think of its context as it is today, but what it will be in the future.  Urban Renewal resulted in the adjacent plaza and the surrounding parking lots.  Someday those sites will be redeveloped.  "I wanted to do something different than the typical chain hotel.  I wanted to set an example for new buildings with its design, materials, and details," said Matt.  
While proud of the high-profile commercial projects he has done, it is always rewarding for him to do residential projects.  Matt has done numerous residential renovations, additions, and new builds throughout Saratoga Springs.  "I really enjoy working with homeowners.  It is those projects that allow for the detail and thoughtful design that often is not possible in commercial projects," shared Matt.  
Now I am getting to know Matt from a different perspective, as the project architect for 65 Phila Street, the long-neglected house that the Foundation purchased last year (see article in Simply Saratoga Summer 2021 and visit www.saratogapreservation.org to learn more).  Rather than reviewing his plans for other projects, I have the opportunity to develop plans with him, giving me a new appreciation of his thoughtfulness.
When asked why he agreed to provide in-kind services for the project, he responded "this city would not be what it is today if it were not for the work of the Foundation, I felt it was important to give back."  Thank you, Matt, for all your thoughtful work to preserve and enhance our city, for it also would not be what it is without you.