It is a homecoming orchestrated by the fates and everyone's tastebuds benefit. Located in downtown Schuylerville, Haan Lao at Bound by Fate Brewing successfully combines all the ingredients needed to turn guests into friends and regulars. The food, beer, atmosphere, and service come together for an experience that is well worth the drive (and honestly, it's not that long of a drive!).
Formerly two spaces – Revolution Café (now located at 135 Pearl Street) and an optometrist's office – founders Pam Pradachith-Demler, her husband Brett Demler and Brett's two brothers, Evan and Ryan opened Bound by Fate Brewing on February 14, 2020. After two years of operating during a pandemic, Pam and Brett decided to open a kitchen in the taproom with Haan Lao.
"It's family affair," said Pradachith-Demler.
The kitchen serves Lao cuisine, the food of Pradachith-Demler's childhood. She was born in a refugee camp after her parents fled Laos and grew up in the San Francisco area. Her family, including her sister, two-time James Beard Award Nominee Chef Sang Luangrath, continued to prepare traditional Lao dishes.
Lao food emphasizes fresh herbs, savory, umami-rich sauces, chilis and fermented and pickled vegetables. A variety of rice preparations are also part of the Lao tradition. Laos itself is a landlocked country on the Indochinese peninsula in Southeast Asia and is home to rainforests and mountains.
Lao food is also served family style, a tradition that Haan Lao preserves. The menu is curated, tight and showcases seasonal flavors. There are a handful of small plates as well as entrée-portioned offerings that are all meant to be shared and enjoyed together. On our visit, all menu items were gluten-free because the cuisine itself is by nature gluten-free.
There are also tempting vegetarian items like chuenh phakkad dok. This bright, spicy dish sees rice-flour battered cauliflower florets get a spicy hit from Szechuan peppers in a tamarind sauce, sprinkled with sesame seeds and scallions. The lively heat from crispy, coated cauliflower hits mid palate and is complemented by a sip of Lupulion, the brewery's clean, juicy NEIPA.
For a more carnivorous small plate, try the chuenh muu which is bites of meaty, tender pork belly that has been brined in citrus and tossed in spicy tamarind sauce. Accompanying the pork is a mix of pickled apple slices, serrano chilis, shallots and herbs like cilantro and basil.
In the ping gai, a dome of coconut rice sits opposite two crisp-skinned, slightly smoky roasted chicken legs and a thigh. Crispy shallots top the chicken, crunch cucumber slices and a tangle of cilantro complete the deeply flavored dish. The light, brickle-like crunch of the chicken skin marries well with the silky, tender meat.
Southeastern Asia boasts a variety of curry soups. Haan Lao's offering is a red coconut curry dish called gaeng phet. Less thick and coconut forward than a Vietnamese or Thai version, this gaeng phet is full of vegetables like eggplant, bell peppers, mushrooms, and bamboo shoots. Guests can choose from chicken, brisket, tofu and mushroom or shrimp to add to the dish. Comforting and familiar, the curry has a hint of sweetness and spiciness and is satisfying from the first spoonful to the last.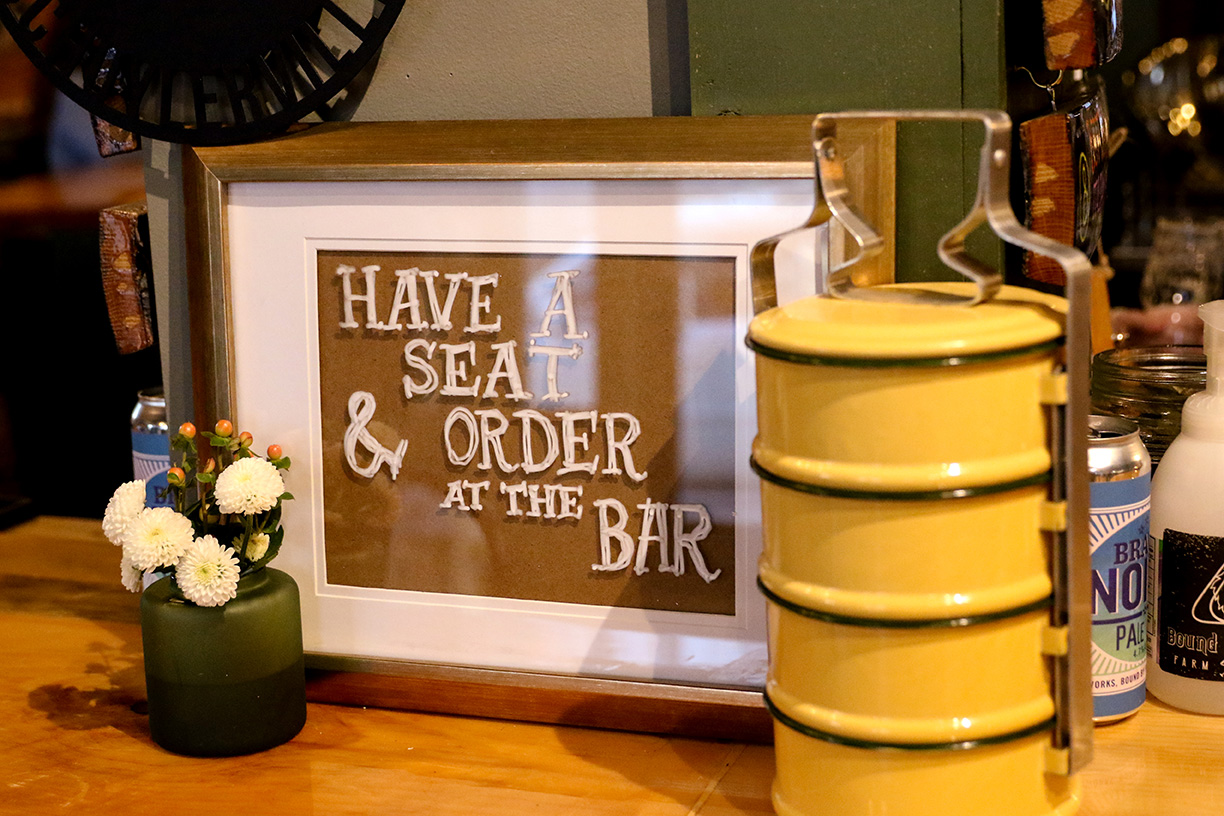 No Lao menu would be complete without naem khao. This no-utensils-required (although many Lao dishes are traditionally eaten with one's hands) main sees the ubiquitous coconut rice get the crisping treatment and is then dressed with a fish sauce-lime dressing that all at once gives the rice a bright kick and a deep umami flavor. Peanuts and herbs round out this balanced dish. Simply tuck some rice into the accompanying romaine lettuce leaves and enjoy.
The (tiny) kitchen is manned full-time by Head Chef Tim Wooster; a Jack's Oyster House alum. Pradachith-Demler's nephew, Opening Chef Boby Pradachith, spends some time in Schuylerville, but is director of operations and co-owner of acclaimed Washington D.C. restaurants Padaek, Thip Khao, and Hanumanh.
"[Haan Lao] gives us the opportunity to showcase the culture in its truest form," Pradachith said.
Many ingredients for the authentic Lao dishes come from local sources up and down the Hudson Valley. Some of the local herbs are served raw in the dishes while other ingredients find their ways into the house-made chili sauces and pickles.
"I was drawn to the bold flavors," said Wooster. "It really is the perfect marriage here – bold flavors and beer."
The trio behind that beer is the brothers Demler. Head Brewer Brett, Evan and Ryan were born in Schuylerville before the family moved to Burnt Hills. From there the brothers grew and scattered, but their love of brewing kept them bound together. Just before the pandemic, Pradachith-Demler and Brett moved back to Schuylerville to raise their family and pursue their dream of opening a brewery. 
Combined, the brothers have more than 60 years of experience brewing, packaging, marketing, and selling suds. Evan and Ryan help with the brewery from Virginia Beach and Buffalo respectively.
On site, Brett develops recipes and brews the beer in Schuylerville in the barn-turned-production-facility behind the family home. As a designated, licensed New York State Farm Brewery, the majority of the ingredients in Bound by Fate Brewing's beers come from New York State.
There are eight beers on tap with five of those on rotation. The bright-nosed Kegasus cream ale, clear, light-headed Bronz'r amber lager and the afore-mentioned clean, zesty Lupulion NEIPA are always on tap.
"I've been privileged to be able to brew what I like," Brett said. "I consider myself an irreverent traditionalist."
His self-description is spot on. Each farm beer is true to form with an intriguing element than enhances, not detracts from the style.
The Boat Bridge brown ale has a dense head, nutty nose and a malty but not cloying finish. The Cloud Atlas, a hazy pale ale, is infinitely quaffable with a juicy nose, bright and hoppy taste and a smooth finish. For palates that prefer something fruiter, the Tart'Lit sour raspberry ale delivers with its tongue-puckering taste and clean, crisp finish. The Bettina is an Italian style pilsner which means it is dry hopped. It is an aromatic pour that is pleasantly bitter and finishes cleanly. Rounding out the offerings is the McDermott's Irish red ale. It's a classic Irish red with a mild nose and foamy head.
More than great food and beer, Haan Lao at Bound by Fate Brewing aims to create community and connection. A large, wrap-around raw-edged bar is the space's centerpiece, encouraging guests to pull up a stool and meet or make a friend. Two and four-top tables are scattered throughout the rest of the dining room, arranged in what Pradachith-Demler accurately describes as "cozy corners."
Guests order food at the bar and can then settle into enjoy a meal or grab a pint and play any of the board games stacked on the shelf, including the Canadian classic crokinole.
Future plans include a Chef's Table. Located adjacent to the kitchen pass, a guest can reserve the table and enjoy a full-service, full tasting menu and beer pairing. In warmer weather, guests will be able to take in the long New York summer days with a beer on the deck.
Cuisine, beer, hospitality, and community – all executed at the highest levels – await diners and drinkers at Haan Lao at Bound by Fate Brewing.
Hours: Wednesday – Friday 4 p.m. to 9 p.m.,
Saturday Noon to 9 p.m.
Sunday Noon to 6 p.m.