Travis and Michelle live in this big blue bus that Travis built.
I drove past this very cool bus many times this summer. It was parked, on the side of the road, in a pull off, near The Great Sacandaga Lake. It is such a unique vehicle, with the deck on the back, which carries a jeep, that my curiosity got the best of me. I finally decided to stop and check it out. I am very glad that I did. I not only got to see a very unique vehicle, I ended up meeting two very interesting people.
I walked around the bus and took a few photos of the exterior. When I got to the door, I saw a note, that said "I am a mile down the road, if you need me, call this number." It was signed, Travis. 
I called the number and told Travis that I thought his bus was quite amazing and that I would love to hear about it sometime. Travis said that he would be right down to take me for a tour. He arrived, a few minutes later, in a red Jeep. He was wearing shorts, a tie dye tee shirt, sunglasses, and a huge smile. It turns out that in addition to the Jeep on the deck of the bus, Travis and his wife, Michelle also tow another Jeep behind the bus. The two jeeps are for Travis and Michelle's hobby, which is off road rock climbing in Jeeps. They often travel to places where they can practice their hobby. They are sometimes joined, on these adventures, by their two grown children who also own rock-climbing vehicles.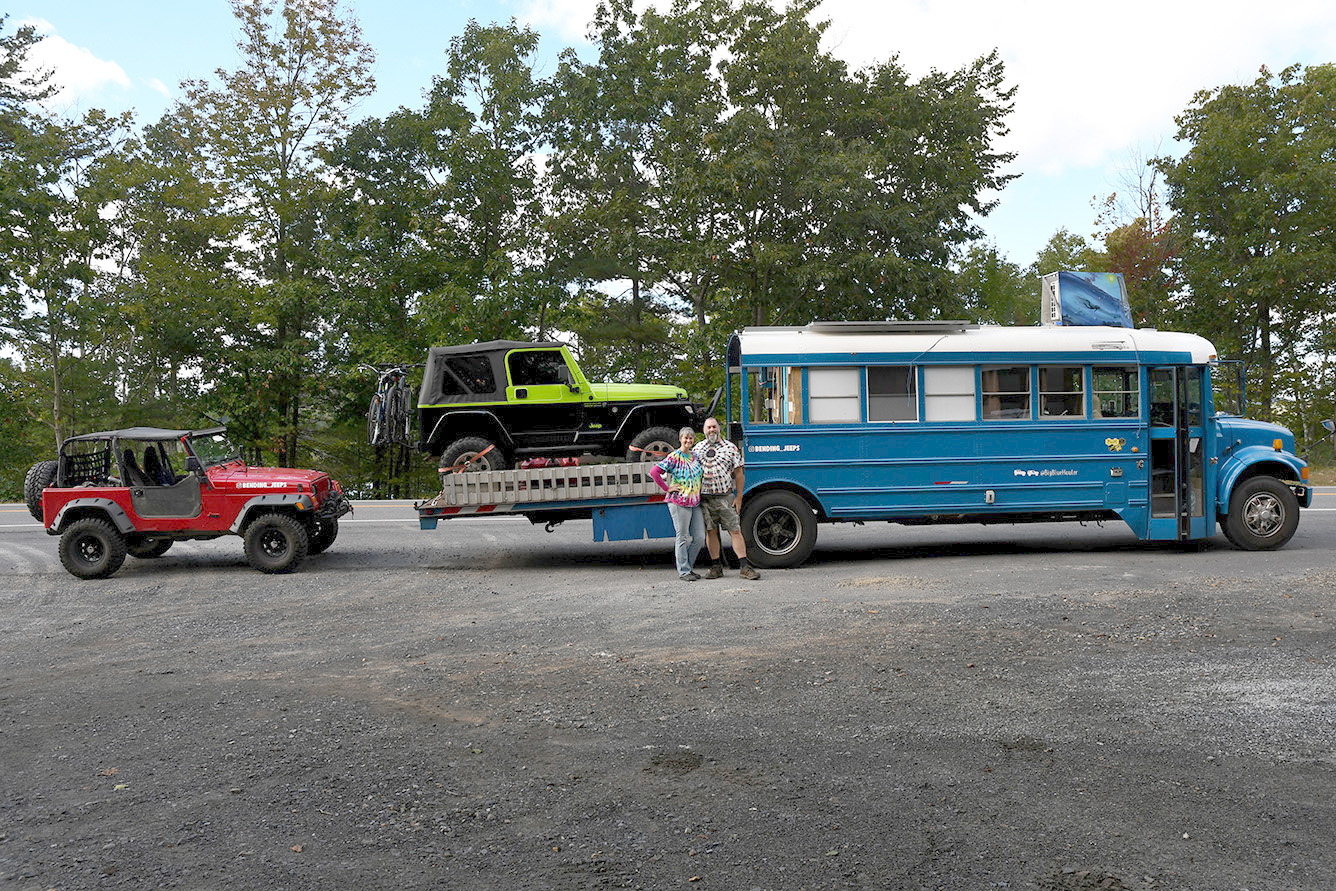 Some would say that Travis and Michelle were born 20 years too late, because they both, in my opinion, have the heart and soul of someone from the 1960s.
Travis and Michelle are the definition of interesting people, living their best life.
Travis and Michelle have been living, pretty much, full time in the bus for seven months. In that time, they have put some miles on her. They have been to Florida, Colorado, Michigan, Kentucky, Tennessee, NY, Texas, Missouri, and many other places. 
Travis told me that the reason they were at the Great Sacandaga Lake, was because they are helping his father in-law who is having some rather serious health issues.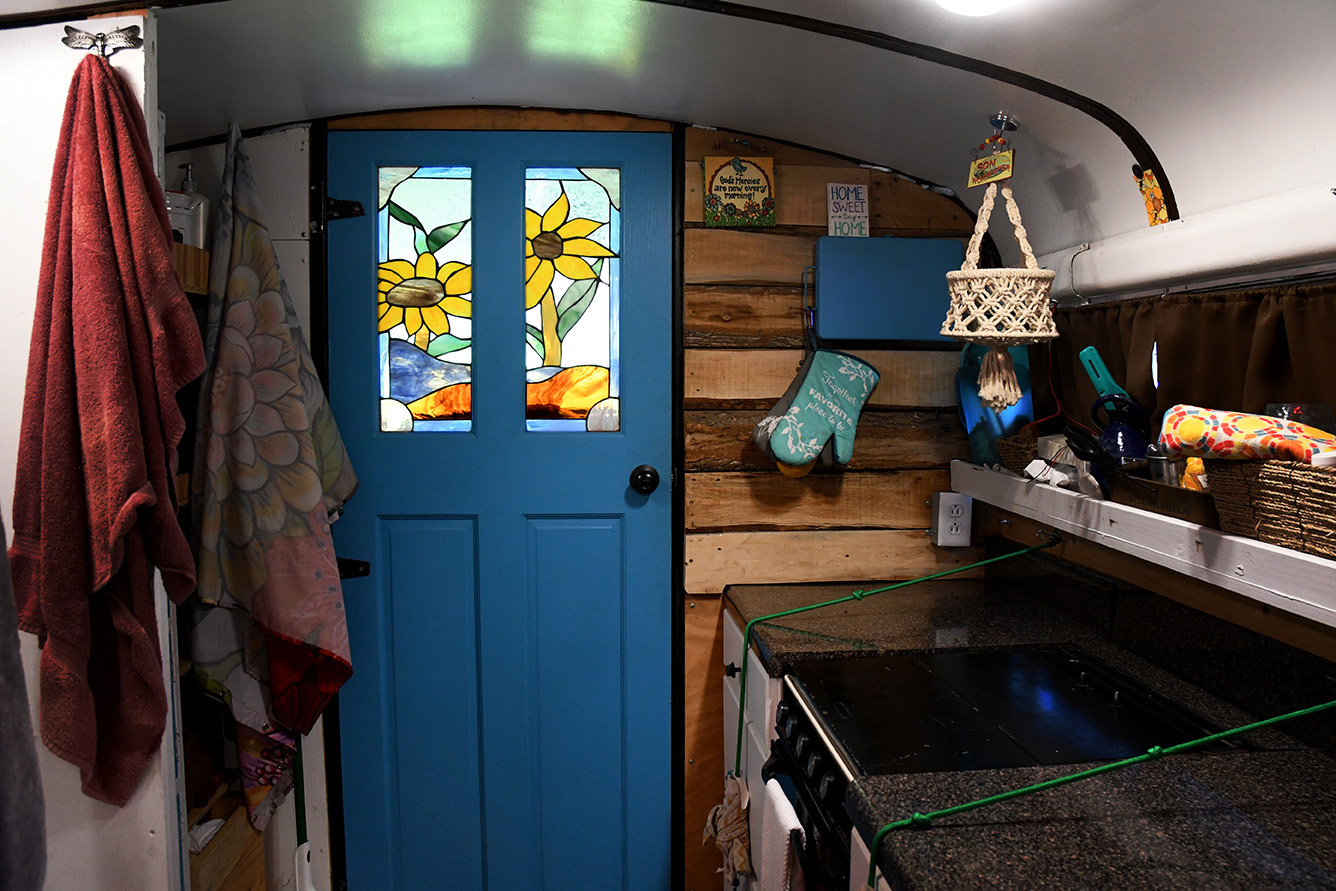 Travis used to work for the state of Florida as a highway inspector and his wife has a job that she can do online. Travis was also doing his Florida job online, until his boss said that he had to be in the state of Florida to work for the state of Florida. That didn't fit into Travis's wanderlust lifestyle, so Travis quit. Travis and Michelle are extremely affable, and I found myself drawn into their story. The bus, that is named "The Big Blue Hauler," is not the first bus that Travis built. He had a smaller one before.  They traveled the country in that one but didn't plunge into full time Skoolie living until Travis bought and built "The Big Blue Hauler."
The Big Blue Hauler is fully equipped for living off grid. It has WiFi, solar power, a generator, a stove for cooking, a holding tank for water, a mini split heat pump for heat and air conditioning and a toilet. There is even a shower that is outside on the deck. The beautiful stained glass window in the back door of The Big Blue Hauler was created by one of Travis and Michelle's many friends, as was the air brushed cover on the roof that protects the compressor for the minisplit, from branches. Travis has thought of just about everything that they need for living on the road. He told me that he is constantly making improvements to the bus. Travis and Michelle are deeply into the "Skoolie" life. He and Michelle even host a yearly gathering of other School bus enthusiasts called the "Skoolie Swarm." They invited me to visit the Skoolie Swarm this February in Florida. If at all possible, I will be there. Last year's "Skoolie Swarm" brought 154 fun loving Skoolie enthusiasts to their get together in Florida. 
As I sat in their bus/home, talking to them, I found myself thinking that maybe I would like to convert a school bus myself and travel in it. When I told Michelle what I was thinking, she told me that they call that "Bus Lust" and that they have seen it before. I think maybe I, now have that affliction.
I have to go now, I heard there is a school bus for sale about 50 miles south of here. I may have fallen into a very deep rabbit hole.