The first thing I notice is the walker at the end of the driveway. I take this as a good sign.
I'm aware Ed Noonan has been recovering from COVID-19 and that it's been a long road back to health for both him and his wife, Rose, who's spent the last several months helping him get on his feet again.
Ed was diagnosed in early January of 2021 and spent two weeks at Saratoga Hospital before being well enough to be discharged and brought home on January 26. 
Honestly, I've wanted to interview Ed for a few years now - he's such a prominent figure in Saratoga and the Capital Region. Besides that, he's just so darn interesting! After speaking to his lovely wife, Rose, through emails and over the phone, in an attempt to interview him, it's finally happening.
She's waiting for me at the front door with a warm smile and sparkling eyes. I follow her through the downstairs rooms, where she points out photos of the family, several award plaques, and pictures of Ed hunting. She answers the standard questions I have: "what's this, where's this, when's this?" 
"Ed's getting settled in the office," she explains. "We'll just give him a few minutes before we head up."  We talk about his hospital stay and his slow recovery while we wait. I ask if she is doing okay herself – I was a caretaker for my mom, then my dad, I'm aware it can be exhausting. Graciously, she tells me she is holding up as well as can be expected; thank you for asking.
"Are you ready for us?" Rose calls up the staircase. She turns to me and smiles. "We have the green light."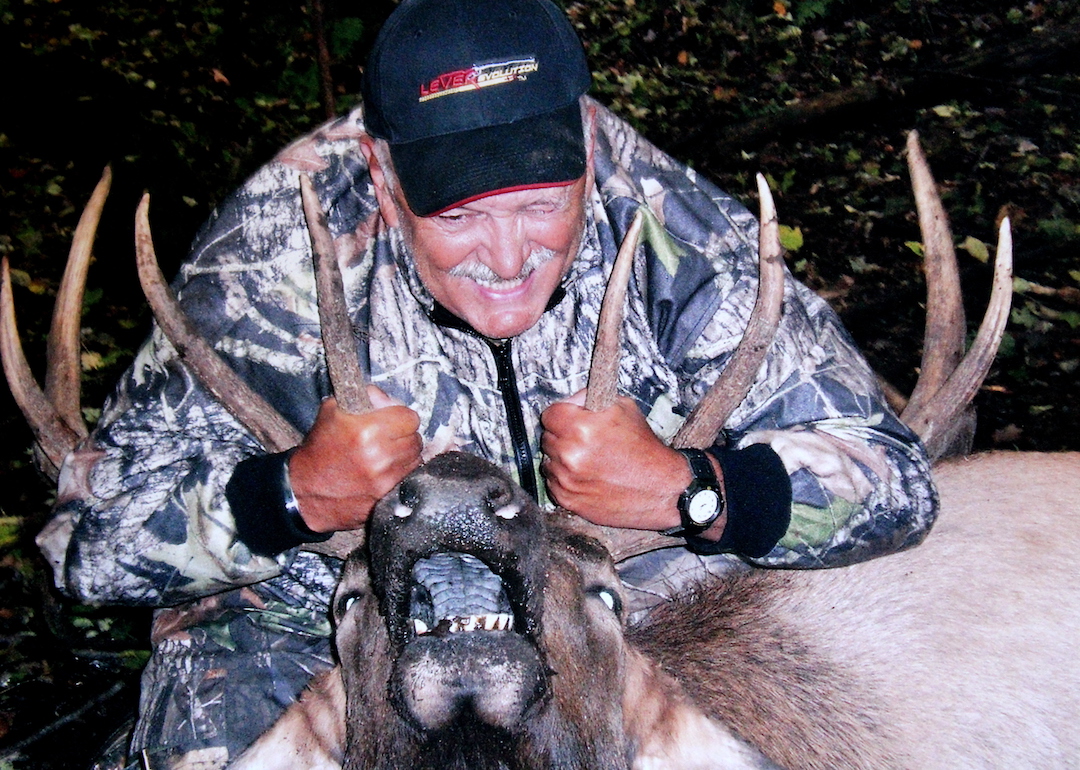 Ed isn't a stranger to hunting, fishing, loving the outdoors. He's been a columnist writer for the Daily Gazette, sharing the lakes and streams, the woods and fields, since August 8, 1988.
And his readers eat it up.
We sit across from each other in his office. "This is where it happens," Ed tells me. "I sit here and tell my outdoorsy stories."
"Believe me when I tell you he has plenty of them!" Rose pipes in, laughing. 
"It's still hard right now. I have a heck of a time putting thoughts together. Words seem just beyond my grasp sometimes." 
The doctor tells him this is normal, part of his recovery from COVID-19. God knows this virus has affected people in all sorts of ways. 
"I only want to get back to writing. And I will."
He points to a large notebook on the shelf behind him. "I still have a book to write." 
He's feeling much stronger, and Rose assures me that his appetite is returning. I smile and tell them both I am happy to hear it.
When we start to talk about hunting, Ed's eyes light up. 
"I had more hair back then," he laughs. He'd been attending the NYS Outdoor Writers Convention when someone mentioned he might like to try his hand at hunting turkey. Hmmm.
"I looked at my friend and shrugged," he grins. "What the Hell? Let's do it!"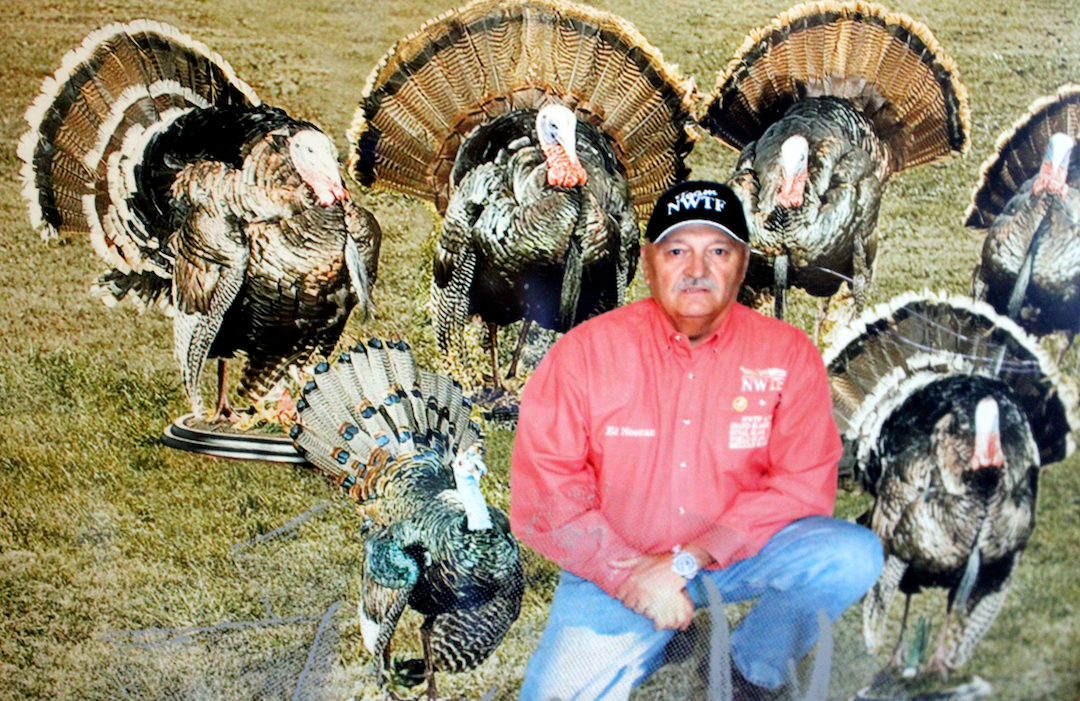 And the rest, as people say, is history.
During my conversation with Ed and his wife, I learned that a slam is considered one of the most significant victories in turkey hunting. 
Take a second – go ahead, I did – and look Ed up on Google. Search for the six recognized slams in turkey hunting; they've listed him in four; Canadian Slam Achievers, Grand Slam Achievers, World Slam Achievers, and Royal Slam Achievers.
Pretty impressive, eh?
"I would go to bed early and set the alarm for 4 a.m. though I'm not sure why. I'd wake up well before then and wait on the front porch for Neil to pick me up." Ed grins when he tells me he still gets excited in the days leading up to the hunt — even though he's been hunting turkeys for years. "It never gets old."
Ed has also spent many years as an accomplished fishing guide. 
"I'd spend most of July and August taking people - many of them jockeys and their families - fishing, in places along the Hudson River and on Saratoga Lake. My motto was this: If you catch nothing, you pay nothing," He states with a grin. 
I raise my eyebrows. "That's a mighty big promise."
"I was pretty sure they wouldn't leave empty-handed." The three of us laugh at his words.
He'd always ask what types of fish his clients were interested in catching, then take them to the appropriate spots where the fish were likely to be.
When I ask how they met, both Rose and Ed smile at each other. 
"Well," Ed begins. "We met during our second year at Hudson Valley Community College." I'm pretty sure I see him wink at her. 
"I was sitting in the cafeteria, and Ed was standing in the hallway right outside," Rose tells me, a twinkle in her eye at the memory.
"I asked her sorority sister who she was. I thought she
was pretty."
Later that same weekend, on Saturday night, Rose attended a fraternity party, and that's where their romance began.
On June 29, 1979, Noonan launched his fishing boat at the Mohawk Marina. He and a friend were meeting up near Lock 8 for the afternoon, fishing from separate vessels. After they each shouted 'Hello' and a few minutes of chit-chat, Ed decided to turn around and go downriver. After passing under the West Gateway Bridge, he took note of the rocky shore on the river's eastside. 
"I suggested to my friend that we try our luck fishing there," Ed tells me. "He thought it was a great idea."
Turns out it wasn't a good idea.
"Within a short time, I noticed something out of the ordinary," He tells me. "I didn't know - was it a log? Or something else floating nearby?" Ed explains how he moved towards the object, circling closer and closer, his throat dry with one thought - "I wondered if it could be a body. I made a couple of circles, drawing closer each time. Soon, I noticed a watch, a pair of glasses, and legs."  
Ed's kids were in the boat, and he didn't want them to witness what he'd just seen. He steered the boat away from the gruesome discovery, signaling to his friend that they needed the police.
I sat with Ed and his wife for nearly two hours that sunny afternoon, laughing at some of their memories and learning about their son, daughter, and two beautiful grandchildren. It was beautiful – basking in their love for each other.
If I had more time, I would tell you so much more about this fantastic couple. Suffice to say; it's been quite a while since I've enjoyed such a warm, in-person interview. I left feeling blessed to have finally met them and found myself wishing them both good health, as I drove away smiling. 
They already have everything else.