Autumn is a time to wind down after the summer excursions we have been on. Getting back to our regular routines after a summer of fun can take some time as we are going back to school, our jobs, and generally getting back to the daily groove. Many of us may have had a house full of guests throughout the summer. Although I do love having guests, it can be a nice break getting back to "normal." 
Reflecting on having guests reminds me of my favorite standup comedian, Sebastian Maniscalco. One of his iconic jokes is "Doorbell." The skit talks about how we responded to the doorbell twenty years ago and how we respond to it now.
Growing up in a large family, it was always fun at my home for the doorbell to ring and for all five children to run to the door to see who the "company" was. My parents would make a fuss over who was at the door asking them to come in and have cake and coffee. Just like the skit, my mother always had some baked goods "set aside" that none of us were allowed to touch – just in case company came! When I was a child, my parents would load up the five children into their car, and off we went to one of our family friends and relative houses. We would always be welcomed in while my parents would be consumed with conversation, coffee, and sweet treats. My parents truly enjoyed having company at our house at any time, any day. They would just pull out the food, and extra chairs to welcome the guests. 
Going over to a friend or relative's house or having guests over can often times challenge us on what to bring or serve.  There are two very fun items that you can bring over to visit or serve when you have company; popovers, or a creation made in a Bundt pan.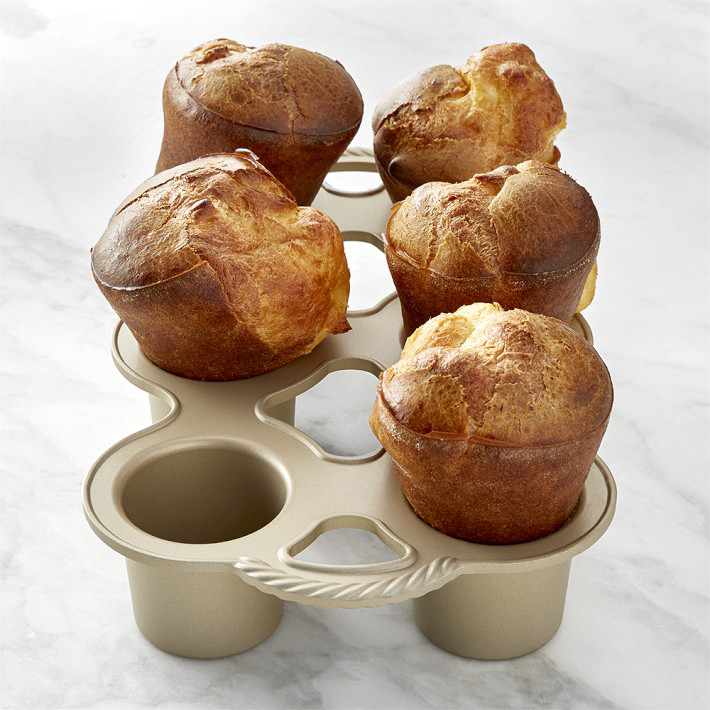 Popovers can be a deceptively simple item that will impress your guests and tickle their taste buds. Not only are popovers cost effective, they're also a breeze to make as long as you follow a few simple rules: make sure the pan is hot before pouring in the batter, don't fill the cups more than half full, and no opening the oven while they're baking.
Having the correct pan is important to making airy popovers with golden domes. The secret is how the batter lies in the pan. Popover pans are used for making popovers.
They are specially constructed to convey the heat directly to the batter, which needs to be added to a hot pan.Popover pans are also made with tall, narrow cups, which create a distinctive shape. This creates steam that helps the popovers expand and become light and hollow on the inside. Then you can stuff them with things. A popover pan is deep with steep-sided wells.  This forces the batter upwards creating puffy domes and crispy sides. Investing in a real popover pan eventually starts to feel quite justifiable. These tins are really only useful for making popovers, but oh, what beautiful popovers they make! The trick is to make sure the pan is very hot before you add the butter and the batter.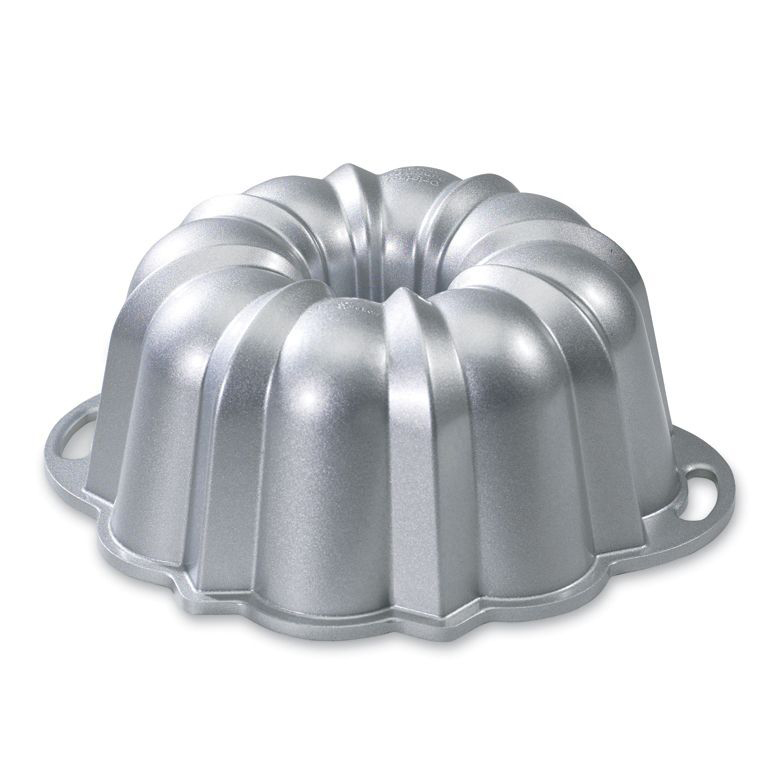 Bundt cakes are a very delicious gift to give when going to see family or a friend. The Bundt pan has become America's best-selling cake pan (according to Nordic Ware) to create a no-fuss cake. It is a perfect cake to serve a crowd and easy to slice.  
Bundt cake pans are cake pans that are usually 10" – 12" in diameter and are 5" deep with a hole in the center.  This ensures that deep cakes can bake evenly.  They usually have fluted or ridged designs to make your cake look impressive. The cast aluminum version was trademarked in 1950 by the founder of Nordic Ware, the largest and certainly most well-known maker of Bundt-shaped pans., the Nordic Ware Bundt pans are made in the U.S.A. There are a ton of recipes out there calling for Bundt pans, and you won't find another pan that can do the job as well. There are many other uses for Bundt pans.  You can bake any cake, meatloaf (fill center with mashed potatoes), various breads including Monkey bread or garlic bread, and jello!  
At Compliments to the Chef, we carry popover pans from Nordic Ware and USA Pan and Bundt pans from Nordic Ware. Both the Nordic Ware pan and USA Pan's are made in the U.S.A. These pans are designed to allow maximum airflow, so popovers reach their full height. The next time you are not sure what to pop on over with to visit a friend or a family member, think about a creative popover or a delicious Bundt cake. Stop into Compliments to the Chef, your Neighborhood Kitchen and Cutlery store located at 33 Railroad Place, where we have cool tools for cooks. Let us help you with tools to assist with having company. Have fun with family and friends. Maybe even run to the door when your doorbell rings….it could be "company." 
Remember my Foodie Friends, "Life Happens in the Kitchen."